Sports Betting Guide
Betting on ski jumping
Betting on ski jumping has become popular during recent years, although it still cannot compete in popularity against football or volleyball. However each noted bookmaker has bets on ski jumping in his offer. Misuse would be ascertainment that the offer is rich, but the basic bets are available. The most popular would be winning general qualification, winning single tournament, head to head or if a ski jumper would be on a podium 1-3. Which of this bets is the easiest one to forecast? Which is the most worthwhile? Is it worth to bet on sure bets?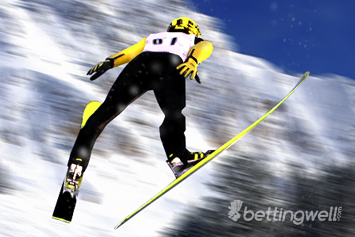 What to take in consideration when betting on ski jumping?
Recent seasons has shown that competitions become more and more raffle like. Of a great importance is also weather, mainly the power and direction of wind. Unfortunately the weather does not spoil us lately, that's why the settlement was often surprising.
Will it be like that in the upcoming seasons? We don't know that and if we want to earn in a long run we have to take a look at some basic elements:
1. Weather
Proper reading of weather forecast is already half of the success. In bad weather conditions very often there are surprises and reshuffling of the top players. In such case playing on favourites is rather doubtful. Then odds of higher value become more attractive. Not often there are odds between 5.00-10.00. Without checking the weather on few services I don't make bets.
 
2. The shape of player
This sport is rather chimeric. A player which was jumping very well during 3-4 contests all of the sudden loses shape. We are not able to predict that at the beginning of the season and even during it. Often even access to info, looking for info on facebook or reading the Internet forum won't help us much. A ski jumper might stop jumping well without any good reason such as illness, injury of family problems. Physical block occurs and there is no solution to it. I pay attention to training, qualification and a shape of a player in a given time period instead.     
3. Betting on the win in the whole season
For me it is recreational betting and I treat it in the category of supporting a given player. There are too many factors which may influence a punter to betting wrong. There are no strong favourites, and not betting for a whole season in my opinion is not the best choice. If you are a professional punter there is no time for sentiments and we are often playing against our favourites, only if you are an amateur punter it is ok to bet only on one player.
 
4. Technical news
Ski jumping laws change very often and it is important to be up to date. They are the ones which are responsible for the chances of a player. Some prefer particular style of jump, other take into consideration weight and height of a player. Proper assumptions may be of a great opportunity mainly at the beginning of the season. Later it might not be as important considering the knowledge of bookmakers. Let's remember that they are not random people and are well oriented.
5. Bets on teams
Predictions of places regarding particular teams seem to be easier issue. However, in this case the result is the sum of the points of 4 players after 8 jumps. My observations during recent 10 years show larger and larger and larger unpredictability although I agree that the knowledge translates to larger rate of return when playing on favourites against individual competition. 
6. Look for surprises, don't be afraid of high odds
Many punters are concerned about losing and they want to win each of their bets. It is not possible and does not lead to success. Bookmaking is a long run, you don't have to be first from the beginning in order to win. If we have a logical justification of odds 10.00 let's bet on it. You have to look at it differently. Even if we miss 5 - 6 times in a row in general reckoning we will still be ahead. It does not mean that I suggest playing only on surprises. The odds among 1.5 - 2.00 can have great value.
 
7. Omit favourite ski jumpers
Unfortunately, it is hard not to do so. Proper evaluation chances for winning is worse, often it is not economic in case of sympathy for a given player. Human and psyche of a human is of great importance here, moreover it influences affluence of wallet.
8. Paid betting tips
Very slippery topic, although there are services in the web, which have good reputation and are worth recommending. Unfortunately I don't know a service which could offer ski jumping tips with a good long term run. I assume that a punter might be considered good if his yield is over +15% with minimum of 300 tips, and a very good with 500 tips.
 
9. Limits
Unfortunately limits on ski jumping are often low and professional punters may have hard time to omit it. On one bet the upper limit is often at 200-300 euro. We have to bet at the same betting tip at few bookmakers.
10. Summer Grand Prix and winter results
I don't take into consideration summer Grand Prix. I even admit that I don't follow the results. Ski jumps in different weather conditions are not the same. Besides that many players does not concentrate on summer results and don't treat them seriously.
Conclusion
Ski jumping is not easy to predict, although a punter might have a great knowledge about them. I would even say that it is one of the most difficult sports to bet on. However, what is not easy does not mean that it does not bring profits. If it is hard to assume the result, bookmaker has the same difficulty.