Sports Betting Guide
Voleyball betting guide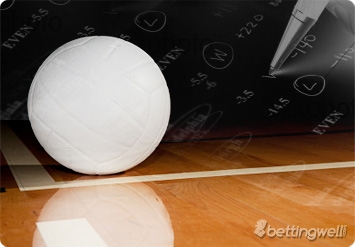 Introduction to volleyball
Volleyball was invented in the United States more than one hundred years ago. Mintonette, as the sport was originally called, firstly gained popularity in the US schools as a non-contact less violent and less intense alternative to the already very popular basketball. Whether indoor or beach version, volleyball is today a very popular sport all over the world.
In fact, it is second most played discipline boasting 200 million players worldwide. Volleyball is most popular in Brazil and the United States. In the US only basketball and in Brazil only football are higher than volleyball in terms of team sport popularity. Other countries where volleyball is treated as a major sport include: Cuba, Argentine, Japan Russia, Italy, Poland, France, Germany, Bulgaria, Serbia, the Netherlands and Spain. Beach volleyball, which is constantly on the rise all over the world, has a strong following in Brazil, United States and Australia. It seems that the worldwide interest in beach volleyball is mainly triggered by it's positive association with summer, shining sun, suntan and relaxation.
Volleyball might not be the best choice for burning calories or developing muscles, but it is great when it comes to increasing agility, hand-eye coordination, fast reflexes as well as your vertical jump. This sport is also about teamwork which is why it is one of the best disciplines for socialising.
Volleyball competitions
There are two forms of volleyball betting: beach volleyball and indoor volleyball. What these two volleyball variants have in common are the following fundamental rules: a team scores points by grounding the ball on the opponents' court, or when the opposing team commits a fault (error or illegal action); teams can contact the ball no more than three times before the ball crosses the net. The two biggest differences relate to the playing surface and team size. In beach volleyball, there are only 2 players per team and the game is played on a smaller, sand court.
Recommended volleyball tournaments covered by best online bookmakers:
Indoor Volleyball
Olympics. Volleyball is one of the most important Summer Olympics disciplines attracting lots of punters both regular and seasonal. Format: 12 teams (1 host nation, 3 teams qualifying from FIVB World Cup, 5 winners of continental qualifications, 3 spots are decided in world qualification tournaments).
FIVB World Championships. Most prestigious volleyball event organised by FIVB. Time: every 4 years. Format: following 2-year-long qualifications, top 24 nations from all over the world take part in the tournament, traditionally most from Europe.
FIVB World Cup. Qualification tournament for the Olympic Games. Time: every 4 years. Format: since 1977, the host is Japan; 12 teams participate (10 qualified, 2 per invitation).
FIVB World League. Longest and richest volleyball tournament organised by FIVB. Time: every year. Format: 16 participating teams; the tournament is divided into preliminary round and final round (pools, semi finals and finals).
FIVB World Grand Prix women's version of the FIVB World League. See above.
Domestic volleyball leagues.
Beach Volleyball 
Olympics. Beach volleyball is an official summer Olympics game since 1996. So far, the competition has been totally dominated by players from United States and Brazil.
Swatch FIVB World Championships. International beach volleyball championship (both men and women). Time: every two years.
European Beach Volleyball Championships. Time: every year.
Volleyball bet types
Pre-match betting:
Outright betting (long-term betting) – predict which team will win the tournament
Match betting – predict which team will win the match
Points Total, Over-Under betting – predict how many points both teams will score in total
Handicap betting – the underdog is given a few points, so that the chances of both teams winning the game or set are close to equal.
Other bets, e.g. Most valuable player (MVP) of the match. Volleyball player to score most points in the game. Volleyball player to have most blocks in the game.
Live Volleyball Betting:
Set Betting – predict which team will win the upcoming set
Technical Time-Out Betting – predict which team will lead at the first technical time-out in the upcoming set.
Odd Even Points – predict whether the total number of points in the upcoming set will be odd or even.
First Point betting – which team will score the first point in an upcoming set
Volleyball betting tips
Back Brazil
When it comes to men's indoor volleyball, Brazil seem to have no equals. They may loose now and then, but when they play really important matches such as big tournament finals or semi-finals, they are almost unstoppable and it takes lots of effort to beat them.
Home court advantage
Home court is a major factor in volleyball matches. Passionate supporters can have a huge impact on the performance of their team. For instance, Polish fans are known for inspiring their national team in the course of the game through unison cheer, or singing morale-boosting songs. Brazil supporters often make weird noise which is something natural to their own players, but can be quire a nuisance to the rivals.
Compare the Odds and take best price
Volleyball is one of those disciplines in which the prices vary considerable between different bookmakers. That is why, it is recommended that punters create at least 2 or 3 accounts at different sports betting websites if they intend to bet on volleyball regularly.