Sports Betting Guide
How to bet successfully on volleyball?
Not only in Europe but on a global scale, volleyball is one of the most popular kinds of sport. Huge demand is also seen in availability of bets on volleyball at bookmakers. The specialty, which differs it from other kinds of sports, is that you can bet on volleyball whole year round. That's why the bookmakers' offers and the punter's gaming possibilities look rather interesting. Taking use of a many-years' experience we will try to open some secrets of successful betting on volleyball.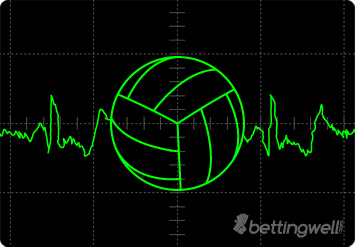 What you should pay attention to while betting on volleyball?
First of all you should find information on the prestige and importance of a tournament. In volleyball, matches involving national teams are more prestigious than league meetings, which may differ from what we are used to in other team sports (football for example). Volleyball national teams gather much greater numbers of fans than club tournaments, and despite the games in clubs are the main earning feature for volleyball players, performing for the national team is considered a great honour. Of course, the national leagues and the Champions League are evenly important, however the priority is on the Olympic Games (every 4 years), Championship and World Cup (also every 4 years) and the annual World League. Seasoned punter should not forget about this.
Pay attention to the rank of the match. Take into account that different teams approach matches in particular stages of a season differently due to personal aims or pre-season ambitions. As a rule, we do not recommend betting during first stages, but this concerns all kinds of sports. At the beginning there is a lot of expectancies, sometimes hastily created teams have possibilities of mutual trainings only at the beginning of the season, which is why such teams lack additional time in order to produce certain schemes. At the end of a season, often only part of the teams see reason in further competition. Some have already come to the terms with decline and the players are playing only with the aim to go to better teams in the following season, some have already secured the advance into the play-off, others play without any aim. The best is to avoid such matches, you should take into account that volleyball players do not treat every match with the same priority. The same goes to bookies - those who are in this business for years - like Coral bookmaker whose volleyball betting offer is really wide - know when the event is going to earn profit, and so should you.
Another important factor determining the outcome is definitely the place at which the game is played. While it should not surprise anyone in the case of football (bigger / smaller field, longer / shorter grass), when it comes to volleyball, many of you may think "What's the deal?" That's why so many punters are not winning in the long run. Although the field itself is very similar, not to say "exactly the same" in every place, the size of the hall can vary drastically and have a colossal significance for adapting players to new conditions.
The height of the ceiling, the height and distribution of lights over the parquet floor, or even the layout of the audience and its distance from the field can have an impact on team's performance. It is therefore worth mentioning that teams which play in small halls on a daily basis can have even bigger problem in the initial stages of the tournament on bigger stadiums. Especially when it comes to serving. Therefore, there is a handicap for teams playing at home, but do not overestimate its role.
It is important to familiarize yourself with the team compositions, especially if you are trying to predict the outcome of a minor event. Hold your horses until the roster for both teams is officially announced - bookies will try to encourage you with favourable odds, but without proper knowledge you may as well bet blindfolded. With such a multitude of meetings it happens that not for every meeting the trainers exhibit the strongest composition, but often let the prime players rest before big match. Volleyball is a team sport, which has the same tendency similar sports have to bother with. Often happens that the lack of a main attacker or a libero causes a gap hard to fill. And remember that volleyball players, apart from footballers often play their day-to-day meetings, so regeneration time is really short.
And that's why another factor that is worth pointing out is the fatigue of the main team. The best are often exploited beyond their strengths. An excellent example would be the 2015 World Cup, where players take part in up to 11 meetings in 16 days. Such pressure will wear off even the strongest and most conditioned players. In this case, we can not forget the necessity to travel, to move between halls, which in the case of such a tournament means the need to travel hundreds of kilometres. Such a number of meetings and their intensity may cause numerous injuries to the athletes. If we take our adventure into sports betting seriously, we should try to thoroughly analyse the intensity of the meetings of our teams and their staffing situation. In this case we will find all kinds of social media such as Facebook, Twitter or Instagram extremely helpful. That's where the clubs or the players themselves inform about the situation inside the team. Visit them as much as possible. In general, any news, statistics or even ordinary gossip can help us, so do not underestimate any source of information.
Where to bet live?
Many of you are certainly wondering whether it is a good idea to bet on live volleyball matches. Of course there are no contraindications, it is often the team that loses the initial set will triumph in three consecutive. When we are alert that one of the players is in a slightly weaker or better shape, it will certainly help us in predicting the outcome of the game. However, it is worth remembering a few golden rules that will keep us from losing our money.
First and foremost, never give your team a sympathy or a premonition. Each of your bets should be preceded by a thorough analysis (exactly as long as the time allows - after all, you play live). Do not be afraid of high rates, however. Often the underdog despite winning the set and definitely better play, is still given much higher odds.
The volleyball season is long, and the number of meetings is unlikely. Even top teams or athletes find it difficult to maintain an even, stable form throughout the season or to unleash its full potential for a game with a theoretically weaker team. That is a chance for us. We just have to capture the right moment. Try to calm down the emotions as much as possible. Set your nerves, as well as all the sympathies / antipathies aside. If you feel a dangerous influx of adrenaline - leave it. Go for a walk.
A common mistake that punters commit in the event of a failure is the desire to take immediate losses. This is a straight road to the catastrophe. Like playing for all means. Let's remember, there is no such thing as a 100% probability. It is probably the favourite, never sure. Let's not just watch the match as if it were the last, as if the world was about to end tomorrow.
Conclusion
Volleyball is a kind of sport, in which you can find events of interest and odds which are worth your attention. You should, however, remember about thorough analysis of each bet, what of course, will not eliminate, but to some extent, decrease probability of a misfortune. Keep on to the rules mentioned above, put aside emotions and feelings, enjoy watching your yield grow.