Sports Betting Guide
At which bookmaker should we bet on tennis?
Few elements add up to final success. Discover one of the most important ones. The basis of betting is the right choice of bookmaker. Although tennis is such a popular sport that each bookmaker has got it in his offer, the choice is not that easy at all.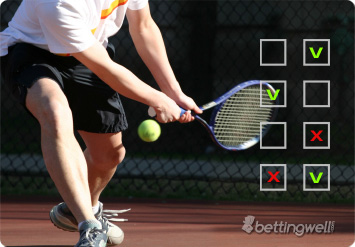 The main criteria while choosing a bookmaker
Main criteria which we should consider while choosing a bookmaker:
The height of odds
Wide offer (important if we want to play on niche tournaments).
Limits (unfortunately many bookmakers, even the known ones, gives low limits on many matches).
Solvency of bookmaker.
Bookmakers with the best tennis betting offer
Below we will show you few leading bookmakers, who are the key to win money in a longer run. I don't trust luck, but knowledge. In general professional players have a rule that "luck in bookmaking equals no winning".
Unibet - few years ago it was difficult to find Unibet in the cutting edge. Although the company was developing quickly and thanks to very good offer, live betting and the possibility of watching many live matches, it has been honoured yearly. Tennis is one of the priorities for the Unibet bookmaker and that's why there are many promotions and bonuses for players. Limits are not always high.
Betfair - betting exchange with very good offer on tennis. Many players quickly get discouraged because of rather complicated interface, but we cannot fully agree with it. If we want to do trading it needs some time to learn how to do it, on the other hand when playing as usual it is rather easy. Drawback of Betfair is complicated provision system, which for players having small turnovers can be around 5-6,5% from a winning bet. In general there are high odds, but take off the commission, and it may turn out that the offer was not that attractive at all. Betfair offer is rather for large players which will be able to lower commission by at least half by the turnover.