Sports Betting Guide
Tennis betting guide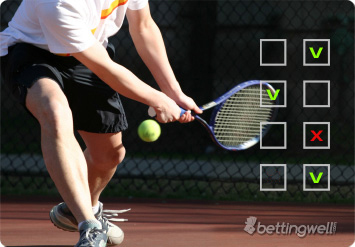 Tennis history
Once confined to the upper classes in Europe, the most celebrated racquet sport is now played all over the world and especially in the United States, England, Australia and France. Today tennis is appreciated both as a popular recreational game played at all levels of society at all ages and as one of the most lucrative professional sports in the world with considerable sponsorship and worldwide televising.
Only few people know that several hundred years ago, a tennis-like activity was conceived by European monks for the purpose of entertainment between religious ceremonies. Crudely enough, the wooden ball was hit between the two players with the hand or with a leather glove, but it didn't stop the religious men from having hell of a time. In the 12th-century France, a court game much more similar to the modern tennis became very popular. However, the racquet came only four centuries later, and it is probably from the French tenez (to take) or tendere (to hold) that the word "tennis" originated.
From the 16th till 18th century British and French nobility and royalty enjoyed an indoor game of "real tennis" whereby Lawn tennis was a later invention as it is dated 1873. It instantly "infected and spread" throughout the British upper class and then all over the world.
Tennis competitions
Tennis is a truly global game and for this reason it offers a wide variety of betting opportunities throughout the year, from January until late December. There is a number of men's and women's tournaments to bet on, ranging from high profile events such as Grand Slams to small-scale local events hosted in most countries with tennis tradition.
Generally, major online bookmakers (and punters) follow and focus on:
The four Grand Slam tournaments; Australian Open (January at Melbourne Park), US Open (August and September, New York City), the French Open (May and June, Paris), Wimbledon (June and July, London);
The ATP World Tour (Association of Tennis Professionals) – a number of men's tennis tournaments (in four categories), e.g. Indian Wells, Miami,Rome, Madrid, Toronto/Montreal, Cincinnati, Shanghai, Paris.
The WTA World Tour (Women's Tennis Association) – a number of men's tennis tournaments, e.g. Indian Wells, Key Biscayne, Madrid, Beijing, Dubai, Rome, Cincinnati, Tokyo,
Some major team tournaments, such as the Davis Cup and Fed Cup.
Tennis bet types
Winner betting, predict:
    predict the winner of a set (live betting),
    match,
    tournament – it is a long-term bet which means that you can start betting weeks or months in advance of an event; the earlier you bet, the higher the odds.
    or a season ranking
Set betting, predict:
    the winner of a set
    the number of sets in a match
    the correct score in a single set
    total number of points
Tennis betting tips
Tennis is not a priority discipline for most bookmakers which means that odds compilers are often negligent about it, be on the lookout for high odds, plus unlike in most sports, in tennis profits can be made almost all year round.
Consider the surface the match is being played on, as some players feel stronger on traditional grass courts (e.g. Wimbledon), while others, for instance, prefer clay courts (e.g. French Open) or hard-courts (e.g. Australian Open's synthetic hard-court or US Open's acrylic hard court). The reason why players perform differently, is that the ball reacts differently on each of these 3 main playing surface types – on clay when the ball hits the surface it is slowed down so that players with big serves and fantastic volleys are at a disadvantage. At least up until recently, Rafael Nadal has dominated on clay courts and Federer was almost invincible on grass. The good news is that players' surface preferences are almost never reflected in the odds.
Analyse statistics, form and head-to-head records it is absolutely essential that you get to know as much players as possible, top 20 players is a must. Learn about their current form, style of play, or any strengths and weaknesses they may have. because of home support, playing on home ground is an additional positive factor that you should take into account
Betting parlays / accumulators in tennis are actually very recommended. It happens frequently in the opening stages of the tournament the top 10 confronts completely unheard-of qualifiers, and in tennis sensational outcomes happen "once in a blue moon." Pick 3-4 strongest favourites, and most probably all your selections in a bet will be successful.
Take advantage of frequent free tennis bets and tennis promotions
Last but not least, take advantage of game fluctuations through in-play tennis betting: observe players' attitude, reactions, body language, frustrations, drawbacks, strong points as they are in the midst of the game, make correct judgments and place live bets.
Interesting facts
The Top 8 legend tennis players include Andre Agassi (USA), Boris Becker (Germany), Bjorn Borg (Sweden), Jimmy Conors (USA), Roger Federer (Switzerland), John McEnroe (USA), Fred Perry (England) and Pete Sampras (USA).
Wimbledon is the oldest tennis tournament in the world, hosted since 1877, and generally considered the most prestigious.
Eating of strawberries and cream, royal patronage, strict dress code for competitors, ball boys and girls are the essential parts of the famous Wimbledon tradition.
US Open is the richest tennis tournament in the world with about $15 million as prize money.
French Open is believed to be one of the most physically demanding tennis tournament in the world, because of slow playing surface and the 5-set men's singles matches without a tiebreak in the final set.