Sports Betting Guide
How to tip on tennis - guide
In this guide I will try to include all the aspects related to betting on tennis. The main factor, which I was using while writing was my own experience. Thanks to several years of work experience I am able to describe in detail every thing to which a beginning punter should pay attention to.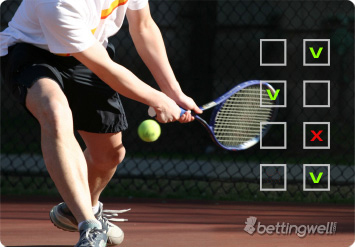 Choosing bookmaker with the best odds
Paradoxically it is one of the hardest tasks for beginning players. In case of tennis finding the highest odds is not a problem, but finding appropriate bookmaker may provide some. Main reason for it is the way of walkover (if a player withdraws or is injured) settlement by various bookmakers. From my own experience I advise you to choose a bookmaker which will pay off your money in case of unfinished match, because losing a coupon, which seemed to be a winning one, owing to an injury or one player's unwillingness to play will hurt.
Tournament's rankings
Tournament's ranking is the next important point when it comes to betting on tennis. Frequently players tank before larger tournaments - meaning they lose the first round with a weaker player, and it is clearly seen that they did not aim to win. However I warn you not to overuse it while betting - it does not relate to all players and it regards only matches from the beginning rounds. Rarely a player eases off a semi-final or a final just because a tournament of a higher rank will start next week. I particularly recommend to pay closer attention to matches before Grand Slam and before Master series.
Weather
In tennis weather is not of a great importance because if it happens to rain matches are terminated. It is worth to take a closer look at some of the matches in USA and Australia's tournaments because there are often strong winds. During such matches it is worth to give more chances to shorter, faster and technically good players.
Surface
Surface in tennis is one of the most important elements while making tips. Jimmy Connors' words fit well here:
"In the modern game, you're a clay court specialist, a grass court specialist or a hard court specialist ..or you're Roger Federer."
There are players who can play well on each surface, however in case of a match with equal level players, it is worth to take a look at how they feel on a certain surface. For instance I bet differently on Roger Federer - Rafael Nadal match if it was played on the grass court "Federer's garden" and on the clay surface "Rafa's kingdom". Although both players are front runners they have their own surfaces, where they feel excellent even physically.
The beginning and the end of season
It is worth to mention beginning and end of the season matches. From my own experience i recommend not to bet on the first tournament of a player, because you never know what shape he currently is in. The priority of each player in the beginning of the season is Australian Open and they prepare themselves for it. Towards the end of the season it is worth to bet on players who have a chance of advancing to World Tour Final - the best eight of the ranking. In other cases I advise you to be careful while betting because the form and will to play in the last months of the season may differ.
Exhibition tournaments
Exhibition tournaments are very risky when it comes to betting. Very often players treat it more as an entertainment than training. It is than worth to play against common sense and bet on a weaker player instead of a favourite or on the exact score for instance 2:1. Triple bagels occur very often during exhibition tournaments.
Watching matches
We got to the last but definitely not least point in the whole guide - watching matches and live betting - provide the highest chances to win. None of the statistics or websites will give us information even close to the match we watch and observe in real time. Very often strange situations influence the meeting such as an argument with umpire. In such cases nervous players have a tendency to get offended and leave a match. Of course we do not always have a possibility to notice it because not all of the courts have cameras, however if we have a possibility to watch a meeting it is worth doing so.
Additional services useful while betting
While betting we can use social networks such as Facebook or Twitter as well. Players often put up info about how they feel, for instance we can find out if they are having a stomach flu or a cold. Usually it is of marginal importance, however it happens that such info has a great influence over the course of a match.