Sports Betting Guide
At which bookmakers should we bet on table tennis?
It isn't easy for a good offer on table tennis. Check which bookmakers it is worth to have an account at.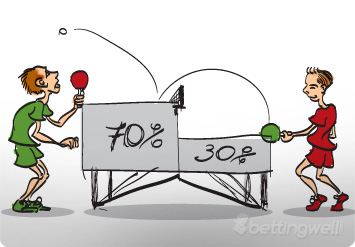 Bookmakers with the table tennis betting offer
Unfortunately, only few bookmakers have an offer for table tennis. That's why playing only at one bookmaker is not enough considering the differences of odds. We have chosen the best 4 bookmakers with the largest and most convenient offer. Of course limits and offer cannot be compared to the offer on football or basketball. If a bookmaker has 2 or 3 types of bets it is very good.
Betvictor is a bookmaker, which surprises positively. As of now more and more matches are available live, which is alternative to Bet365. Bookmaker has rather low limits for table tennis though, so it may be a disadvantage for professional players.