Sports Betting Guide
Swimming betting guide
Whether a recreational activity or a competitive sport, swimming is one of the most popular individual sport disciplines in the world. Nevertheless, swimming is usually not considered an interesting and important betting market by online bookmakers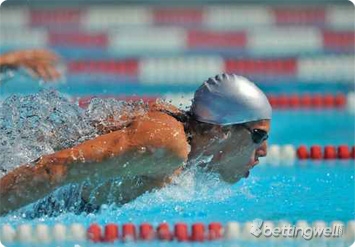 Swimming history and overview
Swimming is one of the oldest disciplines of sport in history of the world. It was valued in a number of ancient cultures, including Greece, Egypt and Japan. Nowadays, swimming is popular recreational sport all over the world. It has been proven that swimming is very beneficial both for our body and mind: it is a very safe sport with low risk of injuries, you use almost all muscles of your body, it is very good for the health of your lungs, it helps you to improve your posture or with spinal problems, and has a soothing effect on your mind. As for the competitive side of swimming, it is a sport that requires strenuous and time consuming training regimes and a lot of dedication. Swimmers must be tall, fit and have very strong arms, as they are used in the majority of professional swimming styles.
Swimming competitions
Most sportsbooks cover only major swimming competitions such as the Summer Olympics, the European Championships, or FINA World Championships.
The Summer Olympics is the most important and anticipated sporting event in the world and swimming is is one of the most popular disciplines with a great number of different competitive categories (17 events for men and 17 events for women).
European Aquatics Championships is a biannual summer swimming competition. Swimming disciplines are predominantly dominated by contestants from France, Russia, Great Britain and Hungary.
FINA World Championships is another biannual summer swimming competition. Here, the dominating powers are swimmers from the United States, China, Russia and Australia.
Swimming betting
As far as swimming betting is concerned, freestyle, butterfly and breast and backstroke on all the available distances, are swimming styles that attract the biggest attention of online sportsbooks.
Swimming bet types include:
Medal spot betting – punters try to predict whether a player will finish the race/competition in the top 3 medal awarded places.
Winner betting – punters try to predict which swimmer will win the race. Usually the prices for underdogs are high. Hoping for surprise, many bettors are prompted to wager on those less favored swimmers.
Other extra bets: Personal or word records, number of wins/medals
Swimming betting tips
Follow the performances of the top swimmers
Probably the simplest piece of advice for profitable swimming betting is to focus on the performances of the individual players. What should be taken into account are such information as: injuries (recent or previous ones), latest swimming times and records, favorite swimming styles and of course experience (important competitions require better stress management).
Bet on the fresh and rested
Another very important factor that should be considered is the condition of the swimmer, for example if he is rested, especially before long races (requiring high endurance). Swimmer's body needs time to recover, heavily packed tournament schedule or insufficient time to rest, often leads to surprisingly weak results or even injuries.