Sports Betting Guide
Greyhound betting guide
With annual £2.5 billion worth of bets, greyhound racing is ranked the third spectator sport in Britain, behind football and horse racing. Each year there are more than 70,000 races in the UK, with the English Greyhound Derby being considered the most prestigious one. 3.2 million is the annual attendance figure on all tracks. In the UK, greyhound betting is available both on course and off-course via parimutuel betting tote system. At the time of writing, about 50 greyhound tracks operate in the UK and Ireland with the capacity ranging from 1000 (e.g. Newcastle Stadium) to 8000 (e.g. Mildenhall Stadium).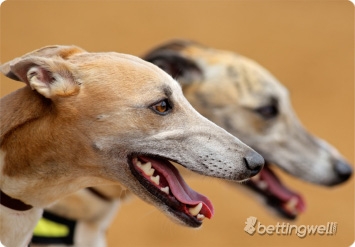 Greyhound racing betting
In an effort to rise the status of dog racing, which tends to be perceived as poor relation to horse racing, many venues have been modernised. They are now offering and popularising "night at the dogs" weekends where customers can enjoy dining, bar facilities, betting vouchers and other forms of entertainment as well. Dog tracks are also numerous in the USA (more than 50) in Australia (more than 80) as well as in other countries such as New Zealand, China and Mexico. Leading long-established British sports betting companies Coral, Ladbrokes are actively involved into the sport of racing greyhounds in the UK, both as track owners and sponsors.
Greyhound racing history
In summer 2009, Usain Bolt chased 100m world record and he managed 9,58 sec with a top speed close to 50 km/h. From the greyhounds perspective though, it is no particular reason to be proud of. Rather than world record, these dogs prefer to chase an artificial lure and still they can reach the speed of 72 kilometres per hour! It is even more surprising to find out that the favourite pastimes of these superb athletes and the 2nd fastest mammals on planet are sleeping and doing nothing.
Greyhounds have lived side-by-side with humans since ancient times. They were the companions of some of the greatest rulers that have walked this earth, such as Cleopatra, Alexander the Great, William the Conqueror, Elizabeth I or James I. In their history, greyhounds have played different roles from courtly animals and symbols of nobility to guard dogs and jackrabbit deterrents. Today, however, they are most appreciated as household animals and professional sprinters.
Greyhound Racing Bet Types
Greyhound racing uses two betting systems the parimutuel betting (pool betting) and fixed odds betting.
Straight bet (aka Single or Win bet) – pick the winner from a list. If your dog is first, you win your bet.
Place bet – pick the winner from a list. If your dog is first, or second you win your bet.
Each Way bet – pick the winner from a list. If your dog finishes first, you receive full winnings. If your dog finishes second or third, you receive only part of your winnings.
Quiniela (Reverse Forecast) - pick two dogs you think will finish first and second in either order.
Perfecta (Exacta, Straight Forecast) – pick two dogs you think will finish first and second in exact order.
Trifecta (Tricast, Treble Forecast) – pick three dogs you think will finish first, second and third in exact order.
Superfecta – pick four dogs that you think will finish first, second, third and fourth in exact order.
Accumulator (Multiple bet, Parlay) – between 2-12 selections on a single ticket. All the selections must win for you to win the ticket.
Exotic bets – these are unusual bets which in most cases involve the outcome of more than one race. Further information on these types of wagers can be obtained from the track you plan to visit, e.g. Winning greyhound to go unbeaten through every round of greyhound derby.
Head-to-Head bets (H2H) – you choose which of the two greyhounds will be higher in the race. Usually, your bet will be considered void, if one or both selections is/are withdrawn or is/are deemed as non-runner(s).
Over/Under – Winning Distance – you have to predict whether the winning distance between the first and second placed dog will be over or under the bookmaker's number.
Odd/Even – Winning Trap Number – you have to predict whether the winning greyhound has odd or even trap number. In the case of a tie between two greyhounds (the so called "Dead Heat") whereby one selection is with an odd trap number and the other selection with an even odd trap number, usually your bet will be considered void.
Combination Bet – combo bet includes different numbers of separate bets in which you can bet on two, three or even four greyhounds.