Sports Betting Guide
Futsal betting guide
Futsal players are constantly placed in decision-making positions, they need to think quickly and be very creative at the same time. The sport is more about skillfulness than endurance and phisical capabilities. Technical skills, quick ball movement and frequency of goals make futsal one of the most entertaining sports to watch.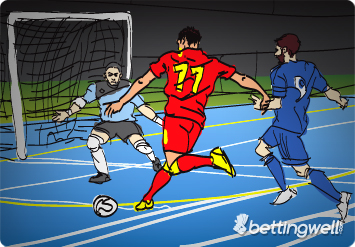 Futsal history and overview
Futsal can be described as a fast-paced, action-packed, indoor alternative of football. In this discipline of sport, two teams of 5, with 4 field players and a goalkeeper compete in an indoor arena trying to score a goal with a ball (smaller than the one in football) in a 40-minutes match divided into two halves.
This variant of football was invented in Uruguay in 1930 by a teacher named Juan Carlos Ceriani who mixed principles of football, basketball (number of players and duration of the match) and handball (field and net sizes, goalkeeper rules). It quickly spread across all of South America. The first international competition took place in 1964, when Paraguay won the first South American Cup.
Today, futsal is popular all over the world, especially in South America. There are many competitions such as Futsal World Cup or Grand Prix de Futsal. Here, it must be said that futsal is governed by two independent organisations, the AMF (concerned only with futsal) and FIFA (governing all variations of football). The national team of Brazil dominates futsal competitions for the majority of its history. What is more, the majority of Brazil's best footballers, including Pele, Zico, Socrates, Bebeto or Ronaldinho, played futsal before converting to its more popular variant.
Futsal competitions
Bookmakers are interested only in the most prestigious and popular futsal competitions, such as:
FIFA Futsal World Cup. International championship for futsal organized by FIFA. Brazil is the most successful team in the history of this tournament.
AMF Futsal World Championships. International futsal championship organized by the AMF.
Grand Prix de Futsal. International futsal championship for invited nations, held every year in Brazil.
FIFA Intercontinental Futsal Cup. International futsal club championship. 
Futsal domestic leagues. The most popular futsal leagues are the Brazilian Liga Futsal and the Spanish Division De Honor.
Futsal bet types
Futsal bet types are almost the same as those in association football. The three most popular futsal bet types are:
3way (1-X-2) – predict which team will win the game: home win, draw or away team win.
Handicap – the underdog receives an imaginary advantage in the form of a goal/goals, in order to even the chances of a good result for both teams.
Over/Under – predict whether the number of goals scored in the game will be over or under the number given by the bookmaker.
Draw No Bet (DNB) - we select the winning team, if this team wins, the bet is successful and if there is a draw we get a void.
Bookmakers with good futsal offer