Sports Betting Guide
Darts betting guide
Darts is an excellent discipline of sport for those who do not fancy excessive physical exercise and like to work on their manual dexterity. You can practice the game both in a pub with friends and at home. The benefits of playing darts are numerous, including increased manual skills, reflexes, focus and self control.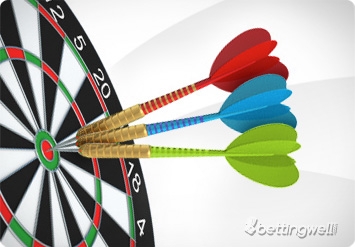 Darts competitions
Betting on darts is extremely popular in the UK and steadily rises in popularity all over the world, especially in the US and the Netherlands.
The increase of darts betting popularity is attributed to one man, Phil Taylor. This man has dominated professional darts since his very first competition in 1990; winning the PDC World Championship ten times, the World Matchplay six times and the World Grand Prix three times. Phil Taylor has pioneered a revolutionary style of throw and combined his natural ability with a work ethic that few can better.
The most important darts tournament is World Professional Championship organised by British Darts Organisation (BDO) and Professional Darts Corporation (PDC).
Both organisations hold other professional tournaments. British Darts Organisation alone hosts BDO British Open, BDO World Darts Championship, England Open, Scottish Open, Welsh Open or World Darts trophy. PDC organises darts tournaments both in the UK and in the USA.
These are our recommended dart tournaments to bet what are covered by major online bookies:    
PDC Grand Slam of Darts. Professional Darts Tournament organised by PDC (invitations are also extended to the best performing dart players from the rival BDO). Time: November. Place: Wolverhampton, England. Since: 2007.
PDC World Championship. World Championship Competition organised by PDC. Time: December/January. Place: London, England. Since 1994.
BDO World Championships. World Championship Competition organised by BDO. Time: January. Place: Frimley Green, Surrey, England. Since: 1978.
PDC World Matchplay. Darts Tournament organised by PDC. Considered the second biggest PDC Tournament, played in legs format. Time: July. Place: Blackpool, Lancashire, England. Since: 1994.
PDC World Grand Prix. Darts Tournament organised by PDC. Played in sets (double in, double out) format. Time: October. Place: Dublin, Ireland. Since: 1998.
PDC US Open Darts. United States darts tournament organised by PDC. Played in sets. Time: August. Place: Atlanta, Georgia, United States. Since: 2007.
PDC Las Vegas Desert Classic. United States darts tournament organised by PDC. Played in legs format. Time: July. Place: Las Vegas, Nevada, United States. Since: 2002.
Darts betting tips
Back Phil Taylor
Backing Phil Taylor to win a tournament appears to be the most logical form of darts betting. His supremacy in the world of professional darts is unquestionable. For that reason, many recreational punters base their darts betting upon supporting the popular 'The Power'.
Obviously Taylor's odds are justifiably, almost always very short, so to have a decent profit, you have to bet a considerable amount of money. Luckily for most punters Phil Taylor is NEAR-faultless player.
Bet with the British bookmakers
If you intend to bet on darts extensively, you should definitely choose one of our recommended British bookmakers. Reason? Best odds, all events covered in full and, if you come at the right time, darts promos including free bets and money back offers.
Several dart tournaments are sponsored by major British bookmakers. It often happens that bookmakers involved in darts sponsorship have some extra free bets or refund offers for their sponsored tournaments.