Sports Betting Guide
Cricket betting guide
Together with baseball, cricket is the best-known member of a family of related bat-and-ball games. It is also one of the oldest sports in the world with the earliest recorded reference being in the early 16th century in England.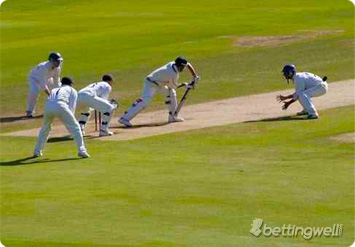 Cricket history
Cricket was once a colonial recreational activity and has since grown to be regarded as the most popular sport discipline in the Commonwealth Nations. The most active cricket-playing nations include: England (national sport status), Australia, New Zealand, India, South Africa, Pakistan, Bangladesh, Sri Lanka, Zimbabwe. All these nations are full members of International Cricket Council (ICC) the international governing body of cricket.
Cricket is the world's second most popular team sport, behind football. It does not require expensive equipment as essentially all that is needed to enjoy the play is a ball, a pair of slippers for stumps and a bat. It is estimated that cricket's fan base constitutes of over 1 billion people, while less or more 20 million people worldwide play cricket today. What is appreciated about cricket is that the game has adapted to viewers' time constraints. In modern times, when people seem to have less and less free time, One Day Internationals and Twenty20 matches, particularly short form of cricket that has already been hailed as the future of cricket, are more fun and quicker to watch.
Cricket rules in a nutshell
Teams are made up of 11 players each. They play with a ball slightly smaller than a baseball and a bat shaped like a paddle. Two batters stand in front of wickets, set about 20 metres apart. Each wicket consists of three wooden rods (stumps) pushed into the ground, with two small pieces of wood (bails) balanced on top. A member of the opposing team (the bowler) throws the ball towards one of the batters, who must hit the ball so that it does not knock a bail off the wicket. If the ball travels far enough, the two batters run back and forth between the wickets while the fielders on the opposing team try to catch the ball. The game is scored according to the number of runs, which is the number of times the batters exchange places.
Cricket versions
There are several types of cricket matches. The three most popular are:
One Day Internationals (ODI) is the oldest and most prevalent form of cricket. ODI is a 50 overs each side cricket match and each bowler is allowed to bowl a maximum of 10 overs.
Twenty20 Cricket is in a way more entertaining and shorter alternative to traditional One Day Internationals. Twenty20 is a 20 overs each side cricket match and each bowler is allowed to bowl a maximum of 4 overs. Fast-paced T20 cricket game last on average three and half hours, whereas a One Day International match may run for over 8 hours.
Test cricket is a more challenging and longer version of the cricket game. It is becoming increasingly popular. The test match cricket involves at least 5 days of game with a minimum of 90 overs each day with each team getting to bat twice. It means that in order to win the test match game, a team must bowl out the opposition twice. 
Cricket betting
Cricket is an all year round sport and therefore it makes a paradise for the sports bettors. Consider the fact that in summer months, when football and most team sports take their annual break, English cricket season with the Count Championship is in full swing.
Cricket betting has recently become very popular among major global online sports betting companies. Our recommended bookmakers cover just about every cricket betting event possible from major events such as the World Cup, or The Ashes, through English Cricket or Australian Pura Cup to local smaller cricket events. The number one event to bet is the Cricket World Cup, the world's fourth largest and most viewed sporting event, held every 4 years (one year after the Football World Cup, and one year before the Summer Olympics). The 2011 tournament will be held in India, Bangladesh, Pakistan and Sri Lanka, between February and early April. In its current format, the tournament is contested by 19 nations. The bi-annual Ashes cricket series, played between England and Australia, is the second most popular cricket event to wager on.
Other recommended cricket tournaments for betting include: ICC Champions Trophy, ICC World twenty20, Asia Cup, Chappel-Hadlee Trophy, CB Series (Australian Tri Series), Sharja Cup and more. 
Cricket bet types
Cricket offers many possible betting options. We have enlisted and explained some of the most popular ones. Take a look below:
Match betting – punter decide which team will win the match. If you win, you will be paid according to the pre-fixed odds.
Top run-scorer – punter decide which player in a given team will be the top run-scorer
Cricket Correct Score – punter predict what will be the correct score of a cricket game
Cricket Man of the Match – punter predict which player will outperform everyone else in the game. It can be a player from the winning or loosing team, usually the batsman who scored the most runs or the bowler who got the most wickets.
Cricket Winning Margin – punter predict what will be the winning margin in the game
Highest Opening Partnership – punter decide which opening partnership will reach the highest score.
Most sixes/run-outs – punter predict which team will hit the most sixes or lose the most wickets to run outs
1st Innings Lead – punter decide which team will reach the highest score in the first innings.
Cricket in-running betting – betting on cricket markets whilst the game is in progress; live cricket betting offers a few extra betting opportunities such as 'next man out' and 'method of next dismissal'.
Cricket betting tips
Cricket Statistics come in real handy
Use Statistics to asses the form of the teams you want to bet on. Take a closer look at the last five matches and draw appropriate conclusions. What is great about cricket stats is that there is a wealth of statistical data that you can evaluate to help you make the right betting choice.
Make money on Ashes series betting
Ashes Series is becoming increasingly popular with bettors. The cricket event in which two arch enemies England and Australia take each other on is becoming more popular with bettors. Those factors have influence on the final result: home advantage, absence or presence of influential charismatic players (leaders), weather in the sense that if it is decent you can take it for sure that there will be no draw.
Find best value
Cricket odds vary significantly between different online bookmakers. For that reason, create a few sports betting accounts at different bookmakers. Whenever you intend to bet on cricket, compare the prices to find the best online cricket betting odds.