Sports Betting Guide
Boxing betting guide
Boxing and betting has came hand in hand for decades. It seems that the heyday of boxing betting was when wagering on sports was illegal. Well, things taste best when they're forbidden. Despite the fact that boxing itself is quite a simple sport, boxing betting can be quite complex. Each weight division has different belts to win via the different boxing federations.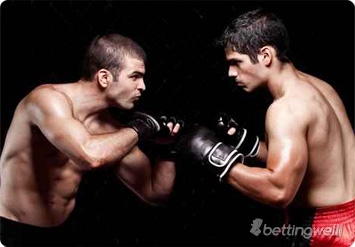 Boxing history
Boxing is one of the oldest and simplest sports. It has been practiced in different forms for millennia. First, it was nothing more than a brutal combat. Then, boxing as a sport and in a sense an art appeared in Greece. According to Greek mythology, it was introduced by mighty Apollo who himself defeated and killed Phorbas, a boxer who urged travellers through Delphi to compete with him. First rules were also established. For instance, in case that the bout lasted for a very long time, the opponents had the option of "klimax" which meant that each boxer stood still and received a blow from his opponent without making any attempt to avoid it. Later, the Ancient Romans brought the sport to the new level of barbarism with the invention of caestus. It was a boxing glove with lumps of metal and or spikes sewn into the leather. 
It basically transformed the sport into an inhuman and deadly contest. Throughout the centuries, boxing has gradually assumed a more civilised form, if one can use such an expression about a sport which is all about hitting and punching...and a small dose of tactics. Boxing became especially popular in England in the late 17th and early 18th centuries. What was distinctive about those bouts was that boxers performed without gloves and wrestling was permitted so that there was lots ground fighting with blood and teeth flying. Professional boxing first appeared in the early 20th century when boxing first became a regulated and sanctioned sport.
Another golden decade for the sport came in the 1970s when betting on boxing was even more popular than wagering on NFL. It was the decade of boxing super stars with the heavyweights being ruled by Muhammad Ali, of great rivalries and at the same time of fight fixing and corrupt judges. At the start of the following decade, Mike Tyson stepped into pro boxing limelight. Then, in the early 1990s, the "Iron Mike" fell terribly out of his prime. Then, the heavyweight scene was dominated by two Ukrainians, the Klitschko brothers, Vitali and Vladimir. Nowadays, it seems that there are a lot of contenders for the title of the best, but there will probably never be a boxer like Ali.
Boxing betting
International Boxing Federation (IBF) includes seventeen weight classes, from the mini flyweight where boxers may weigh no more than 48 kg (105 pounds) to the heavyweight where the minimum permitted weight for the boxer is 91 kg (200 pounds). World Boxing Association (WBA), World Boxing Council (WBC), World Boxing Organisation (WBO) similarly include seventeen weight classes. Most experts hold the view that WBC is much more prestigious and more respected professional boxing federation than the remaining three. Of all the weight classes, most media attention and at the same time most betting coverage is provided to the heavyweight division. Though, some experts insist that lighter categories offer more entertainment and excitement.
Boxing bet types
Win-draw-win – predict which of the two boxers will win the boxing bout. There is also an additional "draw" outcome, albeit it is very rare which is reflected in very high payout percentage for a draw.
Over/Under betting: Number of rounds – predicting whether the number of rounds will be over or under the number set by odds-makers, e.g. total rounds over – 8,5, total rounds under – 8,5.
Round Betting – Boxer will win in rounds 1-3 / 4-6 / 7-9 / 10-12
Exact Method of Victory – predict what will be the method of victory, e.g. KO (Knockout), TKO (Technical Knockout), RTD (Referee Technical Decision), TD (Technical Decision), UD (Unanimous Decision) , SD (Split Decision), MD (Majority Decision), DISQ (Disqualification)
Knock Down Specials – predict whether the fighter will be knocked down, or when the fighter will be knocked down during the course of the fight
Other Bets - e.g., Boxer X wins in opening 60 seconds, Fight is won in an Even Number Round / Odd Number Round
Boxing betting tips
To gain some decent profits from boxing betting, the bettor needs to merge into the world of professional boxing. What does it entail? Basically, getting to know the boxers.
First things first, a potential winner can be most simply recognised by an impressive track record. But what needs to be considered is not the total number of wins, but the number of wins against good competitive fighters. When two fighters have comparable track records, then pick the one who is in his prime, who looks more hungry to win and who is more determined to prove himself.
A professional boxing match consists of 12 rounds at 3 minutes each which gives a huge probability of a knockout when there is an undisputed favourite who usually ends his fights in knockout.
Before any serious fight, the boxer needs some time to prepare. Follow the reports from the boxers preparations to see whether he meets any hindrances on his way such as unexpected illnesses (frequently flu or cold which really slows down motor skill), injuries (which frequently happen during sparring), problems with losing/gaining weight etc.
Consider the fact that a boxer who has been severely damaged or injured in the previous bout, may approach the next fight lacking confidence, even when he won 2 or 3 of his previous fights. Usually when the fighter makes a comeback to pro boxing, he is less prepared both physically and mentally than a fighter who fights regularly.
Another important factor to put into consideration is the home crowd advantage. The crowd plays a big part. Cheering supporters give their man a big boost and make him fight a little harder. Even more important is that crowd noise can bias referee decision-making towards the home boxer.