Sports Betting Guide
System "Fifteen"
Is "safe doubling" actually safe? System 15 is one of the riskiest betting systems."Fifteen" may, however, have very substantial profits. When? You will learn by reading this article.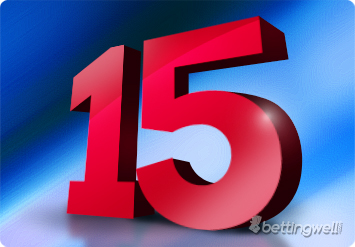 What is it and what is its essence?
This strategy has many names. The most popular are System 15, Fifteen or the system of safe doubling. Fifteen as the name indicates points to the 15 levels (stages) where on each one we play for an event with the minimal odds 1/1 (2.00). The game is started with £2. The essence of a safe doubling consists in a game with the following coupons at win from previous coupons, by saving additional funds at the account. At each stage we have an opportunity to play since we still have savings from previous coupons. If we lose twice in a row then we get back to the level with the lowest stake where we can make a mistake only once.
Example
Suppose we start a game with the starting stake of 2£ and play with the odds 2.00.
Let's watch the game simulation: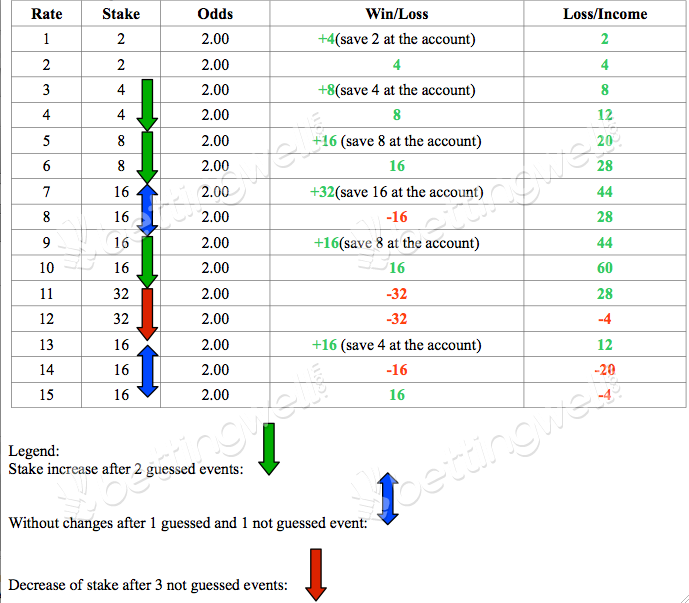 Game outcome
With the help of the given simulation we observe the increase of our capital up to the 7th level. In the system 15 we see that special struggles will be at the last stages of placing the highest stakes what means that if we win several stakes in a row and then at the last stages lose the high stakes then we can end our game even in arrears. In such case after balancing of wins and losses we see that irrespective of guessing 11 out of 15 events we ended the game with a loss of £4.
What should be remembered about the system 15
Two wins in a row take us to a higher level.
One win and one loss in the following stage of placing stakes leads to staying at the same level.
Two losses in a row take us to a lower level.
Our opinion
We think that system 15 is not an ideal strategy since it is not intended neither for beginner punters nor for professionals. Undoubtedly usage of this gaming system will be ideal for those who are effective, but other sports betting systems, with less risk involved, already exist for such punters. A plus of such method is that bets do not increase at a high rate. A minus is that stakes at the last levels differ in a high risk and a mistake can cost all the previous wins. The effectiveness guarantees us income from the system 15 at the level of 2/3 which gives us the probability of 66%.