Sports Betting Guide
Recent goals
Recent goals is the only system invented by punters. The system consists of comparison of actual condition of both teams with the help of scored goals count. The aim of this system is to determine the favourite in the targeted match. Such determination of the form is made by calculating scored goals for hosts and guests in their most recent meetings.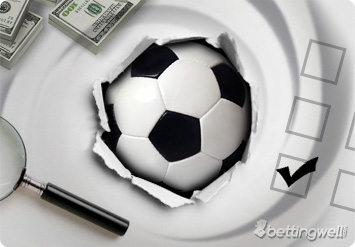 Example
Match between Arsenal London (hosts) and Manchester City (guests) we want to choose a favourite in this match. We take into consideration the last five results of the hosts on their own field and last five results of the guests in away matches.
Points of the hosts are calculated by the following method:
Sum the quantity of goals scored by the hosts and the quantity of goals conceded in the away matches.

Points of the guests are calculated by the same method:
Sum the quantity of goals scored by the guests in away matches and goals conceded on their own field.
 
Arsenal (at home): 2-0, 1-0, 0-0, 1-2, 1-1.
(where 1-0 means a win of Arsenal, 0-1 – a defeat)
 
Manchester City (away): 1-0, 2-0, 0-3, 1-1, 0-0.
(where 0-1 means a win of M.City; 1-0 – a defeat)
Arsenal's points: 2+1+0+1+1+1+2+0+1+0 = 9
Manchester City's points: 0+0+3+1+0+0+0+0+2+1 = 7
Then multiply the points of the hosts and the guests by three:
Arsenal - 9 x 3 = 27 (Home Points)
Manchester City – 7 x 3 = 21 (Away Points)
Calculate the difference between the points of the hosts and the guests:
Arsenal (27) – Manchester City (21) = 6 points. 
Our favourite is Arsenal.
Game outcome
After comparison of chances and analysing both teams condition we come to the opinion that Arsenal's players are favourites in this match.
What has to be remembered using Recent Goals?
It is not a 100% safe system since it doesn't take into account the struggles of competitors in last away matches.
Recent Goals also is not exact since it does not mention what stake should be placed at the given match. This is only a way of estimation of chances for victory.
Calculation of points for hosts and guests should be remembered.
Our opinion
According to our opinion this is not only a comparison of chances system which will be useful in such disciplines as football or hockey. It is intended for beginners and recreational punters who only begin their adventure with sports betting.
Experienced punters can estimate chances for the final outcome more accurately looking into the match in a detailed analysis: teams' condition, history of meetings of the both teams, actual lineup, weather conditions, bets type and other.