Sports Betting Guide
EntroPay
EntroPay is a virtual Visa card of the prepaid type, which allows you to realise transactions everywhere where Visa cards are accepted. More often now EntroPay is the payment system offered by bookmakers.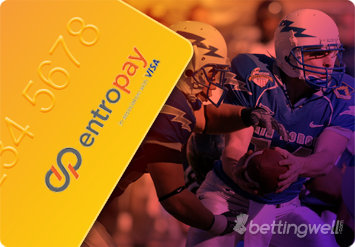 What is EntroPay?
EntroPay is a virtual Visa card, the functionality of which does not differ from other credit cards. You can refill your virtual card within several minutes transferring money from your traditional credit or debit card (here only a small fee is taken, more information in the EntroPay's Minuses section). Using EntroPay we are sure that our bank account and credit cards are fully safe since they are used just in the process of refilling EntroPay's account for a set sum. All other transactions are realized just by the virtual card EntroPay.
Principles of using EntroPay
The payment system EntroPay is very simple in use. You should just register on the site www.entropay.com and fill EntroPay's account by funds using a tradition credit or debit card or a bank account and…in general, that is it. Our virtual card EntroPay is ready for usage and we can safely transfer money to anybody in the world (of course, using this payment system).
EntroPay's pros:
Quick and simple way of transferring funds – a simple registration and quick transfer make EntroPay one of the most convenient payment systems.
There is no need to check credit history – anyone can use this system.
Huge anonymity – instead of personal data, e-mail and so on, you just indicate EntroPay user number.
EntroPay cards are a widely available payment system – due to cooperation with Visa many enterprises and firms accept it.
Globality – you can manage your funds from any place in the world using several available language versions and the most suitable currency for you (GBP, EUR, USD).
High reliability – all data regarding your bank account and so on are secured from hackers. Moreover, you transfer the amount of money you currently need to your virtual EntroPay card.
EntroPay's usage cons:
Nothing in the world is free. Safety of your money also costs. In this case we do not speak about big sums, but in its turn, you have to bear some costs which are connected with EntroPay's usage. Although registration of an account and virtual cards are free, depositing of it by a traditional credit card has a commission free od 4,95%. Withdrawal of funds from a bookmaker account to v's card costs 1,95% of commission fee, and the flow of monetary funds between two virtual EntroPay cards will correspondingly cost $0,20/£0,10/€0,15. In its turn, back transfer of money from a virtual card to your traditional credit card will cost $6/£3/€4,50.
Answers to frequently asked questions about EntroPay
How much does a virtual EntroPay card cost?
   The card itself is free, commission is set at the moment of financial operations.
Can you withdraw monetary funds from a bookmaker account directly to EntroPay card?
   Yes, with the condition that you have deposited within the last 6 months to a bookmaker account using EntroPay.
Do I get a card which I can use to pay in shops, etc, when registering?
    No, EntroPay card does not have a physical form, it is just a virtual card with the help of which a payment is realized entering information about it on EntroPay's site.
Can I use EntroPay with any currency?   
At the moment only GBP, EUR, USD are accepted.
Contact : support@entropay.com