Sports Betting Guide
Mobile Phone Betting
Throughout the years betting has become a big part of humans' life. From the days of local sportsbook offices to VR technology implementation and mobility betting has never been more accessible and user-friendly. Nowadays, you can place your bets even sitting on your couch or while taking an Uber. Today, we have prepared an overview of mobile betting, its pros and cons, what to pay attention to and how you can benefit from it.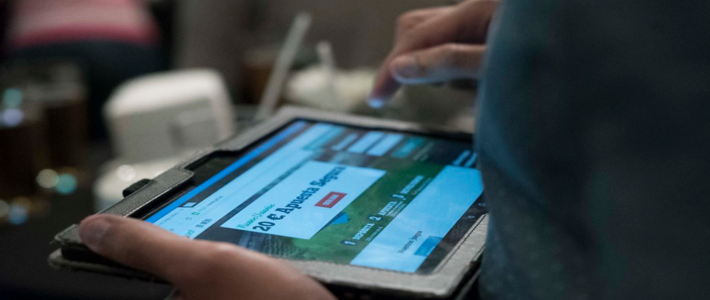 To start off, we would like to introduce you our top 10 list of mobile betting websites. If you also would like to learn more about these bookmakers, you can do so in the "online bookmakers" section on our website. There you would be able to find out all the necessary information about the bookmaker of your interest, thanks to our thorough analysis & overview. All of the bookmaker companies are picked based on their trustworthiness, quality of service & customer satisfaction record.
So, here you go with the top 10 mobile bookmakers list:
#1 Bet365
#2 Betfair
#3 William Hill
#4 Bovada
#5 BetVictor
#6 Ladbrokes
#7 Coral
#8 Betfred
#9 Sportsbetting
#10 888Sport
There are quite a few points you have to look at when selecting the mobile sports betting site. We do not say you have to find the one matching all the points but the more it has the better it probably is.
Device Compatibility
When choosing the mobile bookmaker, the first thing you have to look for is device compatibility. It doesn't make sense to pick a bookmaker that doesn't support the OS of your particular device. You might as well, give it a try before you start deeply exploring its functionality. In case of any issues, customer service is always there to help.
Competitive Lines
After sorting out the compatibility part you have to look for bookmaker's competitiveness. Trust us it pays off, in the long run, to stick with a provider, who has competitive-to-the-market offers. If you are unsure of how to do so, it is very easy. All you have to do is make some Internet research and compare offers bookmakers have out there. Generally, there's almost no difference for competitive lines among top online bookmakers but sometimes they tend to lower their odds.
Bonuses and Promotions
When deciding on what online bookmaker to choose from you must also pay attention to what promotions and bonuses they have to offer. It is a very common trend right now, that helps to bring in the new clients and retain the old ones. Taking advantage of such things can save you thousands of dollars.
The first bonus that could be waiting for you is the so-called welcome bonus. Most of the bookmakers have it, the only difference is the amount they offer. It could range from 10 to even 500 dollars. Usually, these websites are quite generous with their welcome bonuses, which can serve as a significant jumpstart.
Another type of bonus is a reload. This particular type helps you to squees something extra out of your budget. It is usually offered when you run out of your account money and have to make another deposit. It is very similar to a welcome bonus offering you some percentage of your deposit.
Outside of that, there are plenty of other promotions and bonuses, which are waiting for you. Most of the time they are related to a certain event or market. You can get some special deals on NBA or Premier League fixtures or some politics related event.
Market Availability
One of the main reasons people bet is their love for sports. Therefore, selecting a bookmaker who has offers related to your favourite discipline is a must. Otherwise, you won't have fun doing it.
Based on that you have to look for a bookmaker who has the widest range of markets available. Still, we would suggest picking the one, who has your prioritised sports first, then exploring the rest of the offers.
User Interface
This one is also an important thing to look at when choosing the bookmaker you want to stick with. Besides individual preferences user interface is crucial for decision making when it comes down to which one to pick from.
If the website and the application itself are smooth, user-friendly and easy to look around then don't leave room for any second thoughts. Another great thing about bookmakers' websites & application user interfaces is that they all vary. You can really pick one or two out of a variety of options. All of them have their pros & cons.
Do not forget that this point is completely based on your preference and nothing else like an internet review or friends suggestion!
Banking Options
To bet real money online you have to find a way how to locate them to your betting account. You have to look for a bookmaker that offers the banking option suiting you the most. Fortunately, nowadays the banking offer options are rather unlimited ranging from credit card transfers to bitcoin payments.
To find information about the banking options you usually have to look in the cashier page but if struggling you can reach out to customer support for clarification as well as on your website in the "online bookmakers" section. While looking for your favourite banking option, also spend some time checking out the fees associated with each off those.
Quality Customer Service
Last but surely not least is customer service. Have you ever had some struggles or question about the new promotion? Most of you surely have. It is a must for a top online bookmaker to have a solid and effective customer support department. There two main points you have to consider while thinking about the quality of customer support.
First one is availability. It is very irritating when you need some assistance and the working hours are either over or in the best case you will get your answer in 2-5 business days via email. By that time you can already switch a couple of bookmakers. The variety of way to reach the customer support is also very important, it's no use to have the call-centre option 24/7 is it's in the US and you're in Europe. It has to be available during the most convenient for you hours and means.
The second thing is quality. All of us have, at least once, met a customer service agent who did not know what he was talking about just copy & pasting phrases from terms & conditions. It is very disappointing and damages the company's image. The customer service team has to be knowledgable and helpful! You might as well give it a try and reach out to them yourself to ask a couple of tricky questions.