Sports Betting Guide
What to follow while betting on MMA?
Mixed martial arts is one of the fastest developing kinds of sports in the world. Fast paced and extremely brutal fights in the octagon gain more followers each year. Starting in the 90's, when the first competition was held in the USA, sponsored by the UFC (one of the largest MMA organisations till this day), we can see a growing interest to fights organised all over the world. The growing part of MMA presence on the sports market could not go by unnoticed by the leading bookmakers, which enlarge their MMA betting offer each year. We made this article especially for those of you who want to make money on MMA betting but don't know where to start.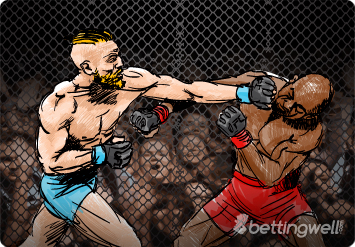 Knowledge about fighters
You should get familiar with the fighters you want to bet on. Not less and not more. It may seem banal, but we live in the age of information,    where data flows constantly, and not using that to our advantage would be considered a sin. Every, even the most unordinary, information can be of use and become the detail, that helps us outthink the bookmaker.
You should find out about the history of the fighter, you are interested in, find out what his prior style before MMA was. Some skills from the previous discipline can be more or less useful in a fight against a certain competitor.
Analyse previous MMA tournaments. Which technique is better for a given fighter? One can, for instance, be better at stance, while ground fighting or clinching are his weak spots. Imagine the potential course of the fight, consider different scenarios (for example, what will happen if the fight is led to ground, how will our fighter act?)
Track the history of fights of the fighter you are interested in against fighters of identical dispositions as his following opponents. It often is that a competitor cannot find an appropriate technique or the palette of his capabilities is too limited in order to withstand the given fighting style (for example, a left-hand fighter has completely different body stand during a fight, which will confuse his opponent).
Huge importance in mixed martial arts is the fighter's condition, his method of preparation to a fight, daily nutrition and trainings. Especially in the heavier weight categories where fighters must keep peak cardiovascular condition with addition to great weight. The bigger the vessel the more fuel it needs to keep moving on top gear.
Try to get familiar with the MMA fighter's technique. Pay attention to how he behaves during a fight in different phases of a tournament. Does he try to get the dominating position or takes conditions dictated by the opponent? Does he lose head in a bad moment and does not have disposition to a risky game?
Every fighter has not only his favourite technique, but also a method of ending the fight. Many, for instance, win by points, since they cannot make the opponent surrender or knock him out. There is, however, a group of sportsmen who win most often due to knock outs, they are not very active during the fight, they rely on single, well measured punches or a successful high-kick that will end the fight. This information will be useful during betting on the over/under number of rounds, or while betting on the ending methods of a fight.
Which fights are worth betting on?
If you think that we will give you surnames or odds then you are mistaken. We, however, offer something in return. Thanks to our advice you will easily find interesting fights in the bookmakers offer. MMA is a fighting sport. In contrast to tennis or football the fight's outcome may unveil in a matter of seconds. The mistakes bound is close to zero. Often one punch or well performed armbar can turn the direction of a seemingly decided match. And here a chance for us and our instinct appears. You should not be afraid of betting on fighters' win with higher odds. Of course, statistics and ratings are very important. But in the final account everything is brought to two fighters meeting at the ring face to face. A fighter's form, disposition of the day or even luck can be decisive here.
Do not bet on every fight
Among little experienced punters there is a tendency of betting for a huge amount of events. They bet results of virtually every fight, which are broadcasted on the television. This is a big mistake. You cannot correctly forecast a winner of every fight. You should choose several fights of the closest tournament and prepare to it thoroughly. Track competitions H2H, find information about fighters' form, intensity of trainings or sporting plans for the future. You should check whether the given opponents match them. Only then you can bet on a coupon that will be based on a thorough analysis and your knowledge. The chances for a success will probably increase substantially.
Where to get information from?
In the world where information flows freely, in the era of omnipresent Internet, this task is relatively easy, however not all value this possibility. It is a loss - literally. We take different approach. You should value that all the possible hints, which can help us become better punters, are at hand. Twitter, Facebook, Instagram, all possible chats and forums are the main sources of knowledge, which you should learn to use. Every tiniest bit of information, every rumour will get you closer to the aim and will increase the chances of success. You simply need to want to find it.
In conclusion
Nobody has created a 100% method for true income in sports betting yet. However, abiding to the mentioned above hints you will be able to considerably increase your chances for success. We are sure that analytical mind, knowledge and a calm head will make MMA betting much easier, what we wish you with a sincere heart.