Sports Betting Guide
Middle in sports betting
Middle is the obligatory term for everyone (not only advanced punters), as well as "Contra", "Value Bet" or Yield calculation. Why? Sports betting, contrary to appearances, does not rely on fate or playing against a team, but against the bookmaker's mistakes. Middle is extremely popular mean to give us this great opportunity, because in principle, it eliminates the risk of any loss, giving us the chance to win big money...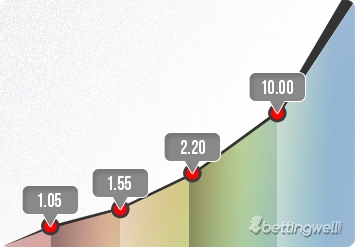 What is a middle?
Middle in sports betting means a game with a middle odds. With middle we have the situation when each of the possible results brings to the victory of one bet ticket and sometimes additionally some result (the so called middle) brings to the winning of more than one ticket. Middle is not a popular way of betting in Europe since it needs a close observation of odds and points lines. Usually only very experienced players can quickly find a profitable Middle. Beginner players avoid games with the popular "middles" because of the lack of knowledge about them. Helping the beginners we present an example of a classic Middle.
Example
Let's take a match of a men basketball Euroleague between Maccabi Tel Aviv and Barcelona. Odds for the bets options (sum of points of both teams in the match) over/under 158,5 on Bet365
under - 10/11 (1.91)
over - 10/11 (1.91)

Betfair offers a bit wider point line for this match 156.5 and odds:
under - 20/21 (1.95)
over - 21/20 (2.05)
Playing with Unibet for under 158.5 points and with Betfair for over 156.5 we get "middle". Why? This appears from the given above notion of middle and favourable regular occurrences are connected with it:
Betting £100  for under 158.5 points at the odds 10/11 (1.91) on Unibet our winnings can be £191, playing with Betfair with the option over 156.5 at the odds 21/20 (2.05) we can win £205. We risk in the way that such a game can provide us with either a loss totalling in 9£ or profit totalling in 5 £ in case of winning of one of the guessed occasion. This is a pessimistic variant of a game in Middle. Why then do the players play with it?
It is needed to be mentioned that between both given by the bookmakers lines online there is a slight difference (middle) 158.5 – (158.157) – 156.5  if the occasion is favourable for us and the game ends with 157 or 158 points then both bets will win! This means that we win 100 * 1.91 = £191 and 100 * 2.05 = £205. Sum up our winnings and receive £396 investing £200. Our net profit equals 196£.
Middle – our opinion
Many players identify middle with sure things. There is something in it as middle is a connection of sure bets and free bets. You ask why? Taking into consideration the fact that the risk from our loss is limited to the minimum or doesn't exist at all (depends on middle parameters). However little it is we get an additional bet the positive outcome of which can give us much money! Undoubtedly it is worth risking to play with middle since the potential profit can be bigger than our expenses.