Sports Betting Guide
Contrary in sports betting
Contrary is one of the basic notions of every punter who likes sports betting. Although the gist of this notion is very simple, most players do not use this obvious method to multiply their funds. Let's think of a situation in which we guessed 4 out of 5 circumstances in a combo bet and we have the final match left. Often we do not hit this last match which closes our ticket. In such situations players often say that it was bad luck. This can be avoided with the help of contra. Contrary therefore is when we bet on the opposite match result than we had bet earlier. The main aim of contrary is to get some income regardless the result of the last match on our bet ticket.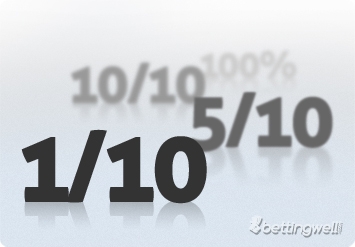 How to choose bets for contrary?
A very important factor of a good contrary is proper selection of a bet. Using the word "proper" we mean such a bet, thanks to which we get income regardless of the match result. This situation can be further explained in a following example:
Match 1: Barcelona – Zaragoza - 3/10 (1.30)
Match 2: Chelsea – Aston Villa - 4/10 (1.40)
Match 3: Liverpool – Manchester United - 29/20 (2.45)
Match 4: Sunderland – Newcastle - 3/4 (1.75)
Match 5: Arsenal – Stoke City (+1.5) - 3/4 (1.75)
Bet: £100, Odds: 13.65, Win: £1365
For the bet ticket closure we have only one match left - Arsenal against Stoke City. On the ticket we had bet that the London club will win with an advantage of two points (handicap). If we are not sure about the outcome of the match or want to use contrary in order to win some money we should bet on the opposite outcome of the match: Arsenal – Stoke City (+1.5) for the odds 20/21 (1.95) (Arsenal won't lose by two points).

Then we calculate the bet. To get an optimal income we divide the amount of the winning from the first ticket $1365 by the odds (decimal) set by the bookmaker on Arsenal – Stoke City (-1.5) in our case it is 1.95.

1365/1.95=£700.
Attention!
We can play contrary up to the amount of a potential win from the first ticket then, the difference between the win on the two tickets (1365) and the sum of bets on the first and second ticket (respectively 100+700 £) will give us net profit regardless of the match result.
Arsenal – Stoke City (-1.5)
Odds: 20/21 (1.95),
Bet: £700,
Potential income: £1365 
Game calculation:
We paid 100+700= £800 for the tickets in total, won £1365. Our net profit equals 1365 - 800 = £565.