Sports Betting Guide
What should you do in case of negative balance after taking out money which a bookmaker settled wrongly?
It is common knowledge that mistakes may happen to everyone, even to the bookmakers. After all, they are regular people tasked with a very difficult job. To some extent, computers can help them, but at the end of the day, it is them that create betting systems, calculate the results and update their websites. Mistakes while settling bets can happen to many bookmaking companies, even the most reliable ones. What should a punter do when the bookmaker made a mistake?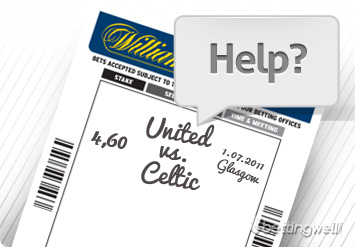 How to react to bookmaker's mistakes
If bookmaker makes a mistake that will cost us money, it is obvious that we want them to fix it. Sometimes bookies can wrongly calculate the bets and we end up with less or even no money. Now let's think about a completely reverse situation. You have some funds on your online bookmaker account, you decide you will place a bet on a particular event, you win it and all of the sudden the amount of money on your account is doubled. Seems normal? Not necessarily. Sometimes you get a large amount of money even if you did not bet that much and the odds were not that good. You can even get money to your account despite not winning or betting at all! A regular joe in that situation would happily withdrew the money. But then, it could turn out that the balance on his account is negative or his account is blocked.
How come? Let's say that someone placed a bet for a win of team X. Match was won by team Y, however, the bookmaker wrongly settled the bet and added money to the punter's account.
Whether consciously or not, the player can withdraw the money that are not his. This is because the bookmaker clearly made a mistake to the punter's advantage. How should a punter act in such situation? There are few solutions: if someone withdraws the money, he can deposit them back in order to even-out the account and continue betting at the bookmaker. Another solution is to contact the support of a given bookmaker and determine what to do next. In cases of the big bookmaking companies such situation will be probably settled in favour to the player in the matter of hours.
It is understandable that the punter is happy when an extra money is added to his account, however, we advise to be honest in such situations. Once we notice the bookmaker's mistake, we should immediately notify its support about it. It is best to not to withdraw the money, because in worst case scenario we will have to deposit them back into the account or else we could get blocked or our balance will be negative.