Sports Betting Guide
How to bet on handball?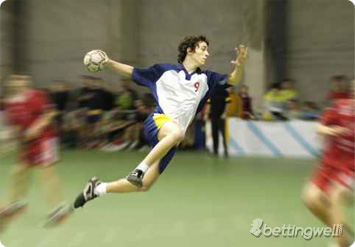 Basic handball betting guide
Handball is popular only in few countries, this, in fact has its advantages and disadvantages. Disadvantages surely include low limits, on singles they are between £250 - £1000. Besides at many bookmakers we may expect limits to fall drastically while betting accurately. However betting on this sport has its advantages as well. The key one is weak orientation of the bookmakers, which may be well used. During years of observation I have noticed that knowledge of bookmakers is limited to Champions League, Bundesliga, French and Spanish leagues.
Besides, traders rely only on statistics from the past. Injuries, standings or players absences are omitted and often not taken into consideration. The fact is that it is niche sport and lot of information is hard to get. It isn't football where match analysis, injuries and other useful information is available at many websites and traders in matter of minutes. In case of handball there are few good tipsters and when they sell paid tips their odds decrease by few per cent in seconds, and handicaps may change for instance from +15 to +8. It shows how unstable the odds are.
What to take into consideration when betting on handball?
1. Information
As I mentioned before advantage over bookmaker is the access to information for particular sport. Professional punters look for different news especially on social media and on forums. There they can find the information prior to them being printed in the newspapers, and newspapers either write about handball scarcely or they don't write at all. I mainly look for competent forums where zealots of this discipline reside. A punter after reading few news will be able to see attractive odds right away. That's how I am looking for information. For instance if a player twisted his ankle during a match or has flu and won't be able to take part in the following match. If he is of key importance to the team, it might affect the score to a large extent. What will you say to a fact that in one of matches bookmakers did not react to food poisoning of 5 out of 7 basic players? For more than 30 minutes odds were at practically the same level! Such information is a treasure for a player because after such info goes to public odds may decrease even by 50-70%. In this case we can close a bet with visible profit before the match even begins.
2. Standings
Proper statistics reading is another one of key elements, bookmakers also do it, but not always right, that's why a big value can be found there. 
3. Friendly matches, national teams matches
To me friendly matches are money-making machine. That's where bookmakers act in the dark, especially when matches regard teams from two different countries. I often follow high plus handicaps. Friendly matches have their own rules, and we know how important defence is in handball. Defence wins matches, in case of large advantage, better teams become loosen up, leaving serious openings in their defence lines. The weaker team therefore has better chance of scoring goals. I noticed that the best punters of the world focus mainly on plus handicap in this sport, rarely the other way. There's something in it, although it doesn't mean that each handicap even at +30 is of a value for us. Nothing more misleading. There really are teams which are able to lose by 40 points or more. Playing against impenetrable defence, weaker teams are only able to score 2-3 goals during the whole match
4. Using paid tips
There are followers and opponents of this idea. If we buy tips it is worth to pay attention to decrease of odds. If in a minute from putting up the odds they are at the same level it means that the tipster is weak and not worth attention.
Bookmakers market reacts very quickly similarly to a broker on exchange rate. If some information appears everyone wants to earn money on it, and time in paid tips is the basis of success.
I try to look for gems, but still I think that buying tips and quick reaction is a good investment. Surely thanks to that we will understand rules of proper sports betting. If someone wants to win within a week or a month it would be better for him to go to casino…
5. Stakes
It seems obvious, but I will just remind you: no one plays seriously in sports betting if they don't use this element. I prefer 1-20 unit system, but the most popular is 1-10. It regards each sport not only handball.