Sports Betting Guide
What to take into consideration while betting on F1
F1 is a multi-billion industry which brings more than 600 million of spectators in front of TV during each Grand Prix. It's not surprising that sports bets boast of grand popularity and that there is a possibility of playing on high stakes. At market leaders, one may bet up to 10 000 -15 000 USD on a single bet.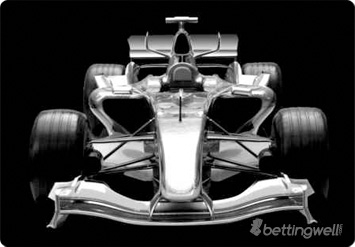 Overestimated and undervalued pole position
Average win rate of drivers who start from pole position comes up to around 50%. This knowledge shows us how important the pole position is. However, more important is estimating pole position on a given track. It has to be remembered that depending on the characteristics of a track percentage of winning is different. In case of Monza chance to win from first pole position is as much as 80%. Configuration of the track in Silverstone is a lot different and easier to overtake a driver and pole position is not of such great importance, and a chance of winning from first pole position is around 20%.
On the main track in UK, according to the statistics, the drivers which were starting from the second position were more lucky, around 40% of them won. If we bet on winning in particular Grand Prix we have to study thoroughly the percentage chances. "Recreational" punters do not concentrate much on this aspect and in my opinion it is of a significant importance.
Weather
One of the biggest factors thanks to which we can gain a lot. Weather in this sport is of tremendous importance. It is worth to analyse historical data and check thoroughly weather forecast for the race. First of all it is worth to concentrate on:
how a given team does in different weather conditions (quick reaction and adjustment to weather conditions, risk taking for instance with tyre changing)
drivers with not much experience may definitely have more problems while driving in bad weather conditions
each driver prefers his own style of driving, for instance some prefer to drive in rain and others when a race track is dry
whether the same weather condition won't change throughout the race or for instance the rain will come down for a few minutes during the race.
Tyres
Every fan of Formula 1 knows how important tyres are. Thanks to the properties of Pirelli tyres (better for overtaking) Formula is to be a little more unpredictable, although recent results do not reflect it fully. I've never had a chance to drive a formula 1 car and here I'm basing only on the opinions of experts, but apparently Bridge Stone tyres were more predictable, and what comes with it, it was a lot easier to predict the result. We need to focus on few elements: driving style of individual drivers, strategies of teams and the weather impact on the behaviour of tyres.
Analysis of the track
Every track is different that is why you need to make a decent analysis before betting. One is more twisted, other with long straights. Profiles of curves are very important because better drivers are able to take advantage of them rapidly. We can get considerable information by observing the training or qualifications. Behaviour and how drivers are accustomed to a race track also affects subsequent success or failure.
Information before the race
We have to draw conclusions from each piece of information before the match, but in my opinion, at the turn of few seasons, the rumours did not affect as much the final result, that's why wrong reaction of punters could be used against them. It is worth to follow social media, some info can be very valuable, for instance the one regarding breaking up with a girl. In this sport psyche plays a very important part.
Changes in regulations, restrictions and technical innovations
To spice up the races and make them even more unpredictable, practically, almost every season there are changes made. For instance return of Pirelli as a tyre supplier, or change of engine size from V-8 with a 2.4 litre for V6 turbo with engine size 1.6. Restrictive fuel limits which affect the strategy of teams and so on… Such changes are also an opportunity for punters. Therefore drawing correct conclusions makes advantage over bookmakers and thus increases profits.
Strategies
After two wins in a row we bet on a different driver
According to statistics it is very hard to win Grand Prix 3 times in a row, that is why it is better to think about betting on a different one. Additionally, after 2 wins punters usually  keep on betting on the same driver, therefore odds for the favourite decrease.
The victory of the season
In my opinion it is better to bet on the "Championship" after a few Grand Prix. I rarely bet at the very beginning because there are too many unknowns. While betting on this type of bet we analyse the chances of max 3-4 drivers. In this sport there are practically no surprises for the whole season.
Bets on constructors
Practically only 2-3 teams have a chance to win. It is worth to pay attention primarily to the experience of second driver, which may be of a key importance in the end. As in the case of a bet on the winner of the season, also here it is better to bet after few Grand Prix matches played.
The fastest lap in qualifications does not decide of the best time of the whole race
Often punters take for granted that a driver which had the fastest lap in qualifications will obtain the same result in the whole race - that is a mistake. Statistics do not show correlation which is as high. On average it can be assumed that the same driver gets about 30% of the best times in race qualifications. More often other driver which are considered favourites, but did not obtain best times during qualifications, get the best times. There is pressure on them and they have to drive more aggressively. For instance in the years 2010-2011  it could be seen that when Sebastian Vettel was starting from Pole Position, Mark Webber (driver from the same team) was getting the best time for one lap. Therefore, it is good to look for such dependencies.
Conclusion
As you can see, a chance to earn money awaits for punters who will fully dedicate themselves to analysis and engage in it on 100%. In a longer run only those who find value in odds offered by bookmakers win. In Formula 1 we are able to pick bets which are worth playing and in a longer run bring expected profit. While on the track there might be many unexpected situations such as: accidents, failed pit stop, fault of a car but this has to also be added. Please note that you should not stop or get discouraged after betting few times (20-50 made bets are not enough).