Sports Betting Guide
F1, which bookmaker has the best betting offer?
We were convinced to write an article by numerous questions asked by our followers about this sport. Among online companies sometimes it is hard to pick the one which will provide us with good service and we are sure that our money and data are safe. fortunately, there are few good bookmakers with offer on F1. The most bets on F1 are made at known British bookmakers: Paddy Power, Bet Victor, Ladbrokes, Coral and at Scandinavian bookmaker - Unibet. The offer is very good and what is important for many, because of the popularity, limits are very high.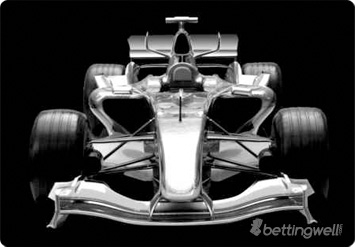 Bookmakers with best betting offer on F1
Betvictor - as befits for a solid British bookmaker, many options to bet on Formula 1 are available. Many players like live application.
Paddy Power - British bookmaker known for unconventional and the most creative marketing actions. Practically each type of bet is available at this bookmaker. Moreover, bets such as "Hat Trick" - the fastest in qualifications + the fastest lap + the win of race (available also at Ladbrokes).
Unibet - bookmaker which is one of the most popular internet bookmakers directed on Scandinavian markets and central and east Europe. It has been receiving many prizes, among other a prize of the operator of 2015 given by International Gaming Awards. As for a leader on the market of bookmakers the offer for F1 is very good.
Skybet - solid British bookmaker at whom you will find practically each bet offered by other companies. Only players from UK, Ireland, Finland, Island Man and Norman Islands can open an account at this bookmaker.
Ladbrokes - British bookmaker with good offer on F1. Similarly to Paddy Power there is an option of "Hat Trick" available.
Ladbrokes F1 betting offer
BetVictor F1 betting offer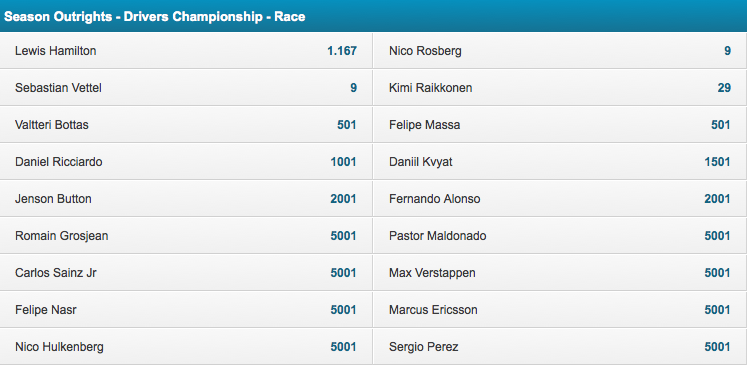 Types of F1 bets
Driver's World Championship - championship in the whole season. Practically most of the bookmakers have this in their offer.
Constructor World Championsip - the same as for drivers, it is a long-term bet for the best constructor team of the season.
Race winner - win in single Grand Prix. Available at most of the bookmakers.
TOP 3 - a place in the first three, unfortunately not every bookmakers offers this bet. It is available among others at Paddy Power, Ladbrokes, Unibet, Betvictor.
TOP 6 - a place in the first six. Available at Bet365, Paddy Power, Ladbrokes, Unibet, Betvictor.
The Fastest Lap - available at Bet365, Paddy Power, Ladbrokes, Unibet, BetVictor, Skybet, Coral.
Apart from basic bets bookmakers are chasing each other in the ideas, offering different, interesting bets.
In general bookmakers' offer should be accepted positively. Each F1 lover will find something for him or her. Mainly we should take into consideration bookmakers at whom there is a possibility to bet live. It is the most exciting form of making sports bets and in many cases the most effective. So, let's choose companies which are known on the market.