Sports Betting Guide
Types of bets in football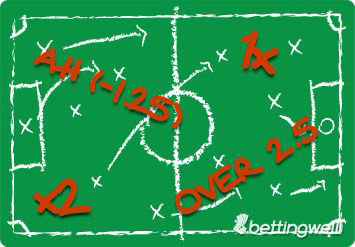 Football bets
1X2 (Home win, draw, away win) - The most popular type of bets on football, the aim of which is to predict the final result of the match, either the win of the home team (1), a draw (X) or the win for the guests (2). Approximately, ¾ of all bets on football are 1X2 bets. Despite being the most popular type of bet in football, it is not considered the best. The reason for this is that despite there are matches where the winner is quite obvious, the odds for the favourites in such events are at a really low level. No experienced and respected punter will ever place a bet with the odds of about 3/10 (1.30) and lower. It is advised to bet with the minimal odds of 1/2 (1.50). What is more, the probability for successfully predicting the result in such bet is 33,3%, while in other types of bets it could even get up to more than 50%. This type of bet is often used in multiple bets such as double or treble accumulators (combo bets), in which you have to correctly predict the outcomes of few events to win an overall bet.
Example:
Real Madrid 3:1 Barcelona (1)
We win the bet as we successfully predicted the win for Real Madrid. If we had placed the bet for the draw or the win of Barcelona, we would have lost.
 
1X, X2, 1 or 2 (Double Chance) - A bet that is much safer than the classic 1X2. Here, we pick one of three options, a win for the home team or a draw, a draw or a win for the away team or a win for any side of the match. If any of the two results that we have chosen happen, we win the bet. Thus, we have 66.6% chances of winning a Double Chance bet. What is more, it is statistically proven that the most frequent half-time result is a draw. Because of its high probability, the odds for this type of bets are most times really low. We advise to bet on the draw or the underdogs using this option as the odds for them will be much higher. This option is less riskier than regular 1X2 bet on the underdog as we can win the bet even in case of a draw. Double Chance bets can be successfully used in betting on the events where it is hard to pick a winner because the odds on all results are relatively high and we still have very good probability.
Example:
Manchester United 2:2 Chelsea (1X)
Despite that the side we have picked - Manchester United, failed to win, we win the Double Chance bet because of the draw in this match.
 
DNB (Draw No Bet) - In general, this kind of bet is very similar to the Double Chance bet with the exception that in case of a draw, we will get the void of our entire stake instead of winning (1X or 2X) or losing (1 or 2) the bet. DNB bets are quite popular because they decrease the probability of a lost bet and the odds offered for them are higher than those offered for Double Chance bets. Punters are aware that a draw is very common result in football and that is why they often choose DNB as it narrows the possible outcomes of the match from three-way to two-way. It must be said that this kind of bet might not be available for all selections and at all bookmakers.
Example:
Borussia Dortmund 3:1 HSV Hamburg (Draw No Bet Borussia)
We win the bet because we correctly predicted the win for Borussia Dortmund. If there would be a draw in this game, we would get a complete return or our stake. We lose the bet if Hamburg would win this match.
 
Over / under - also known as total bet, it is a type of bet in which a punter must decide the total number of goals in a match. The bookmaker is setting the goal line and the punter's job is to predict whether there will be more or less goals than the proposed line. It must be said here that in this bet we predict the combined number of goals in the match. This means that even if one of the teams do not score at all, we still can win the bet. There are also many variations of this type of bet, for example, you can bet on the total goals in the particular half or the total goals of one of the teams. One of the more popular versions of the Over / Under bet are the Asian goal lines. It is worth mentioning that the most popular goal line for Over / Under bets is set at 2,5 goals. In this type of bet it is good to look through the past performances of both teams and the numbers of goals they scored and conceded. You should also remember not to bet with odds lower than 7/10 (1.70).
Example:
PSG 1:2 Nice (Over 2,5)
We win the bet because there is more than 2,5 goals in the game. Whatever the score would be, we win the bet if there was at least 3 or more goals. If there was only 2 or less goal we would lose the bet.
 
BTTS or BTS (Both teams to score) - is a type of bet in which you predict whether both teams will score goals in the match or not. It should be noted that if only one team does score, regardless of the number of goals, the bet would be counted as lost. There are matches in which there is a very high probability of goals from both sides. Some teams score a lot of goals, but also concede many as well. They are the perfect pick for BTS option. What is more, it is advised to bet on this option if much better team plays a weaker one in an away game. Even the weakest side can manage to net a goal and you are almost certain that the favourite will score as well as he needs to win this game. As in case of other bets, it is best to not bet for Both to Score bet with odds lower than 7/10 (1.70).
Example:
Porto 0:1 Benfica (BTS)
We lose the bet because both teams did not scored. If Porto had managed to score as well we would win the bet.
 
Handicaps - is a type of a bet in which the bookmaker gives a disadvantage to the favourite or an advantage to the theoretically weaker team. In case of football, this is done by adding or removing goals from particular team to even the chances of victory for both sides. There are two types of handicaps - European and Asian. The latter is more popular because it decreases the number of possible outcomes to two, not three as it is in case of the European handicap. For example, in AH -1 (Asian handicap) we win the bet if the team that we placed our money on, wins the match with at least 2 goals difference. If that team wins with the difference of only one goal we get a complete void (return) of our stake. We lose the bet if our team draws or loses the match. Handicaps are getting more and more popular, especially among football punters. Read this guide on Handicaps to know more.
Example:
Manchester United 3:0 Manchester City (Manchester United AH -2)
We win the bet because our team have won with more than 3 goals difference. If they have scored less goals, drew or lost the match, we would lose our bet.
Corner bets - is a conditional bet for the number of corners in a match. It is similar to Over/Under bet in that there is a line provided by the bookmaker and the punter's job is to decide whether there will be more or less corners than the offered line. It is one of the more riskier bets but the odds for it are mostly rather high. The most important factor here is the line offered by the bookmaker. Sometimes, to get good odds you must bet on the line of 14-15 corners. And although the statistics show that there is a few corners in every match, it is still a very unpredictable thing. It must be noted that the odds for lower lines such as 5 or 6 corners are very low. There is also an option to bet on the number of corners in a particular half. Furthermore, you can also bet on the number of corners of one of the teams. It is advised to bet on Over corners in matches of teams which prefer offensive style of playing. In such games you can expect both goals and a number of corners.
Example:
Arsenal 4:1 Everton - Overall 12 corners (Over 14 corners in a match)
We lose the bet as there was less corners than we have predicted. If we had made a bet for Under 14 corners in the game, we would have won.
 
Number of cards in a match - is another interesting conditional type of a bet in which you have to predict the number of either yellow or red cards in a match. This type of bet is similar to Over/Under bets in that you have to predict whether there will be more or less cards than the line proposed by the bookmaker. This kind of bet is recommended to more experienced punters who possess considerable knowledge about football. The most important thing here is to thoroughly analyse the event: the history of direct matches between the teams, their relations - whether they are rivals or not, relationships between the players, coaching staff or even fans and the style of playing of both teams. Often, there are games where you know there will be penalty cards even before the first whistle. While analysing a match, you cannot forget about the referee, who have great impact on the final result of the game. Read this article if you want to know more about bets for the the penalty cards.
Example:
Rangers 2:1 Celtic - Yellow cards: 8 (Under 6 yellow cards in a match)
We lose the bet as we have unsuccessfully predicted the number of penalty cards in a match. If there was less than 6 yellow cards we would have won.
 
Half time / Full time bets - also known as double result, a kind of bet in which you have to predict the outcome of the match at both half-time and full-time. In this type of bet the punter must decide which side will be winning at the end of the first half and which will win the game overall. You can bet that one of the teams will have the lead before the break and will ultimately finish victorious or you can decide to bet for different results at both halves. This type of bet is recommended mostly for more experienced punters who are not afraid to risk. It must be said, that sometimes, even the favorites may struggle in the whole game, not mentioning the first half. What is more, the statistics prove, that the most frequent football result at the half-time is a goalless draw. Because of that, the odds for such bets can be really attractive. Even when betting on a clear favourite, if you bet that he will be winning at half time and will keep the score till the final whistle, you can make quite a lot money. Nevertheless, it is often very hard to predict and thus win such bet. Sometimes all it takes is for the better team not to score in first half and finish the game in the second period. In other case, a team could win 2:0 or 3:0 at the half-time and will draw or lose the game. A great example of such result is the 2005 UEFA Champions League Final between AC Milan and Liverpool won by the Reds 3:2 in penalties despite losing 3:0 at half time.
Example:
AS Roma 2:0 (1:0) Inter Milan (AS Roma half time/full time)
We win the bet as we have correctly predicted that AS Roma will be winning after the first half and will win the match overall. If one of the results of the halves would be different we would lose the bet.
 
Correct score - As the name suggest it, in this bet, you have to predict the exact outcome of the match. This type of bet is advised only for the most experienced punters with nerves of steel or those who rely almost entirely on luck. It is one of the most difficult bets to win. Because of its low probability and a number of different variables, the odds for such bets are extremely high. Even with staking a single unit (for example $1 or 1£) you can win a lot of money because the odds for such bets can rise up to 500/1 (501.00). In most cases, the odds for quite probable results such as 1:0, 1:1 or 0:0, which are by the way the most common results in football, are roughly between 5/1 (6.00) and 15/1 (16.00). Thus, they are still high enough to make a lot of money with a smaller stake. This is the reason why a lot of punters attempt to bet using such bets. However, only a few are successful in a long-term.
Example:
Ajax 2:1 PSV (Correct Score 1:0)
We lose the bet as the result of the selected match is different from the one we have predicted. In this type of bet we need to exactly predict the final outcome of the match in order to win.
 
Goal scorer - is a conditional bet where a punter must pick the goal scorer in a match or a competition. There are both bets for a player to score a goal in a particular game as well as an outright bets for the top goal scorers in the whole competitions. It must be said though, that in both cases, the odds for the best attackers of top teams are quite low. When a player scores 30-40 goals per season, you can be sure that the odds for him to score in a match or to become a top scorer will be very low. The key in betting on goal scorers is to place such wagers very early on, before the odds will drop. In single match betting, you can also risk betting on less-probable options with players that usually do not score many goals, but it is either their birthday, they recently became a father or they play against their old team and want to prove themselves. Such occasions are perfect to commemorate your performance in a match with a goal. It is even more probable when you realise that in such situations, that player's teammates will try their best to help him score, giving him a penalty to take or creating good chances to score.
Example:
Real Madrid (Ronaldo 3', 27', Morata 73') 3:0 Valencia (Cristiano Ronaldo to score in a match)
We win the bet because the player we have selected, Cristiano Ronaldo, scored at least one goal in this match. There are different types of goal scorer bets, such as a bet for the particular player to score two or three goals in a match. A player needs to score at least the amount of goals that we selected for the bet to be successful.