Sports Betting Guide
How to successfully predict live matches?
Skillful prediction of football live matches can bring excellent results and help in creation of a rather good Yield. Nevertheless, it acts in two directions. Hasty and meaningful betting can momentarily worsen Your prediction history. Read our bettor's guide and Your effectiveness will definitely get better.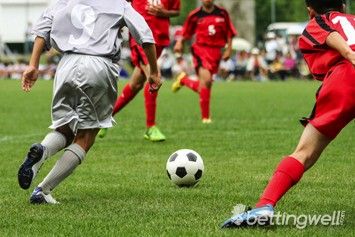 First step – choice of a bookmaker
In live betting a choice of a bookmaker is of huge importance. Enormous choice of live events, the number and quality of statistics or direct video broadcasts – these are only some elements which will be useful in betting successfully. Of course, the choice of bookmaker is up to you, however we think that among the active on the market there is one bookmaker which is out of competition.
What bets should you look for?
1X2 – bets on the final match result are the most wide spread among bettors, but are they the best? Opinions have divided. Our advantage over a bookmaker in this situation is that we see how the game goes on, who attacks, which team looks better physically, which has more fouls and so on. Any such information can be used in order to make a winning bet. This requires, however, nerves of steel and the decision has to be taken momentarily.
Over/under – our favourite kind of live betting. There are matches in which after 15 minutes you can see that scoring is a matter of time. However, there are such when the game is so dull and goalkeepers without work do everything possible in order not to fall asleep. An experienced eye of a punter can set a quick diagnosis and predict a potential match scenario. It is important to be quick and do it before the odds decrease.
Corner kicks – there are matches in which after several scoring situations you can see straight away that the match will be played in a quick temper and scoring situations come from one goal to the other. If it is really true you should wait for a huge number of corner kicks and set a corresponding tactics. Also, in such situation when a definite favourite concedes a goal at the very beginning of the match. Then you can expect a great pressure from its side what will lead to several corner kicks.
Principles for successful prediction of live bets
Choice of a match is a key factor. A frequent mistake of unexperienced punters is betting on too many events. Believe us that it is virtually impossible to correctly predict several dozens of matches within a weekend. We recommend to focus on one, maximum two matches and look for valuable odds in them. While betting live you will have a little easier task since you will see how the situation on the field develops. The most experienced punters can bet successfully after several minutes of a match.
Speed of reaction – in general, live betting is to predict the further course of the game before decrease of the odds. It is not an easy task but it is real. With time you can learn to spectate and analyse matches just from the point of view of search of value odds.
Sympathies away – a key issue in bookmaker bets. In live betting it is more important than in pre-match. Inexperienced bettors often mix earning on bets with favouring a favourite team and bet the last money on its success in spite of no reasonable arguments to do so. It is a huge mistake. We have to learn to separate emotions and love of a fan from calmness and logically estimate the situation. You can favour your team in any other ways in your meantime. During sports betting you have to focus on earning money.
Analysis, not luck – of course, the same as in life you should better be lucky in bookmaker bets rather than not. It is hard to get successful without it. But relying on luck in the long run will not make you an effective punter. Here a thorough analysis, reflex and calmness can help you.
Probation period – before starting to play seriously try to predict results without money for some time, as a probation period. When possible write down results of your progress, in such way in some time you will see whether such bets are for you or not. Thus, you will economise nerves and money.
Calmness – one of the most difficult elements of live betting. How can you keep calm when dynamic things happen on the field? If you cannot manage it, then live betting is not for you. At least not now. You can try to bet whitewash for fun and track your progress.
Sobriety – several beers will not make You a better punter. Believe it or not, it is not so obvious for everybody. Prediction of matches, especially live, after alcohol is a simple way to catastrophe, there is no other variant. Treat bookmaker bets as work, due to which you can earn good profit. You do not get to work drunk, do you?