Sports Betting Guide
How does the number of corners influence the final result of the match?
Set pieces are one of the easiest goal-scoring methods in football. Although the number of penalty kicks, that almost always convert to a goal, is not that high, there is always a lot of corners in every match. Maybe the corner kick does not stand for a certain goal, but it surely is a real threat for the goalkeepers. For stronger teams, another corner kick proves their dominance in the match, while for weaker sides it could be one of the few potentially good goal-scoring opportunities. It is worth noting that to score a goal after a corner kick, all you need is two players, the one who takes the corner and the scorer. Thus, theoretically, it is the easiest way to score a goal in a match.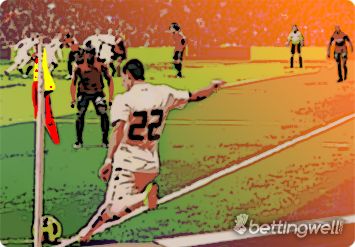 An average of 1/10 corners results in a goal
First, let us analyse the statistics. The numbers show that in average, every tenth corner results in a goal. However, it is very difficult to observe such occurrence in a particular match because although the average number of corners is approximately 10 per a game, you still do not see a goal scored after corner in every match. Nevertheless, there are games such as a recent match between Manchester United and Leicester City, where the home team scored in the first half 3 goals after corner kicks. This proves that the statistics are undeniable. Same goes for the statistics of the average chances for a team to score a goal after corner kick, which are 25%.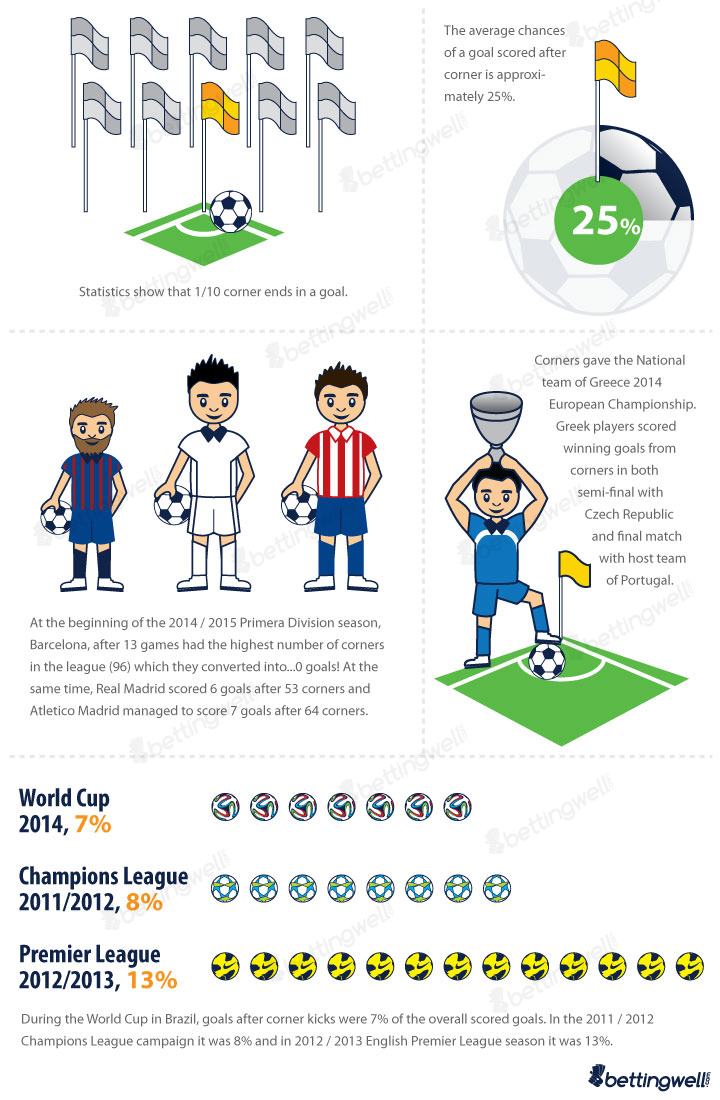 Let us look at the example of the 2010 World Cup in South Africa. In the group stage matches, 19 goals (4% of all goals scored during the group stage) were scored after corner kicks (in overall 474 given corners). 14 national teams scored at least one goal this way, interestingly enough, 11 of them advanced to the next phase of the tournament. Hence, is scoring after corner kicks the attribute of only the best teams?
Not necessarily. For example, Real Madrid scored only 11 goals after corners between 2005 - 2009. To accomplish this, they needed 778 corners - this gives them a terrible average of 1 goal per 70 corners. Furthermore, they conceded even less goals this way - only 8 goals scored by their opponents from 884 corners (an average 1 goal per 80 corners).    How do you explain this? After all, if they conceded so little goals after corners, they must have had players that have good aerial abilities. Therefore, they should have scored more goals after corners themselves. Sometimes, there is no explanation in football.
What is more, how you explain the fact that in the 2014 / 2015 Primera Division season, Barcelona, after 13 games had the highest number of corners in the league (96) which they converted into...0 goals!. At the same time, already mentioned team of Real Madrid scored 6 goals after 53 corners. But a real phenomenon when it came to corners at that time was the team of Atletico Madrid, that scored 7 / 19 of their entire goals (36%) after corners. To do that, they needed only 64 corner kicks. The main reason behind Blaugrana's ineffectiveness was the height of their players. After all, Messi, Iniesta or Alba cannot be considered giants. Catalan team was aware of its weaknesses and played set pieces differently.
Despite the number of goals scored after corners in the best competitions maintains to be the same, sometimes exceptions do happen. During the World Cup in Brazil, goals after corner kicks were 7% of the overall scored goals, in 2011 / 2012 Champions League campaign it was 8% and in 2012 / 2013 English Premier League season it was 13%. Quite a bit, don't you think?
Greece won the Euro 2014 with corner kicks
When it comes to goals scored after corner kicks, it it difficult to decide whether they were purposeful, planned move of the entire team or just a lucky string of events paired with opponent's mistakes. It did not matter for supporters of Greece, which triumph at the 2004 European Championship is considered as one of the most surprising results in football history. But would it be possible to win the Euro without successfully taken corner kicks? Definitely not.
Greece manager, Otto Rehhagel, was aware of his team's weaknesses and limits. He knew that, to have any chance in games with national teams full of fantastic, technically skilled players, he had to choose a specific strategy.    His plan for matches with the favourites of the competition, the national team of France, very strong at that time, national team of Czech Republic and the tournament hosts, the national team of Portugal was very simple: rigid defence and waiting for a set piece, for example, a corner kick. In his wildest dreams he would have never imagined that this strategy would guide his team to their first-ever European Champion title.
Spot-on, selfless defence of the entire team as well as a bit of luck (maybe not just luck?) in the corner kicks, provided Greece with winning goals in both semi-final with Czech Republic and final match with Portugal. Greeks were named the most surprising winner of European Championship, while at the same time playing the least attractive football out of all winners in history. But did it bother any of the players?
Beckham's two corner kicks and United historic triumph in 1999
All football fans in Europe passionately followed the Manchester United team throughout the whole 1998 / 1999 season of the UEFA Champions League. Every match of Alex Ferguson's team on their way to the final was exciting to watch. But something happened to that team on 26 May 2012 in the Champions League Final played at Camp Nou. Without key central midfielders: Paul Scholes and Roy Keane, the team was merely a shadow of its former self: a team that destroyed its opponents with intensity, fierceness and pure football skills. 
And when the Bayern players started to count the time left to the end of the game, The Red Devils were able to pull off one last attack. They got a corner kick, that would be taken by David Beckham with all United players, including the 'Danish Giant' Peter Schmeichel, going one last time to the Bayern's penalty box. Beckham bended the ball and United players used the havoc in penalty box to score a goal, equalising the score.
Devastated Germans were finished few seconds later when United scored after...another corner kick! Once again, Beckham crossed the ball and 'The Baby-faced Assassin' Ole Gunnar Solskjaer netted the goal from the close range, winning the game for United. English team players were ecstatic while the Germans were shocked and did not leave the field for a long time, still not believe what just have happened. About 100 seconds and 2 corner kicks decided they would not win the most desirable club trophy in the world.
There are endless examples of the importance of the corner kicks: two 'golden-headers' of Zinedine Zidane in the 1998 World Cup Final match with z Brazil, another World Cup Final goal, this time by Marco Materazzi, scored at 2006 World Cup in Germany against France, Didier Drogba's last-minute equaliser in 2012 Champions League Final match with Bayern. Do you still think that corner kicks do not matter?