Sports Betting Guide
Wrestling – betting guide
Wrestling is one of the oldest disciplines of sport in the history. First wall paintings presented 5000-year old single combats of two fighters. Fights were held back in Ancient Egypt, however, its prosperity came in the ancient Rome and antique Greece, where the best fighters became heroes of songs and poems.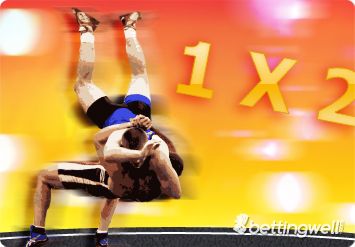 Wrestling history
Wrestling is a visiting card of the Olympic Games (in the history of the Olympiad only once in 1900 fighting competition was not held). The number of amazing combats in history connected with Olympic competitions is virtually endless. One of the most well-known combats in the history of the Summer Olympic Games was held in 1912 in Stockholm. In semi-final an Estonian Martin Klein won over a representative of Finland Alfred Asikainen after…11 hours and 40 minutes of the fight. Today the combat time, fortunately, is limited and similar situations are unlikely to happen.
Wrestling in bookmaker bets
It would be false to say that wrestling is one of the main positions in bookmaker offers. However, in the course of main tournaments, such as the Olympic Games, World or European Championship, the odds are set by the majority of bookmakers and it is of huge demand among players.
The number of experts on wrestling is limited. We were able to speak with two experienced players, betting on fighting for several years and now they want to share their knowledge with You. Depending on the tournament, there are several kinds of bets:
To win outright – our task is to bet before the beginning of the tournament (or live, only with modified odds) on a fighter who wins or takes any place in Top 3. This kind of bet is recommended to players who have general idea about the discipline and fighters but are not experts.
Bets on single match– in order for the bet to win, a bettor has to predict the winner of a concrete combat. This kind of bet is recommended to more experienced players who dispose of wider knowledge about fighters.
What to follow during wrestling prediction?
Knowledge of players – in order to successfully predict results of combats you should know its participants, this is the main requirement. Even if at the moment you do not have such knowledge, everything is ahead of you. What do you have the Internet for? Here you can find anything you need. All kinds of statistics, achievements, combat histories and replays of previous fights. You just have to do the homework on fighting, there is no other way.
History of fights H2H between fighters – a key element. There are fighters with average and weak skills, who due to unknown reasons defeat favourites, who have problems with them, thus it is very important for an experienced eye of an expert to notice it based on previous fights. There are several reasons – non-traditional method of combat, an opponent can easily set to uncertainty state or even turn out to be left-handed, and the favourite, for example, lost 5/5 fights to left-handed fighters.
Physical and psychological shape of fighters – even the best fighters cannot reach success if they prepare badly physically and psychologically. Single combat requires accumulation and usage of huge power during a short time interval (2 X 2 minutes). If a fighter has not worked out in a proper manner before the tournament, he will have nowhere to take power from. If, in turn, he is perfectly prepared physically, but the mind is not working properly, then success in his case will be less likely.
Tournament's rating – it is well-known that the higher the tournament's rating the bigger the prize pool and fighters' motivation. Despite prizes in single combat are not as big as in football, fighters are not any different from other sportsmen. They also strive to win in the most prestigious and highly paid tournaments. In the course of such tournaments you probably should wait for expectancies.
Do not be afraid to bet on outsiders – if after a thorough analysis you think that a theoretically weak opponent has chances in a fight with a definite favourite, you should bet on him. The odds will most probably be higher, just remember that everything comes down to the encounter between two fighters. You cannot underestimate anyone before the end of the fight.
You should not predict every fight – this advice should be at the beginning of our guide, but we left it for the end deliberately, in order for you to remember it well. The biggest mistake while betting is prediction of too many fights without respective preparation and analysis. In 99% it is a direct way to misfortune. If you do not want to repeat such mistakes you should concentrate on one, maximum two fights within one tournament and try to prepare best for them, track and analyse statistics and histories of direct matches. This will let you save money and nerves.