Sports Betting Guide
What to consider in NFL betting
In order to be a successful punter and win money on NFL it is advisable to get to know some useful information which have the greatest impact on the outcome of the bets. To make your life easier, we have gathered all of the important factors contributing to a winning bet and created a guide which will be useful for both beginners and experienced punters.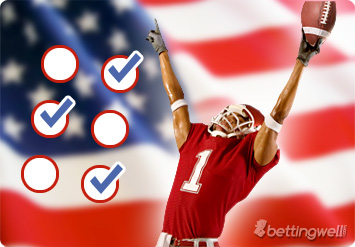 Rookies and player movement
With the start of the new season it is good to look at some rookies (new, inexperienced players). Each year, few hundreds of them are drafted by NFL clubs. Usually, defensive players tend to have a bigger impact on their new teams than those on offence. It is like that because of their physical abilities that can be sometimes way better than those of the more experienced team members. Sometimes there is a few good running-backs with impressive pace and agility that could evolve into NFL stars in the future. They could as well shine in their first season due to their physical capabilities.
Each year, there are a lot of promising young players that graduate college and are ready to be drafted into NFL. Unfortunately for them, only few really make an impact on their new teams in their first season. It is especially hard for the quarterbacks as even the most talented players in this position usually need few seasons in NFL to be experienced enough to make a difference in the field.
It is also beneficial to check who will go where, some of the rookies that have great potential will definitely have an impact on betting odds. Moreover, it is important to follow the movement of the players. Some of the unemployed ones will find new teams as the season starts and some might be dropped of from their teams. Obviously the most important thing to do is to observe high-class, experienced players that could potentially change the balance of the forces for a particular team, conference or even entire competition.
Coach changes
Every season we witness the changes of head coaches in some teams. It is therefore important to take a closer look at the NFL coaches. If a new coach of the team you want to bet on has never managed such high-rank team before, it is crucial to take some time and get to know him better depending on both his methods and style of coaching and the results of his team. Check if there will be any changes in the tactics, if he is experienced enough to lead the team in different situations, does he know the players, and what was the reaction of both, the players and fans after his appointment. Here is a site that could help you always be up-to date with all the coach changes in NFL.
Weather
Weather can be a crucial factor when betting on NFL. Weather forecast may help you decide on a bet providing you with necessary information about the conditions in which the game will happen. There are two main guidelines which a bettor should be aware of when it comes to weather conditions:
Don't pay much attention to rain, snow or cold unless the forecast informs you that it is going to be on an extreme level.
When it comes to the wind, again you do not have to take it into account unless it is over 30MPH.
Of course there are cases where weather can play a crucial role in the game even if it is not an extreme situation. The weather in some regions is much different than in the others, for example, in Texas, New Mexico or California weather is mostly hot and you could almost never notice there any snow, but in northern and eastern states like North Carolina, Michigan or Wisconsin the weather is more unpredictable with snow, storms and heavy rains.The weather is also important for some elements of the game, like kicking or long-range passing of the ball which can be influenced greatly by the wind.
Schedule
Once the new season's schedule comes out it is good to look through the fixtures, look for the teams you want to bet on, interesting games between top conference teams and for clashes between rival sides. Check direct games between the teams and their scores from the last few seasons. As it already mentioned, remember about the influence of the weather and the importance of drafting of the players. Depending on the home ground advantage is also a good way of deciding on which team to bet on. If the team's schedule is packed with difficult games at a particular period, there is a possibility of injuries or a bad result and if it is the play-off time it is even easier to pick the better team by looking through their past and future fixtures. The NFL schedules can be found at its official website.
Statistics
Statistics are an essential element of every sport. If one has ever made a bet before he knows that without proper knowledge of the stats you will only take a wild guess and are unlikely to win. We could divide NFL statistics into two categories: team and player stats.
 
When it comes to team statistics the most important is of course the performance of the team, especially the last few games as well as their overall win percentage. Another important information is the total yards on offense and allowed on defense as well as average number of points  per game, both scored and allowed. Last but not least it checking the physical attributes of the team, the average height and weight of the defensive line and the average speed and height of the offense. The quarterback should be analysed seperately as he should posses both phisical and mental abilities that are hard to put into raw statistics.
As for the individual player stats it depends on positions. Here you have to posses a basic knowledge of the positions in football (American): the defensive players should have a large numbers of effective tackles and interceptions, this include the full-backs and halfbacks as well as the linemen. The quarterback is the brain of the team, he is both the main tactician and the one that begins all the plays after the the centre sends ball to him, in most cases he is also the team captain. Quarterbacks should have a high percentage of successful passes as well as individual skills such as pace or agility that enable him to 'end' the play by himself. As for wide-receivers and running-backs, their main job is to run and make touchdowns, so it is obvious that they should have a great pace and agility as well as a high percentage of successful touchdowns.
 
When it comes to NFL statistics there are many sites who do an amazing job creating whole databases of them. Some websites offer different kinds of stats so it is worth to check at least a few of them and find ones which catch your attention.
Injuries
Before you actually place a bet you should check the injured players in the teams. Checking a daily report may help you avoid surprises, such as betting on a team with their key player injured right before the game. Injuries can be both advantage and disadvantage. After all, the opposition's players get injured as well, thus improving the chances of the team you made a bet on. The official NFL website proves to be very accurate when it comes to injury reports:    The season campaign is very long and the players in this sport often get injuries that could end not only their season but entire career. The importance of backups is often undervalued but all experts agree that at some point they could be the ones that could change not only games but whole seasons.
Atmosphere
People tend to underestimate 'team spirit' although through the history one can find numerous examples showing that it can be a very important factor for the final result, often being the difference where the level of abilities of the teams is similar. If the players of the team we want to bet on are known to not like each other, or even have integral feuds, we should consider it twice before betting on the team.
 
A squad of players that almost live together, eating meals every day, sharing the pain both at trainings and during the games, supporting each other through hardships of injuries and personal issues will be like a family, strong and united. That kind of teams could achieve almost anything with a bit of luck and hard-work.
The recent Leicester City example from soccer (non-american 'football') is one of the many of how theoretically weaker team can be victorious with the help of hard-work and good atmosphere. It is all about having a momentum, it could be created by one win or by a whole season, it all depends on the relations between the coach and the team as well as support from fans and families of the players.
 
This type of information is very hard to find or even take notice, but if you do, it could be a major advantage in your betting. Try to follow the team social media and official websites, very often teams are doing promotional campaigns and behind-the-scenes videos from their games or even practices. You should also watch some games to see the interactions between the players and between them and the coach.