Sports Betting Guide
Weightlifting – secrets of successful prediction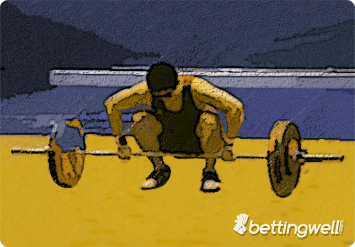 Introduction
Weightlifting overhead is one of the kinds of heavy athletics, which has rich and lasting tradition. Sons of pharaohs competed in lifting sacks with sand overhead, what is testified by paintings of 4000 years B.C. Strongmen in Ancient Greece were hugely respected, songs and poems were written in their honour, monuments were formed. Sources of the modern weightlifting date back to the XIX century, first viewed as a circus attraction, but with time becoming a sporting competition. In 1891 the I World Championship in weightlifting took place, and since 1896 this discipline, with short breaks, has been present in the program of the Olympic Games. Except from the Olympic Games, the most important competitions are the World Championship and the European Championship, namely within these three tournaments we can bet on weightlifting.
Types of bets on weightlifting
Except from three important events, bets on weightlifting are not a discipline on which bookmakers pay huge attention. Nevertheless, in the course of those tournaments bookmakers' offers can satisfy fans of this kind of sport. There are several types of bets:
H2H bet – our task is to predict who out of two weightlifters ends the tournament on a higher position. We also do not advise to bet on favorites at low odds, but after thorough analysis try to predict a lifter who is lower classified, but has all chances to win over an opponent.
Bet on the winner – here players have to correctly predict the tournament's winner. This is the most popular type of bets on bar lifting overhead which requires huge knowledge and intuition from bettors.
Top 3 bet – here it is not necessary to be so precise, it is enough for our favorite to get into the first three in order for our bet to win. However, the odds that a weightlifter at a high position in the classification will get into the first three are rather weak. Betting on a weightlifter not performing as a favorite, who, according to your mind, can become a "black horse" of the tournament, will be much more profitable.
How to successfully bet on weightlifting
First of all, get knowledge about weightlifters. You should track their current career, results, achieved successes. Try to find out what are their aims for the forthcoming season or tournament, what tasks they set for themselves.
Find out in what condition the sportsman of interest currently is. You cannot just rely on previous results, you need to concentrate on current successes. search what type of preparation to the tournament the bar lifter chose, how he spends every day. Facebook, Twitter or Instagram will help you on gathering such information. Sometimes sportsmen themselves post information about minor injuries, personal problems or even photos from parties. If there are many photos like this and the tournament is not far away, you should understand that his condition will not be the best.
Rating and tournament's prestige – it is known that the more prestigious is the tournament and the bigger the prize fund, the more is the weightlifters' mobilisation and wish to win. A dream of every weightlifter is the Olympic games' medal, so if a weightlifter you are interested in does not yet have such medal in his collection, he will do everything possible to get one before ending his career.
Stress resistance – some weightlifters are not capable to withstand the pressure of the more important competitions despite a great disposition in less prestigious tournaments. Although for an outside observer this kind of sport looks like meaningless "pumping iron", this discipline is much more complex and intellect, reliable psychic plays an important role.