Sports Betting Guide
Water polo – bettor's guide
What you should pay attention to and where to bet on water polo?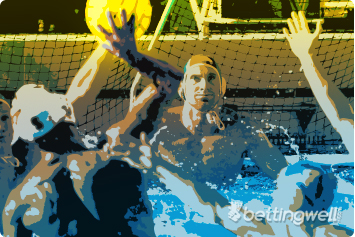 Water polo betting overview
Not many know that the men category of water polo debuted in 1900 at the Olympics in Paris. In its turn the women category of this discipline waited for its debut to happen only in 2000 in Sydney.
Water polo is a popular kind of sport only in several countries due to what a small number of bookmakers offers bets on this kind of sport. The most widespread water polo is in Hungary, Spain, Italy, Croatia, Serbia, Australia, France and Montenegro.
The most important tournaments are the Olympic games and namely this event the majority of bookmakers set odds for. World championship, Europe championship, Champions League, Adriatic league, Women European league or national leagues in Italy, Spain or Hungary are available not at many.    
Betting on water polo we are limited to 5-6 bookmakers including Unibet. Apart from them we can find some bets on water polo at Paddy Power and Betvictor.
The limits are rather low - mostly 100-400 Euro per bet. If you want to play using higher bets you should bet at several bookmakers. Moreover, the live video broadcasts section at Unibet looks rather good.
The pre-match bets types first of all are: 1X2, DNB, DC (double chance). In live betting we have a big number of gaming possibilities, and the most popular are Asian handicaps.
Betting on water polo
From own experience we know that bookmakers often make mistakes in setting a correct line. Little amount of information about water polo, little number of matches, low interest to this discipline also impact the oddsmakers work, who virtually always go by ratings and statistics.
Other important elements such as injuries or lack of sportsmen remain unknown.
Social networks can become an irreplaceable source for You. Those who often go to matches – forecast them better and simpler. Setting a contact with such person usually gives you an advantage. 

In many cases such information will be a real treasure for a punter before the match. Bookmakers, oddsmakers and other punters have no idea about this. In its turn You have such knowledge and can use it and it can bring good income in the long run. We think that this is the best way to get advantage over bookmakers in forecasting little popular kinds of sports or leagues.
Moreover, according to our observations, bigger differences or mistakes take place in women category of water polo. This occurs due to even more limited knowledge of bookmakers.