Sports Betting Guide
Successful prediction of triathlon
Triathlon is a sporting discipline which contains of swimming (1,5 km), cycling (40 km) and running 10 km. It dates back to the 50's of the XX century and was founded thanks to the love of the Americans to jogging. With time, however, it was claimed that running itself was not enough and it was decided to vary it with swimming and cycling. Much time has passed and the discipline it still developing. It should be mentioned that in the first competitions of the Iron Man series in 1978 just 15 sportsmen took part in the competitions. The competition was examined by time and last year 1500 sportsmen from 50 countries took part in it on Hawaii.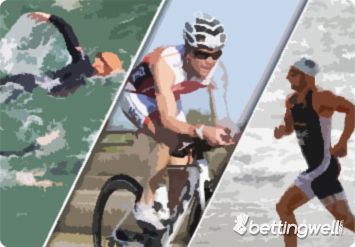 Types of bets on triathlon
The most important tournaments in the triathlon's calendar are the Iron Man competition series, known as the World Championship, World Cup and, of course, the Olympic Games, where triathlon debuted in 2000 in Sydney. Namely during this tournament bookmakers usually set odds for several markets.
To Win Outright – in order for the bet to win a punter has to correctly predict the tournament winner. Due to a big number of participants (at OG in London 56 sportsmen started in the men final) such prediction is not one of the simplest. On the other hand, the odds look rather attractive and experienced punters can point to favourites.
Top 3 – the odds, of course, are a bit lower but the mistakes bound is bigger. This kind of bets is recommended to less experienced punters, having general knowledge, and for expert bettors who can find a sportsman for whom bookmakers will set high odds, due to their experience and knowledge.
H2H – our task is to choose one sportsmen who will end the race first between two. Sometimes the odds are ridiculously low but an experienced punter's eye can find a position worth attention.
Successful prediction of triathlon
Knowledge of triathletes – an absolute basis of an effective triathlon betting. Knowledge of sportsmen, their strong and weak sides, preparation methods – will probably help You bet successfully.
Competition rating – of course, favourites will be better prepared and their concentration and motivation will be at the highest level during the World Championship or Olympic Games, compared to less prestigious tournaments. Of course, this is not a strict rule but you should not look for any surprises during competitions of the highest level, favourites usually confirm their class. Sensations should be looked for during tournaments with a smaller prize fund and medial clamour.
Season's phase – if it is an Olympic season, the leading sportsmen can save power at the beginning and not train 100%, thus their results will not be the same we are used to. The reason? It is hard to sustain an optimal form within the whole season, so they will be training for a better condition before the Olympic Games. The beginning of the season undoubtedly is the time when you can expect surprises.
Triathlon is a rather specific discipline, to reach success in it a sportsman has to show a high level in three kinds of sports. So what if he is an excellent swimmer if he loses all advantage during cycling or running? And vice versa. So, the sportsman who looks solid on all stages will have the most chances.
Equipment of triathletes is rather same and probably does not have huge importance for the final result. There is so little of such equipment that it cannot impact the result. During swimming a sportsman can use just glasses and a swim suit, while during cycling you cannot mount plugs and no other equipment which can decrease air resistance.
General knowledge of sportsmen will also let us find out the performance method during a tournament. Not all may know that during competition some sportsmen use illegal and forbidden tricks – cooperation in teams during cycling. This kind of violation is strictly forbidden and is penalised by fine minutes from 1 to 12, depending on the violation. If you notice that one of the competitors misuses such behaviour you should consider several penalty minutes due to which his winning chances decrease.
One of the largest mistakes of little experienced punters is fear of high odds for a competitor. Usually, they think that if the odds are very high then probably he does not have chances for success. Nevertheless, you should remember that triathlon is not the main discipline which bookmakers use. Many times it can lead to the set odds having nothing in common with the real situation and our task is to find decent odds.