Sports Betting Guide
Shot put – a bettor's guide
Shot put is a discipline as old as the world. First mentions about a similar kind of sport can be found at Homer, who described competitions in pushing rocks for different distances, which were held by soldiers precipitating the Troy. Later in XVII century the English soldiers held competitions in pushing cannonballs in order to kill time. After all, it was decided to unify the rules and thus this discipline was born, which creates the history of sport since the first Olympic Games in 1896. Despite shot put is not the main position at bookmaker offers, it still has many fans and punters. Creating this guide we have specially talked to a previous sportsman, now a punter, who specialises namely at shot put.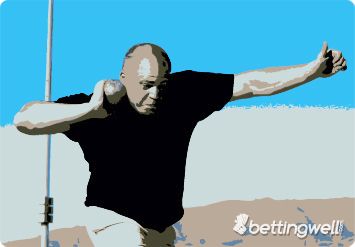 Competitions and types of bets on shot put
The most important event, of course, is the Olympic games, a bit lower in the hierarchy is the World and European Championship, then many athletic tournaments which have more of a commercial character, but competition of a lower prestige is compensated by a higher prize fund. You should not deceive yourself if you want to bet on competitions in shot put within the whole year, you will have problems. During large tournaments the majority of bookmakers set the odds, usually for several markets.    
Outright winner – a punter has to name the last name of a sportsman who will achieve the best results and win the tournament. This kind of bet is the most popular among punters, but it does not mean that it is the most profitable. According to our expert, the list of definite favourites in each tournament consists of 3-4 sportsmen and the odds for these athletes are not always attractive. An exception is situations which we will cover later (at least a season's phase or information about a sportsman's weak condition).
Bet on top 3 – the odds here are a bit lower, they are in the range of 1,10 for definite favourites, and self-respecting punters will not pay attentions to them. A situation looks interesting which concerns athletes not occupying higher places in classification. Due to all kind of information which you can get you can find very attractive odds for the so called "black horse", a sportsman taking a lower place in the classification, who at the moment can surprise and get into the first three.
Shot put betting
Any information which you can get on the topic of the given athletes and tournaments can turn out to be golden, literally and figuratively. The way they prepare, what plans they have for the closet season and also what competitions they will devote the most attention to? Our expert confirms that it is hard to be in a good condition for the whole season and simply the best sportsmen miss some tournaments. If you are able to get such information then the way to success is open for you.
A thorough analysis of the tournament's rank and its prize fund. Compared to footballers or tennis players, athletes do not belong to the list of the richest sportsmen. This leads to them setting their performance calendar more thorough during the season and set their priorities more scrupulous. If you cannot find such information on thematic sites then you should track the accounts of sportsmen in social networks. Sometimes they post different information on Twitter, Facebook, Instagram, which you can use and make conclusions of.
Season's phase – as it has already been mentioned, it is hard to be in a good condition during the whole season. Therefore, you should look for surprises at the very beginning of the season, when the best sportsmen are not in an optimal condition and their form has not yet been stabilised. This requires huge knowledge and a "bookmaker intuition", but you should also risk several times since the odds for theoretically weak athletes are worth the play.
Open stadiums or a closed lunge? The next very important element of the puzzle. There are athletes who achieve good results only in closed lunges and there are such who prefer to compete at open stadiums. This is connected with personal preferences of a sportsman which can be easily checked by analysing statistics of the last performances at different objects.
High odds affect many unexperienced punters by pressing, they think that high odds show that the given athlete will take one of the last places. There is nothing more mistaken. Firstly, in sporting competitions any result is possible. Secondly, shot put is not a priority market for bookmakers and sometimes you can see odds mismatching the real situation. You should be attentive and confident in your knowledge.