Sports Betting Guide
Judo – a bettor's guide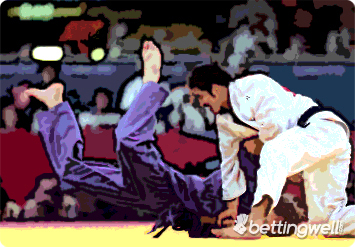 Introduction
Judo is a Japanese combat style. Judo was created on the basis of jiu-jitsu used by samurais in the art of war. Jigoro Kano, who is thought to be judo's creator, eliminated dangerous elements of jiu-jitsu and in 1882 presented a new combat to the world. Even though Judo is compared to other combat sports such as wrestling, it differs from them by its set of rules and moral aspects that needs to be considered while performing it.
Types of bets on judo
The discipline is still developing and it was a question of time when would the bookmakers enter this market. Of course, it is hard to claim that bets on judo dominate in bookmaker offers but in time of large sporting events bookmakers will not disappoint us. Specially for this guide we were able to talk to an experienced punter, who specialises on martial arts, namely in judo. He gave us several useful advices which we will share with you. The most important competitions, of course, are the Olympic games and World and European Championships, namely then bookmakers set odds for judo.
Bet on the match – a favourite kind of bet, a punter who predicts judo has huge amount of emotions. Between two judoists participating in a fight you have to choose the one who will win. A thorough analysis of shape and possibilities of certain judoists has to be done before betting.
Outright winner – punters have to correctly predict the judoist who will get to the highest step of the pedestal. It is a very difficult task since in any martial art a win consists of many factors, and in order to get the golden medal a judoist has to go through all the stages of the tournament undefeated. This kind of bet is recommended to experienced punters whose knowledge about current condition of sportsmen is above average.
Bet on top 3 – in order for the bet to win a punter has to correctly predict will a given judoist be able to end the tournament in the first 3, irrespective of the place (1, 2 or 3). This kind of bet leaves punters some bound of mistakes, unfortunately due to lower odds. Thanks to knowledge and experience we can find a lower classified judoist in a bookmaker offer, who according to our opinion can bring a surprise.
What to pay attention to while betting on judo?
Knowledge of judoists – an absolutely unavoidable aspect. The more fights you see, the more information you read – the higher are your chances for betting a winning bet. All information is important, even insignificant one which you can get. Sportsmen's preparation methods, which tournament is considered of high priority in the given season or a family situation can impact the achieved results. Where to look for information? Of course, thematic sites and articles can tell much about a judoist's form, but much information can be found in social networks. Facebook, Twitter, Instagram are a real treasure of knowledge about sportsmen, it would be a pity not to use them.
History of H2H matches – before betting you should check how previous matches of the judoists you are interested in looked. It can happen that lower classified sportsmen are not worse than favourites, what you can see in previous fights. Such knowledge will help you find valuable odds.
Physical and psychological condition – success in judo is possible just due to a perfect physical condition and a full harmony of soul. If one of the elements lets you down the judoist's chances for the final result abruptly decrease. Except from the condition and type of preparation you should also find out whether the given sportsman has family problems which can impact his disposition.
Tournament's rank – you should look for surprises at tournaments of lower prestige, with smaller medial noise and small prize fund. Judoists of world class are usually perfectly prepared to the most important tournaments and try to confirm their domination.
Avoid predicting of a big number of fights – it is a mistake which is often done by unexperienced punters. It is hard to correctly predict the way of a dozen of fights daily and it is impossible to prepare a thorough analysis. Therefore, you better concentrate on one, maximum two matches within one day and try to solidly prepare to it.