Sports Betting Guide
How to successfully predict javelin throwing
Initially a javelin was a hunting or war weapon. With time, however, javelin throwing became a kind of sport which has been popular since the ancient times. Javelin throwing competition was one of the main elements during the ancient Olympic Games.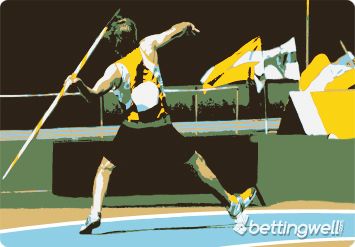 Types of bets on javelin throwing
Most often bookmaker companies set odds for two kinds of bets:
Bet on the winner – punters have to predict the tournament winner, it is a kind of bets recommended to more experienced players who have huge knowledge about javelin throwers.
Bet onTop 3 – in order to win you have to predict will the given javelin thrower be able to end the tournament in the first three. This variant allows players a certain bound of mistakes but the odds are sometimes much lower. With the exception of those events when your intuition tells you that the given sportsman will be able to surprise with a great condition.
Key elements of successful prediction of javelin throwing
Season's phase – unexpected results always appear at the beginning of the season, when sportsmen are not in the best condition. You may succeed to locate a black horse, which you should then bet on.
Preparation method – try to learn how important the competition for the given javelin thrower is and how he prepares to it. Here useful are all the possible social networks – Facebook, Twitter, Instagram
Tournament's prestige – it is known that the higher the prestige of a tournament the higher is the concentration and strive for a win of the best javelin throwers. It is hard to wait for any sensation at this point, although anything can happen, and if you are able to predict such event you should get use of the moment. At competitions of a lower rank you need to look for mistakes of bookmakers while setting the odds, since it is quite a frequent occurrence. The most important event in the calendar is, of course, the Olympic games and you can be confident that the best javelin throwers will be optimally prepared.
Knowledge of javelin throwers – similar to other kinds of sports, knowledge of javelin throwers will play the key role. If you do not have such knowledge you should learn as soon as possible, since you cannot go on without it. In the era of Internet it is not a problem. Track previous performances and condition that the given sportsman shows.
Weather forecast – of course, the weather, especially the wind have significant impact on the course of the competition. If windy weather is forecasted you should avoid betting on certain favourites, since javelin throwing results can be ruined by rapid wind flaws.
You should not fear high odds – if your prediction is based on thorough analysis and knowledge you should not be afraid to bet on a javelin thrower who is lower in the qualification. In order to for it not to be a chance circumstance and luck.