Sports Betting Guide
How to successfully predict beach volleyball?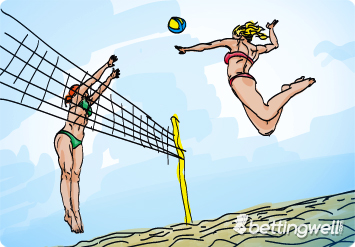 Introduction to beach volleyball
Beach volleyball, despite being a rather young sporting discipline (first professional tournaments were held in 80's), has a great number of fans. The results of these matches are more often being predicted by punters, especially during the most prestigious events, such as the Olympic games. Beach volleyball as an Olympic discipline of sport, first appeared in 1996 in Atlanta and is now constantly present in the Olympic games. In order to please the growing interest to beach volleyball, more and more bookmakers propose bets on these tournaments in their offers.
Beach volleyball competitions
The most prestigious tournaments, of course, are the Olympic games, the World Championship or tournaments of the so called Grand Slam – a series of competitions played during the whole season on different continents with a prize fund around 10 million dollars. Bookmakers offer punters usual bets on a winner, first set, handicap or over/under.
Beach volleyball betting
Despite the constantly growing popularity, beach volleyball has not been yet listed to the number of main kinds of sports, as football or tennis, for instance. This leads to bookmakers can make mistakes while setting the odds. To the extent of own possibilities check the odds at several bookmakers, since they can differ.
As a rule, in every sporting discipline, the knowledge of players and teams has great importance. You should track the history of matches, the ratings, H2H matches between particular teams. In the search of valuable information – you should visit Facebook or Twitter.
Similar to other team kinds of sports, in beach volleyball the main role is cohesion of players. Before betting check how long and with what results the given sportsmen have been performing. If the history of their mutual performances is not very rich, they can have lack of cohesion, what their opponents will get use of.
You should know all the results and runs of every tournament. Such knowledge will help better predict future matches. Except from cohesion pay attention to preparation of sportsmen, how strong psychic they have and how they deal with stressful situations (for example, in the last set).
Take into account the place where the tournament is held. It is known that sportsmen from Europe can have problems with acclimatisation to high temperatures in South America. What concerns other changes in weather conditions, the main role here is the wind. First of all, it is hard to predict the direction of wind and its impact on the game, secondly, we presume that the conditions will be equal for both teams.
While betting live you need to have good reflex and intuition. Events on the playing field change very quickly, both opponents come to the win in turns. Be attentive especially when predicting live matches of the women beach volleyball, since the situation in this case often changes dramatically, and when it seems that the win is in the pocket it can go the opponents.