Sports Betting Guide
How to successfully bet on speedway?
Many of us are probably not only interested in speedway, but also bet on this kind of sport. It is easy to get in love with speedway. Once you encounter it, it will be difficult to get loose of it. When spring comes the fans visit not only stadiums, but also bet receiving points in order to exchange their knowledge into earnings. However, this task is not so easy as it may seem. There is a huge number of factors that impact the results of a given racer or the whole team.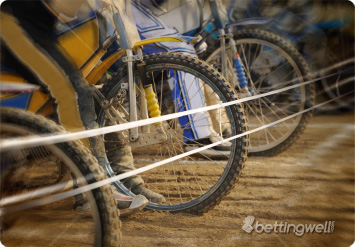 What to pay attention while betting on speedway?
Some time ago speedway was more predictable, usually a host team won, only the point difference was unknown. During the last several years the situation has changed, now everybody can win. There are several reasons for such situation. First of all, in the majority of cases races demand presence of a track commissioner, a person who is watching the track's condition. To put it short, a track has to be smooth, safe for everybody. Due to this a host team loses huge advantage over the opponents. The next factor is the wider access of even theoretically weak racers to the best tuners. Techniques of world leaders do not very substantially as it was several years ago. An important factor that defines potential success is injury, unfortunately an inevitable part of the motor racing sport. Bigger and bigger sums of money are being invested in speedway, what is connected with big pressure on motorists. The best motor racers participate in several leagues simultaneously, due to what the risk of injury increases. Often they compete with not fully healed minor injuries. They should be cautious.
One of the main principles of the game is the search of a respective bookmaker at which you can find not only a wide range of bets on speedway, but first of all the highest odds for the win of your favourite. The speedway season is short and lasts from April till October, but due to such calendar you can watch the stars of different leagues or individual races virtually every day, so you should find a bookmaker, who sets odds for speedway daily.
It happens that oddsmakers, responsible for setting the odds, make mistakes and if you can use it then you have chances for earning. Are you sure that one of the teams is stronger and can thrash the opponent? Then bet on the win with a handicap at high odds. Many bookmakers try to fool you using the following tricks, which not all punters notice. First of all, it is the amount of points for one racer in a race. Some set the line at the level of 9,5 in the whole race for example, other give such a line only for the first 5 races, the rest only for 4 races. You should get familiar with the betting offer in order not to bet on an unwanted market. Another variant here can be gaming with H2H. If you are sure about given racer, then you should check whether another bookmaker did not put him in pair with a weaker sportsman. Another important argument is to check all the rules of the bets, when the racer drives in one race. Some bookmakers can cancel your bet and others will regulate bets even in case of a racer's injury in a second race.    
You should always check the most recent information on the internet before betting on a race or a tournament. This can be very valuable because several hours prior to the race you may find out about racer who will not be able to perform due to an exhausting race in the Grand Prix or an illness.
It should be remembered that a racer after an injury requires time for rehabilitation in order to get back to full disposition. Racers often travel hundreds of kilometres for participation in competitions, and the distance which they have to overcome often impacts their shape. It is better to learn about whether the racer has ridden on this track. This is one of the most important pieces of information, since the track characteristics are not suitable for every racer. The track surface also can be different and if a racer could not win at the given track in the past, you can have problems in future races as well. You should look through the most important competitions such as the Grand Prix or the European Championship, where racers repeatedly risk their lives fighting for points.
If you are speedway fans and have your favourites then you should track information on their profiles on Facebook and Twitter, where you can always read about what has happened lately, their latest results, will they be able to perform during the following race, weren't they injured or were their motorbikes damaged. Racers have to get to the finish in order to gain points. Crossover motorbikes are only machines, the specialty of which is their frequent breakages. Namely due to this they have to be periodically repaired. You should pay attention to whether the racers are busy due to frequent competitions. As it is known, racers earn money on the track with each finished race. The best of the best during one week start even in 5 competitions, often in faraway places of Europe. Then, due to lack of time the equipment does not get to a tuner, to repair it. Of course, the richer is the racer, the bigger bike park he has. However, you should track the performing calendar, since a very intensive calendar can reflect itself on a racer's form.
How does the weather impact the races? Of course, rain is a problem of every speedway season. There has been not a single year when races were not delayed or interrupted due to bad weather. Unfortunately, all tracks all over the world are open, so the atmospheric circumstances play a great role. If a stable weather preserves for some time, for example there are no rains, the hosts can have an advantage at the home track. The racers train on the track for a week, preparing for the upcoming race. However, when it rains on the racing day or a day before, the guests have the same chances for a win as the hosts.
Conclusion
Despite the fact that racers are more well-known than others, or as it seems that at the given moment are in a better form, you should concentrate on many factors while betting on speedway, even those not dependent on human, such as weather or breakages. So, watch and analyse all forthcoming races and choose only good predictions.