Sports Betting Guide
How to successfully bet on darts?
Despite darts is not recognised as the most popular discipline of sport in the world, it has a huge number of fans. Darts is especially popular on the British islands, in USA and Scandinavian countries. For a long time, darts was treated as an entertainment in pubs, but since some time ago we could notice a continuous professionalisation of the competition. Such situation has led to bookmakers offering a wide range of variants for darts more often. What should one follow while betting on darts? What should one pay special attention to? There is no unique answer, however we will try to present you several hints, which will make betting on darts easier.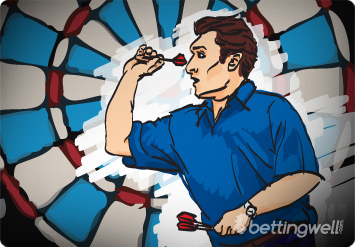 Know the players
Darts is a sport, as any other kind. If you want to bet successfully on competitions, you should constantly track even the least prestigious tournaments. Of course, statistics, ratings will help us a lot. However, it is good to find out where and with what results the players, we are interested in, performed; how their physical and (first of all) mental form is. Darts is a specific kind of sport. It may not be requiring many skills and extraordinary power, however mind's stability and confidence in oneself play a key role. Nothing creates a fighting spirit such as a stable, optimal form and excellent performance in previous tournaments. 
Taking these factors into consideration, you should pay attention to the competition's prestige. It often is that dartsmen have problems with performing in large tournaments after good results in less prestigious ones. The audience, television and huge interest can make the task more difficult for some. In general, players of world rank do not differ by their skills from other dartsmen. Due to this the setup of the day or huge experience in large tournaments can often have a decisive importance. You cannot underestimate this. Not less important is also the start of a given player in a tournament. There are several types of players. Ones have a slow start, lose the first set and only after this find the will to fight in themselves (we will go into it in more detail in the chapter on live betting). Others have their form and concentration at a high level from the very beginning. For them there is no place for hesitation. 
The next type of players is dartsmen, who play excellent during the whole match in order to lose confidence at the end. Such players often have problems with playing the last series of throws in the following sets. Nevertheless, in order to know about it and transfer your knowledge into success you should regularly watch all possible tournaments and observe the players' behaviour in particular situations. Probably different social networks will be useful here. Twitter, Facebook or Instagram are a source of knowledge about dartsmen's form, their sports plans and also their family situation, what often finds its reflection in the current situation.
The tournament's rules
The next important criteria that can increase your chances for a win is analysing the rules of the tournament you are interested in. First of all, prestige and problems with keeping a high form in a little prestigious tournament and the bigger ones, played before a large audience or broadcasted live on television. This may work in two ways. Stronger players are often forced to play in less prestigious tournaments, that do not impact their accuracy, due to sponsorship contracts. Their concentration and adherence are not always at the best level, what gives us opportunity to get advantage in betting for a theoretically weaker player. You should be cautious, analyse and make conclusions. What concerns the tournament itself, you should get familiar with the rules valid for the following matches. 
By analogy to tennis or snooker, the longer is the match, the easier it is for a favourite to hold his domination, even after a timely fall. Short matches are an excellent possibility for outsiders to take a temporary leadership and even win the tournament. You should take it into account. The next factor is the drawing procedure, the tournament's network. At first sight it seems trivial and little important, since the style of one player's gaming cannot impact the gaming of another. Nevertheless. As in each individual kind of sport, players have their past, history of previous matches. Every darts player associates given opponent either good or bad. A negative balance H2H repeatedly depresses, it seems, the best player, what often causes hands tremor. It is difficult to explain, but probably it should be paid attention to.
Is it worth to bet live?
As every other sport, you can bet on darts online. However, the competition tempo requires our quick reaction and reflex. Events in the table change often within several seconds, which requires huge concentration not only from the side of players throwing darts, but also punters observing the game. There is no such moment when you can relax and take some result for granted.
Frequently in a decided - as it seems - match, after three throws the situation can change drastically, so maximal concentration and sober analysis are simply needed. We remind again. There are players, who need some time in order to get into the match and regain concentration in the decisive moments of a set. There also are such, who are paralysed by fear at the ending stages of a match and often mess up by the firm hand in the most important moment.
In conclusion
We hope, that we showed you ways of reaching success in betting on darts. Sticking to these principles, regularly overlook the situation in current tournaments, tracing different ratings and social networks, and last but not least, keep calm and sober thinking in every given situation, and you will be able to reach the desired results. We wish you best of luck.