Sports Betting Guide
How to reach success in swimming betting?
| | |
| --- | --- |
| The first mention of swimming dates back to 7000 years ago. With time it has become a sporting and Olympic discipline – it has been present in the Olympic Games since 1896. | One incredible case is connected with swimming in the Olympiad's history – in 2008 in Beijing the American Michael Phelps won 8 gold medals. Nobody has been able to beat his record yet. |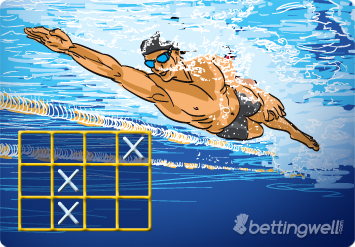 Types of bets on swimming
The most important events in the swimming calendar are the Olympic Games, the World Championship and the European Championship. Punters can find the biggest amount of events for this discipline at bookmakers during these competitions. The most popular bets among players are the ones for the winner of the swim, but often the odds for favourites are rather low, so more experienced punters look for more valuable bets based on their knowledge.
The next kinds of bets on swimming, which are offered by bookmakers, are those that concern the correct prediction whether a swimmer can fit into the first 3. Disposing a particular information, we are able to find a swimmer who is not a favourite, who will be able to take a high place in the tournament. Punters, who feel themselves great among black horses and swimmers from the lower positions in the rating, are offered bets of the type H2H by bookmakers. Rather good odds can be found in bets on the fastest swim.
What to remember when betting on swimming?
All the possible information that you can get about the tournament and swimmers will be to your advantage. You should track the history of their career, what stage of the career they are in (is it a young swimmer, an experienced one or the one who finishes his adventure with sport?). For many swimmers the Olympic medal is the main dream and striving, you can assume that they will do everything possible to get it.
 
During the times of Internet and social networks it is not a problem to get information about a sportsman of interest. Thus, you should get use of the possibility that is given to us by the modern world. All information, every rumour will help You define a bookmaker. Twitter, Instagram or Facebook will often tell even more than all the possible thematic web-sites and statistics.
This does not mean that you do not need to use them. You should always do. Any statistics, swimmers' fitness and favourite distances are the basis of every bet. There are swimmers preferring 200 meters distance, who cannot at any stake deal with the 400 meters one. Or vice versa. You should search for chances for success in bookmakers' mistakes, swimmers' performance on particular distances.
 
Several years ago there was a moment when swimmer teams competed in technical novelties, including using polyurethane swim suits, the material which is used for costumes for spacemen from NASA. Such material should have decreased the resistance of water and such swim suits were called "shark's skin". Unfortunately, a dangerous for sport battle began then, defining whether it was more important to have a better swim suit or fitness and skills. It has reached the moment when world records were begun to be divided into those set in polyurethane swim suits and textile ones. With time, however, there was an end put to it, and now you do not have to pay attention to the inventory, the swimmers use.