Sports Betting Guide
How to predict fencing
Fencing is one of the oldest and most respectable disciplines of sport in the world. Even though it is not as popular as other sports, there are thounsads of fencing fans and punter around the globe. In this article you can learn more about this sport and how to successfully bet on it.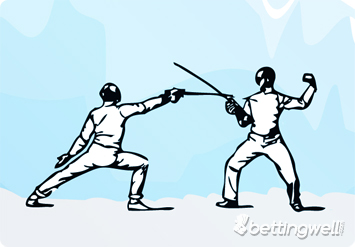 History of fencing
Sources of fencing were originating several centuries ago, although older paintings presenting competitions of fencers, date back to several centuries B.C. Sport resembling fencing was popular in ancient Japan, China and Egypt. In Europe this kind of sport became well-known mainly due to the medieval tradition of dispute regulation by way of matches.
In XV century a wide-scale usage of gunpowder started and fight with white weapons in wars was not so effective as earlier. This lead to fencing competitions becoming rather an entertainment form and a sporting discipline with time. Decrease of interest among soldiers and nobility merged in time with the beginning of fencing popularisation among students of European universities. Although the rules were not unified at that times, the fights were held till the first blood, but it became the basis of a kind of sport that we know today.
Types of bets on fencing
Since 1896 fencing has been present in the Olympic games' program and namely then a wider audience could enjoy this elegant kind of sport. Other most important competitions are the European Championship and the World Championship. At that time these competitions were of huge demand among punters and bookmakers who prepare special offers for these events, offering us several types of bets.
H2H bets – the punter has to choose among two fencers the one who will take a higher place in the final classification of the tournament. This type of bet can bring profit to players who know fencers and history of their matches well.
Bets on the winner – punters have to correctly predict the tournament's winner, who is defined in the following fights in the play-off system (the loser falls out). In order to win in a tournament a fencer has to go through several stages without losses, what makes this kind of sport very difficult for prediction. We recommend this type of bet to more experienced punters who are familiar with the world classification.
Bets Top 3, Top 5 – depending on the bookmaker and kind of competition, there are several types of bets. This, however, gives punters a little limit of mistakes, and lets the more experienced find the fencer who is lower in the classification but can turn out to be the black horse of the tournament.
How to successfully bet on fencing
Knowledge of fencers – this is a must without which you will not be able to earn on fencing prediction. If you do not have corresponding knowledge about fencing yet, you should watch several matches before betting, and if it is possible analyse the current situation of world ratings.
Speed, reflex, accuracy, balance, technique and calmness – these are features of an ideal fencer. By analysing chances of a given sportsman you should look for such who will have at least several of the mentioned characteristics and our chances for success increase.
History of direct matches – fencing differs by the final success mainly depends on good motivation and psychic stability. And nothing impacts the moral spirit so good as positive results from previous matches against the given opponents. Unpleasant memories from the past can bring harm to even the best fencers.
Statistics of competitions – of course, knowledge of them will be useful for us, our bet has to be the result of the last statistics and information about the current condition of fencers. Take into account history of the last matches even in a greater degree than successful performance in previous years.
Competition prestige – it is known that the higher the authority, the bigger the motivation of fencers in the reach of excellent results. It is a huge dream for every sportsman to take part in the Olympic games and we can assume that all world leaders will be in a great condition.
Social networks – information presented on these sites, often by fencers themselves, can tell you much about preparation methods, minor injuries or family problems and any such information can be worth the weight of gold for you.