Sports Betting Guide
How to bet on WWE and professional wrestling?
Betting spreads all over the place nowadays. From fictional games to esports, it reached out to new markets with no effort. It is only a matter of time when betting will be available in every part of the world, from Africa to the United States.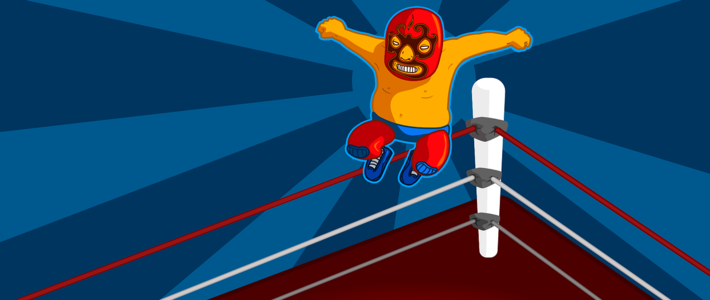 What is WWE?
The World Wrestling Entertainment, usually referred to as WWE, is a professional wrestling promotion company founded in the 1950s. It is the largest wrestling promotion in the world, holding more than 500 events annually and gathering over 36 million viewers in more than 150 countries worldwide. Well, do not go over your head a lot, it is all a show. Every WWE event is scripted and staged, with a winner being picked long before the match.
It is as much entertaining as it is scripted, you can see chairs and all other sorts of things flying around and being slammed on the fighters. These matches are so unpredictable that you can witness random wrestlers show up unscheduled to take the belt. Despite it being such a "soap opera", there is always a winner, you will never be left wondering who actually won the fight.
Entertainment over sport
Traditional sports betting is being pushed out a bit by a new wave of entertainment betting. Punters are willing to place a wager on some TV shows like "Strictly Come Dancing" or "Great British Bake Off". WWE has chosen its path, and now it mainly falls under the entertainment realm.
Many say that wrestling is fake, but they are quite wrong. It is not fake but staged, moreover, it is staged the way you won't be able to get your eyes off the screen. The scripts are usually written long before the event, or for the whole season at once. Bookmakers are not very excited about such markets, as there is no real-time action. Sometimes information gets leaked, and as a result, we can get odds like 1.11 from the unhappy bookies. Another drawback of WWE being solely entertainment is that sportsbooks will limit your betting options. Most of the top online bookmakers will set a max. stake limit at less than $100 to prevent unwanted losses.
Why bet on WWE?
Value
Yes, there is quite a bit of value and money hidden in wrestling betting for a couple of reasons. Due to heavy spending on main markets, bookmakers do not have a lot left to invest in smaller markets like WWE. Therefore, they are forced to set some limits to minimize their possible losses. 
Pro tip: If you see something like that, it means that bookmakers have no more knowledge than you.
If you are able to gain some edge here, then you're guaranteed to yield some value out of your bets.
Limited risk
As we have already mentioned, books are imposing limits on WWE events most of the time. This works both ways. Not only you can bet a capped amount, but you also cannot lose a lot. If you worry about being carried away easily, WWE is an excellent place for you.
WWE betting strategy
Just like for every other market, you have to do some sort of research and make your bets based on analysis and collected information.
Since WWE happens according to the written script, you do not have to pay any attention to wrestlers skills or physical form. All you need to do is study the patterns WWE writers follow:
History of writers' habits
Approach to certain wrestlers
Unexpected surprises in the past
Writers are human, just like we all are, and it is nothing new that we all like to follow certain patterns and bound to our personal preferences. Despite WWE writers being top-tier professionals, they still will be cursed with being biased. Regardless of trying their best to be random, the same scenarios will be seen over and over again. 
Your task is to find these well-covered patterns and, voilà, you cracked the code.
Type of WWE bets
WWE is a rather small market, so you can not really expect a lot out of it. Most of the best offered for WWE are straightforward winner bets.
To mix it up a bit, bookmakers offer some prop bets. The most interesting ones are:
First-time winner - you have to pick a wrestler that is up to you is going to win a match, tournament or season without winning it before.
 
Longest ring time - here you have to bet on the wrestler who will stay on the ring the most. Sometimes it is disappointing if your candidate gets blown out quickly.
 
First to appear - give you an option to pick whoever will appear on the show first. Just predict whose intro will play first and claim your money.
 
Appearance - this one is all about being random. It allows you to place a wager on who will be featured during the event. The options are quite wild, from politicians to UFC fighters.
 
Bout Outcome - this one is a little tricky as you have to bet on how the event will end but not who will win it. You really have to know a lot about wrestling to make a decent prediction here.
 
Most Elimination - this type of bet is usually offered on multi-person events like Royal Rumble. It is also self-explanatory, you have to pick the wrestler who eliminates the most rivals.
Main events
As it was mentioned above, there are more than 500 WWE events streamed throughout a year. We would like to give you a quick overview of the most important ones.
Monday Night Raw
As the name suggests, the show is aired on Mondays and is commonly referred to as Raw. It became a calling card of the whole WWE. Since its launch in 1993, it has been broadcasted from 208 different arenas, 171 different cities and 11 countries.
This event is also divided into a couple of championships like:
WWE Universal Champion
WWE United States Champion
WWE Raw Women's Champion
WWE Cruiserweight Champion
WWE Raw Tag Team Champion
Smackdown
WWE SmackDown, or simply SmackDown is another WWE program. It serves as a complementary show to Monday Night Raw and airs every Tuesday. It was first introduced in 1999 and has visited 162 arenas, 147 cities and 7 countries.
SmackDown trademark holds exclusive rights for these WWE championships:
WWE Champion
WWE Intercontinental Champion
WWE SmackDown Women's Champion
WWE SmadkDown Tag Team Champion
NXT
WWE NXT or just NXT is a supporting branch of WWE. You can treat it like a minor league for professional wrestling. It is the lowest WWE division of the ones we presented but still holds four different championships:
NXT Champion
NXT Women's Champion
NXT Tag Team Champion
WWE United Kingdom Champion
Conclusion
You will also need to know some wrestling lingo before you jump in action. You can go ahead and check out our betting dictionary for wrestling-related terms (like Clean Finish, Jobber or Heat) that would help you become a more successful bettor. 
We hope this guide will be of great use for you. Remember to bet wisely, and the luck be with you. Happy betting.