Sports Betting Guide
Hammer throw – a bettor's guide
Hammer throw appeared back in ancient times, but it is true that this discipline then differed from the one we know today. Earlier before a throw an athlete had to run some distance, the hammer itself looked different, being a metallic core with a wood handle. In 1887 the rules were unified, the hammer got attached to a steel cable with a handle and its weight was set at 4 kg for women and 7,26 kg for men.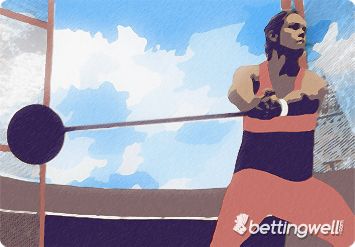 Types of bets on hammer throw
Of course, it was false to claim that hammer throw is the most wide spread kind of sport at bookmakers. However, in the course of the most prestigious events bookmakers set their odds. So, during the Olympic Games, World and European Championships and competitions of the IAAF series punters who look for bets on hammer throw will not be disappointed. Bookmaker companies usually set odds for several markets.
H2H bet – some bookmakers set bets where a punter has to choose one hammer thrower from two sportsmen chosen by the bookmaker, who will end the competition at a higher position.
Bet on the winner – the task is to name the hammer thrower who ends the competition being the first. The task seems to be simple but while betting on definite favourites you will not find valuable odds. So, you should review the bookmaker offers more attentively and try to find an athlete who is in great shape but is no listed to favourites.
Bet Top 3 – a bit simpler kind of bet, but the odds are lower too. Again, based on the received information you should find an athlete who is classified a bit lower but which you have a good feeling for. We recommend this bet to more experienced punters, since you will need wider knowledge of the discipline here.
How to effectively predict hammer throwing?
Knowledge of athletes – a necessity for every punter to bet on hammer throw. In case you do not yet dispose of such knowledge, before visiting the bookmaker website try to get as much information as you can. Internet is full of results, statistics, rumours, video broadcasts and then this task is totally doable. Also all the possible social networks can present full probability about sportsmen, their shape and preparation. Therefore, you should track their messages in Twitter, Facebook, Instagram.
Tournament's rank – nothing impacts athletes' motivation better than high prestige of a competition. Prize funds are bigger than usual then, and direct broadcasts in many countries additionally motivate sportsmen. You can expect the leading hammer throwers to be prepared to these most important tournaments by all 100%, so you should not expect any sensations. Although they do happen, but it is rather rare.
Current shape – many less experienced punters take into account just results and statistics of previous years. This is a huge mistake. Undoubtedly, you should track it, but it is more important what is there here and now. What of it if sportsman X won several medals several years ago if since the last season his form has been weak? You should pay attention to such things.
Season's phase – athletes are characterised by rarely being in a high form at the beginning of the season, what is mainly connected to the tournament calendar, which does not predict competition at the start of the season. Namely then you should look for higher odds for dark horses.
Do not be afraid of high odds – it is true that hammer throw is not the most popular discipline in bookmaker offers. Correspondingly, the odds set by bookmaker companies do not reflect the current form of a given sportsman. So, you should be attentive and sooner or later, thanks to your knowledge, you will find the odds worth your attention.