Sports Betting Guide
Effective betting on archery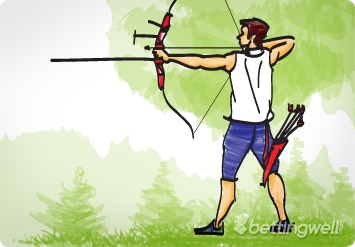 History of archery
The first mention of archery was made 10000 years B.C. It is well-known that in those times it was the main method of getting food or fighting the enemies. During ages, however, archery has become a form of entertainment and then a kind of sport. The biggest merits in popularisation of archery in the role of a sporting discipline are attributed to the British. Then there was an inevitable moment when archery got into the Olympic Games' program. It happened in 1900 in Paris, where only women participated. It is interesting that those tournaments did not anyhow resemble the modern competition. During the first performances on the Olympics, the medals were given for shooting…doves.    
With time, instead of helpless birds a shield with a target came into use, the tournament rules were standardised and archery got into the program of the Summer Olympic Games. The development of the discipline did not go past the attention of bookmaker offices, which decided to add some important tournaments into their offers. We will try to dispel your doubts in the article below, will prompt what you should pay attention to and what determines a tournament's outcome.
Advice for effective archery betting
A win in archery competition is nothing else than a component of mastership, accuracy, concentration, repetitiveness and resistance to stress. In order to successfully bet on archery competitions, all you need is to have huge knowledge about arrows, used in competitions. Only respectively used knowledge of weak and strong sides of players will let you accurately predict a tournament's outcome. Let us then look closer to the factors worth attention:
Psychological preparation. Despite archery requires huge agility and physical strength from the sportsman (a fact, which not everybody know about), the key to success is usually in the bowman's head. This is a sporting discipline requiring maximal concentration and attention, the basis of which is extraordinary accuracy. Every bowman deals with pressure differently, while it grows proportionally to the tournament's level, reaching its peak during the Olympic Games. You should track the history of the competition of the interested bowman, check how he dealt with stressful situations, in moments when nothing went right. Some get to a high level of concentration only when they are put to huge pressure, other, in their turn, can be paralysed by a potentially lost set or even match. There is such a thing as possibility of a "switch off" during shooting, not thinking of the results before and after the shoot.
The history of matches between the bowmen. Of course, there are team tournaments, but in connection with the bowman overcoming his weaknesses you should classify archery as an individual kind of sport. Here the most important is the competition history of the opponents you are interested in. Often first class bowmen can be observed to have a weak H2H balance with the opponent with a lower rating. It is hard to explain why it happens this way in just several words, it is like this and that's that. Similarly, as it looks in tennis, a kind of match against a particular opponent paralyses some sportsmen and such situations should be avoided. Repeatedly, despite a good shape and low odds, a favourite will not be in the condition to deal with the opponent. You should track the H2H history before betting.
Repetitiveness. This word is the key word in this discipline. In order to shoot successfully a sportsman has to differ by regularity and repetitiveness. What of it if two shoots aim the 10, and the last one aims 4, for example? The sum makes 24. In its turn three regular shoots, for instance 8+9+8=25. Of course, two 10s look better for a last name, but in the final account chances for a success are higher for the bowman, who can eliminate or at least minimise the amount of weak shoots, and such bowman should be searched for in the bookmakers offer.
Disposition of the day. Archery matches are played for a relatively short time, often the whole match lasts not more than 10-15 minutes. So, the shape is so important not on a particular day, but in a particular moment. This can have a colossal meaning on the match's destiny, but you cannot predict it while betting. Beware of all in gaming for a definite favourite. And even despite all 8 previous matches against the given opponent were won, this day he can have a weakness moment, which can be used by his opponent.
Rank in the world rating. As in every other kind of sport the individual shape of a sportsman will be shown by his position in the world rating. So, you should check the actual place, but also pay attention to the highest rank in history, how long ago it happened, is the given bowman at the beginning of his career or is he already finishing his adventures with sport. Or course, such information will be useful while betting, but you should not overestimate it. It can help a bit in case of bowmen holding neighbouring places in the rating, while the bowmen classified higher will have very low odds. We recommend to rely on the statistics of direct matches of particular bowmen.
The amount of performances on the Olympic Games or the World Championship. The ratings and statistics probably are important, but you should also pay attention to international tournaments of a high level. While ratings and personal records can improve in matches against weaker opponents, a real examination takes place during the Olympic Games and the World Championship. And just by estimating the quantity of performances and gathered medals you can create a specific picture on the topic of a bowman while betting on sports.
Quality of inventory. Of course, the cost and quality of inventory play an important role in professional archery. We, however, doubt that it plays any significant role during a tournament, which you will bet on. During the Olympic Games or the World Championship players dispose of analogous inventory. On the other hand, we do think that there is no possibility to bet on less prestigious tournaments, since there are no such in the bookmakers' offers.
Social networks. Earlier we reminded about success in archery often being dependent on the psychological preparation of a sportsman. And where to find information what is happening to the given bowman better than in social networks? Then, upon possibility check Facebook, Twitter or all possible forums or chats. Often the trivial rumour (even about family problems) can alleviate your task in betting.
Conclusion
Prediction of matches results in archery, as in the majority of sporting disciplines, comes to one simple thing – knowledge of players, their strong and weak sides. Search of different information and statistics is currently not a problem, you just need some time and desire. We can assure you that information, which you gather, will probably let you predict archery better and more effectively. We wish you luck.