Sports Betting Guide
Betting on rowing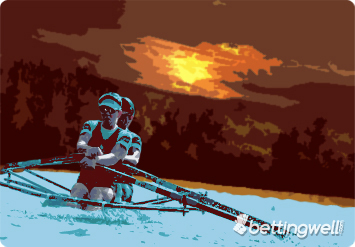 Introduction
History of the rowing sport began a long time ago. Back in ancient Egypt pharaohs held races on barges that attracted huge number of spectators to the shores of the Nile. Several hundred years later rowing was improved by the Vikings, but in their case the sporting competition had secondary importance, the main aim for them was to conquer European countries.
The first official competition in rowing took place in 1715 among professional boatmen on the London Thames and the prize was a red overcoat. These competitions take place till today and are very authoritative.    Typically, rowing arose in 1829 thanks to students of two prestigious universities – Oxford and Cambridge. Yearly competition between universities are held today as well, and the race course is monitored by a quarter of a million of Londoners.
The most important event in the rowing world is, of course, the Summer Olympic games, in which the discipline has been present since 1900 (was present 4 years earlier in Athens, but was not held due to weather).
Types of bets on rowing
In bookmaker offers you can, of course, find bets on the most important competitions in rowing, but it would be a lie to tell that the number of bets is satisfactory. Bookmakers limit themselves to the most prestigious races, the Olympic games, the World and European Championships.
Usually bookmakers can offer their clients several types of bets:
Bets on the Winner – the most popular, although not the simplest kind of bets on rowing. Punters have to correctly predict rowers or the whole squad, that will take the first place in the competition, in a particular race or in the final classification.
Bets 1-3 – in order for the bet to win players have to correctly predict rowers of squads that will take the first three places, irrespective of the order. Such system allows us to make some mistakes, what, of course, somewhat lower the odds, unless you get a black horse.
H2H bets – a bookmaker asks us to point what rowers or squads will be higher in the classification. This type of bets is very attractive and gives possibility to get good odds, but it is in power of experienced punters, having knowledge of rowers and squads.
Principles of successful betting on rowing
Knowledge of rowers and squads is an absolute must while betting. You should not take into account the value of the odds and good past results, pay attention to the current situation. Actual form, results, statistics, type and intensity of trainings, aims for the season. You need to know all this to become a successful punter.
Competition prestige – the higher is the rank of competition, the bigger is the prize fund. The more prize money, the bigger is the motivation of rowers. Simple, isn't it? As in any other kind of sport, in rowing sportsmen come to the most prestigious tournaments with huge concentration and insistence. If you want to concentrate on the search of surprises and black horses we recommend to do it in case of less important competitions, just if bookmakers will have bets on similar tournaments in their offer.
Sportsmen's age – has to be analysed. Young rowers are full of enthusiasm and energy, but cannot withstand the pressure in important moments. In their turn, older rowers have experience and performance on many competitions. You can also count on rowers who do not have an Olympic medal on their account, will do everything possible closer to the end of their career, to get such a medal.
Social networks – Twitter, Facebook, Instagram are real treasure of knowledge about sportsmen and rowers. They even post information about personal problems or health problems and any useful information will let you become a more successful punter.
Atmosphere in the team – rowing requires ideal cooperation among all members of the squad. Any conflicts and quarrels inside the team do not increase the fighting spirit of rowers. If you manage to get information about bad relationships among rowers then you will get a nice advantage over bookmakers.