Sports Betting Guide
Basketball betting guide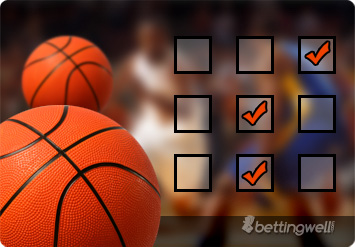 Introduction
To be a successful punter in any sport, you need to invest not only your money, but also your time. Researching a team, a competition or even a sport discipline that we want to bet on might be a bit time-consuming, but in the long-term, it proves to be very effective and profitable. Same goes for basketball. In order to become a good punter and win money you need to know as much information as you can find. We decided that we will help you with that. We created this guide on what to consider when it comes to basketball betting, that should be extremely useful for both beginners and experienced punters.
First of all, one needs to know at least some basic information about the rules, competitions and types of bets in basketball. We already created a guide with basic information, necessary for every punter that want to bet on basketball. You can find it here.
When you got familiar with all the necessary basketball information, it is time to learn few tips that would significantly improve your effectiveness as a basketball punter. Apart from the major tournaments such as the FIBA World Cup or the Eurobasket, national team basketball is not very popular among both bookmakers and punters. That is why, we will focus on the club basketball competitions.
Remember that betting on NBA differs from betting on non-American competitions such as the Euroleague. To know the differences between the NBA and the Euroleague you should read this article.
Basketball betting tips
When it comes to betting on basketball, it is no different from betting on other team sports. The most obvious tips that we can give you is to be rational and do not bet on your favourite teams but on those that will win you money. Manage your bankroll properly and do not go 'all in', it is advisable to bet 2-3% of your your entire budget on one bet at most. What is more, do not trust the popular trends. If you want to be inspired, look at the statistics and the opinions of the expert punters, not the majority of people - who often have no clue what they are talking about. It is better to search for professional websites with free betting predictions and tips (such as ours) than to listen to inexperienced punters who often bet on very randomly.
You should also watch closely few basketball games and notice how teams react to losing or winning. Some teams completely change after a quarter or two, and some play poorly for the entire game. Especially in the NBA, where the level of teams is relatively balanced, it is hard to predict the scores at both half and full-time. The best way to test your abilities as a punter is to watch as many games as you can. It is even more easy nowadays, where re-broadcasts of NBA games are shown by various TV stations all around the world. You do not have to stay up all night if you live in England or Spain, if you are up-to-date with basketball news, you watch few games a week and read through the most important statistics, you are good to go to be a successful basketball punter.
NBA drafts, trades and transactions
Each year, all NBA teams gather to draft players that will join their rosters. The majority of eligible players that could be drafted are college basketball players, but there are more and more foreign players from Europe or Asia drafted every year. Here, it is important to know some rookie players that will be drafted. If you have been watching college basketball you already know who are the potential stars that will be picked first, but if you are not interested in the NCAA (National Collegiate Athletic Association) competitions, you should listen to some opinions of the experts, read through some statistics and news regarding college basketball, and most of all, watch the draft on TV.
From a punter's perspective, it is good to know new, potential stars, as you can bet on which player will be picked first in the draft, or which one will have the biggest impact on his future team. There are two rounds in the draft, each time 60 players are picked. Some rookie players have instantly a very big impact on their new team's performance, as did Lebron James, drafted in 2003. Drafted players could be signed, exchanged, sold or loaned to other team. Apart from drafts, players could be traded or signed as free agents. It is harder for a new player to adapt, so you should watch out for teams with few new signings, even the best ones.
Coach changes
It is advisable to closely observe any coach changes in the league. New coach always have a big impact on the team, either positively or negatively. If you want to bet on a particular team, it is good to check their head coach's experience, whether he managed a high-rank team in the NBA or Europe before or did he have any successes with his previous teams. It is also important to know his methods and the style his previous teams represented.
European coaches are known to put more emphasis on tactics and defence as the style of playing competitive basketball in Europe differs from the one used in the NBA and NCAA. For a more thorough analysis, get information on the assistant coaches and team staff overall. Basketball is an extremely physically demanding sport and if a team wants to have long-term successes it needs to have very good physiotherapists and team doctors.
Injuries
Even though basketball is a team sport, a single player can change the outcome of the game in a split second. The individual performances are very important, especially in the NBA. It is essential to know about injured players before placing the bet. When an important player gets injured, the bookmakers rapidly change the odds for that team, it can be both an advantage and a problem for a punter. 
If you are watchful, you can use the information about an injury of a star player and make a bet with good odds before the bookmakers can react. Sometimes, an injury of a key player such as Stephen Curry can completely change the odds for a game. Without certain players, some teams play really bad and are very chaotic. You should monitor the health status of the players with the help of official websites of the competitions or teams as well as the press, because they react to such news quicker than the bookmakers.
Statistics
Statistics play very important role in basketball. Especially when it comes to individual records. The most important individual statistics in basketball include the number of points, assists, steals, blocks, fouls and rebounds made both, in a single game, and in average per season or career. The most important are the scoring stats, such as the number of dunks, three-pointers or free-throws made in a game, as well as their average conversion percentage. If a player have gathered a two-digit number in at least 2 statistics (points, rebounds, assists, steals, and blocks) in a single game, he is said to have achieved a double-double, if 3, triple-double, and so on. Various sport websites and statisticians have different system of comparison of the overall efficiency of basketball players.
Obviously basketball is a team sport, and despite the dominance of the 'star players' in the NBA, team statistics are also very important. Apart from individual records, you should focus on recent games of the team you want to bet on, as well as direct matches with their opponent. Some teams, tend to dominate others and are likely to win with them, especially at home. There are teams, that are unbeaten for the majority of the season, like Chicago Bulls or Golden State Warriors, and the odds for their win are lower because there is less probability they will lose. Remember, that every series of victories must end, if you are watchful and pick a right moment, you can bet against the favourite and win a lot of money.
Live-betting
Live-betting on basketball is a very difficult task for only the most experienced punters. Here, the most important thing are the half-time stats. Often, they are completely different than when the game ends. Some teams have great starts but then fail because of poor stamina or tactical mistakes. Usually, if the team wins the first quarter it does not necessarily mean they will win the entire game. There are cases, where teams came-back from a 30 point gap to win the game in its last seconds.
The home court advantage
The NBA is considered to be one of the few sporting competitions that uses home-court advantage system completely based on the results of the teams. If a team wants to have their first game in the play-offs at their home-court, they need to perform well in the regular season. For many years, basketball was one of those disciplines of sport where home court advantage and the atmosphere created by the supporters, had enormous influence on the performance of the team. Especially in NBA (and later on also in Europe), cheerleaders, mascots and arenas full of cheering fans had very big impact on the players, who either felt inspired and excited, or disheartened and irritated. A good example of the home court advantage was the former arena of the Boston Celtics basketball team - the Boston Garden, which contained various defects that supposedly gave advantage to the home team, as they were used to them.
Interestingly enough, it seems to not be the case anymore. In recent years an interesting phenomenon is being observed at the courts of the NBA: home teams are winning less and less games at their own stadiums, thus the home court advantage is not as visible as it once was. The main reason for that is probably the difficult schedule of the NBA, where you often have to play 3-4 games in a week and travel across few states (countries in case of the Euroleague). Home team that arrived a day prior to the game is tired after travelling and sometimes can lose to the rested guests. Another reason could be the fans at the arenas that instead of cheering, take pictures, gossip and play on their mobile phones. Without the support of the fans, tired home team players simply have less motivation to do everything they can to win. That is why, you should be very careful when betting on home teams in the NBA, even when the odds and popular opinion are showing a certain win for the hosts. Despite that, some teams like Utah Jazz or the Denver Nuggets are still considered to be very strong at home.
Schedule
As it was already mentioned, the schedule of the NBA is very demanding for the players. The reason behind the packed schedule and a large number of games in a season is simply money. NBA is one of the most popular and watched competition in the world, each year, teams are earning millions of dollars and the salary of the players is becoming higher. Teams need to play a lot of games to maintain their popularity among the fans who want to be constantly entertained. It is very troublesome for the players who have to be in a very good physical shape for a very long time. When you add to this the fast-paced style of playing the basketball, you realise that these players are very prone to injuries and it is very hard for them to play at very high level for a longer periods of time.
That is why there is no limits when it comes to substitutions in basketball, and the backup players are often as important as the starters. You should know the schedule for the upcoming season and prepare your betting strategy in accordance with it. Remember that sometimes teams play up to 4 games a week. Even the best teams could have a bad day and be tired after a long season. This is your chance, if you are watchful, you can pick the right moment for a bet against the odds and win a lot of money.
Atmosphere in the team
Chemistry between the players and the atmosphere in the team are crucial to succeed in any sport. It is no different in basketball, where teammates must constantly pass the ball between each other and have limited time per each possession (they need to throw the ball at the basket after 24 seconds since gaining possession). Players need to trust each other and know their strengths and weaknesses. That is why it it good to have a good chemistry between the players. Sometimes even the greatest player may not be compatible with a team because of his individuality, characteristics or style of playing.
It is also important for players to like and respect each other. Integral conflicts in the team and tensions between the players can significantly influence their performance. You should watch out for new, troublesome players that could destroy the good atmosphere and balance in the team instead of improving it. A good example of such a case was Dennis Rodman, a great, yet very controversial player. It is especially hard to manage the players in the NBA where many players are considered superstars. Most of the times, teams and players record behind-the-scenes or video clips from practices, games or other events. You should follow the social media of the players and the teams to know if the atmosphere and the chemistry between the players is good or not.