Sports Betting Guide
What you should pay attention to while betting on badminton
In sports betting you either count on luck or knowledge based on deep analysis. If you want to become a professional punter and earn on badminton for some time, you should base upon analysis, leaving luck to those who play in casinos.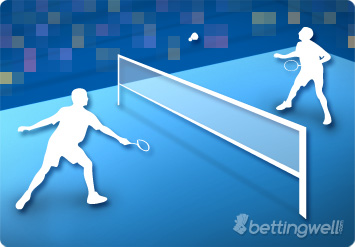 Introduction
More than a 10-year experience in sports betting has taught us much. In this article we will try to pay your attention to several important elements, without which betting on badminton has no sense.

1) Tournament rules
Tournament statuses impact matches' results. You shouldn't always win… Unfortunately, in case of the Cup system, the loser is simply dropped out of the tournament. The thing that happened at the London Olympiad looked little convincing, without fighting spirit, and everything had been planned in advance (eight sportswomen who wanted to lose certain matches were disqualified). Knowing the rules of the tournament and the matches "net" we can predict some possible situations faster than other punters and even bookmakers. Often it looks as a surprise, using which you can earn good.
 
2) Direct matches
Statistics check for direct matches is more important than the rating chart. One badminton player can "not go" for another – a very important argument which can give us an advantage. This can be explained by some sportsmen not being able to win against a particular gaming style. Notwithstanding that against 90% of opponents a given badminton player wins without problems, there always is such an opponent against whom it is difficult to win. Odds makers often base upon their predictions on ratings, setting mistaken odds.
3) A player's psyche
Some players give up in case of a huge breakaway from an opponent. For instance, while having a huge breakaway, assuming it being 15:8, players do not fight to the end and lose sets. Often in such cases you can catch good odds in live betting. During several years we have noticed such a tendency by several players. In many cases they lost one set big in order to win in the other two without problems. Maybe such sportsmen like to have "a knife at their throats" but the difference in gaming quality is enormous. After defeat in the first set the odds usually grow fast, due to what having bet on a win in the whole match you can earn good.
 
4) Air temperature in the hall, birdie
The temperature in the hall is one of the details which can have huge significance in several situations. The birdie flies faster if the temperature is higher and halls are smaller. The higher is the temperature the higher are chances of the attacking sportsman, and the defending one's are decreasing. In general, too high temperatures are in halls in Indonesia and other Asian countries for example, on the other hand it is different in England.
5) Facebook, Twitter, social networks
Information source. First of all, we are interested in injuries, family relationships, which can impact a given sportsman both positively and negatively.
6) Overall rating
Many punters take the rating position of a given player into account. For us this is not a main factor. We are more interested in recent fitness and direct matches.
7) Time difference
The majority of tournaments take place in Asia, however part of them are also held in Europe. By changing a time zone some sportsmen acclimatise too slow, due to what they do not play at their best at the start of the tournament.
8) Little important tournaments
A tournament with a little prize fund is usually omitted by players before the start of a more important competition. It is better to lose earlier and economise strength for a more prestigious tournament. You should expect surprises here…
9) The fastest way to analyse odds
The easiest way is to find good odds as soon as a bookmaker sets it. Stick to a principle "the sooner the better". Often at the very beginning you can find mistakes at bookmakers which can be corrected later on.
10) A sportsman's fitness
This is one of the key elements. You should look at the player's fitness and his place in the table.
11) Odds and setout
Undoubtedly, you should have gaming accounts at several bookmakers. The difference in odds can be substantial. We sometimes bet at bookmakers Sbobet, Unibet, Paddy Power, Betvictor or Betfair, although it is little liquid on the betting exchange. A wide range of bets for badminton is also very important, not many can boast of attractive offers.
 
12) Air stream
It is important to assure oneself in advance in which direction the air stream blows. Birdies are very light so even a light wind of an air conditioner can impact its flying trajectory. The air stream is a side effect of big halls. A player always plays against such streams. It is much harder to get control of the flight when intensive airstreams appear.
13) Doubles
Badminton is a unique kind of sport. The best world players of doubles frequently play in both categories during one day, everyday during the tournament. Such intensive timetable can affect the player's form in further matches. Such frequent matches drain you, which an opponent can make use of.
Dangers
Fixed matches
Unfortunately, there still are many fixed matches in badminton. Punters do not have any influence on such situations and often lose bets without the knowing. A thorough market analysis, great odds – we think we have found an excellent match for a game. Unfortunately, the favourite loses after a weak but honest match? We have prepared a separate article about facts and our consideration about fixed matches in badminton. This problem, as we can see, is present in this kind of sport as well.
Progressive systems
Many, first of all beginner punters, think that a progressive system will bring them huge profits in short time. But is that really true? You should remember that even the best sometimes lose 5-10 coupons in a row. It happens rarely, but such series can lead to a loss of the whole gaming budget.