Sports Betting Guide
Handicaps
Although handicaps are one of the most important types of bets in the world, many punters still don't understand them. In this guide, we have decided to help you and provide both the definition and types of handicaps with the use of understandable examples. Let's start from the beginning…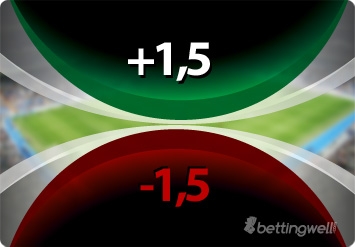 What are the handicaps?
Handicap is a type of a bet in which the bookmaker gives a theoretically weaker team an advantage of points/goals to even the chances of victory for both teams. Handicap is set before the start of the event and is then added to the final result.    
In which disciplines we can use handicaps?
Handicaps can be used in all disciplines of sport starting with global sports like football, handball, basketball or volleyball, popular American sports like baseball, hockey or american football or even tennis. It is one of the most popular kinds of sports betting.
Differences between European and Asian handicaps
There are two main types of handicaps: European and Asian handicaps. European handicaps (EH) differ from their Asian (AH) counterpart in a few ways. The first distinction are different symbols for European and Asian handicaps. The next difference which helps to distinguish these two kinds of handicaps is the difference in quantity of the game variants.

There are three possible outcomes to choose from in European handicaps with only two in Asian ones. Last difference between these two types of handicaps is the fact that the European handicaps use irrational numbers for creation of the so-called handicap line (0:1, 0:2), while in case of the Asian handicaps the rational numbers are used (1/2, 3/4).
European handicaps
European handicaps are simpler to understand than their Asian counterparts. European handicaps (0:1) are equated to the variant X2 for the win of guest team which doesn't mean that the odds in both cases will be the same. Let's imagine an example scenario for the European handicap:
EH Manchester United – Stoke City (0:1) [-1] Manchester 2.30 / Draw 3.60 / [+1] Stoke

1. Placing a bet for Manchester United with the 2,30 odds. We win if United players win with a goal difference of 2 or more goals. (2:0, 3;1, 4:1, 6:1 and so on).    
2. Predicting the end of the match as a draw with the 3,60 odds. We win if Manchester United wins with a goal difference of 1 goal (results 1:0, 2:1, 3:2, 4:3).
3. Predicting the win for Stoke [+1] with the 2,90 odds. We win the bet if Stoke wins or the match ends with a draw (1:2, 2:2).

Which bookmakers have European handicaps in their offers?
Asian handicaps
There are several types of Asian handicaps. The most popular are:
Draw no bet (DNB) handicaps:
The simplest Asian handicap is Draw No Bet (DNB). If the match we have chosen ends with a regular draw (or a draw considering the handicaps) then our stake will be returned to us.
Example: we have a match between Arsenal and Sunderland (AH +1) we predict 1 and the match ends with the win of Arsenal 1-0, after setting the handicap we have the result 2-2 and then have the stake returned to us according to the 'draw no bet' principle.

Non-integral handicaps:
We bet for the Real (-0.5) – Valencia match for 1 or the win of Real with the Asian handicap -0,5, subtract from the quantity of the scored goals by Real which is then equaled to the win of Madrid team. If the match ends in a 1-1 draw considering the handicap, our result will be (0.5-1) or our 'one' for the win of Real won't pass, our coupon loses. If the match ends with the result 2-1 for Real, then taking into consideration the handicap our result will be 1.5-1 or our 'one', which means that our bet coupon wins. If we decide to bet for a 'two' with such handicap then it will be equaled to betting against Real Madrid or X2 (a draw or a win of guests results in a win).
Quarter handicaps:
Quarter handicaps are the most difficult kind of handicaps. Its essence lies in the division of non-integral handicaps into 2 bets (division of a bet into 2 variants). Let's imagine that we bet for the Bayern (-0.25) – Schalke match for '1' with the win of Bayern. In practice, this means that we bet in proportions: Half of the bet goes for Bayern (-0.5) – Schalke for '1' and the remaining half of the bet goes for Bayern (+0) – Schalke = Bayern – Schalke (DNB), also for '1'.

Calculation of quarter handicaps:
If Bayern wins – we win the entire bet.
If the match ends in a draw – we lose half of the bet and the second half will be returned to us.
If Schalke wins – we lose the whole bet.
Read this guide to Asian handicaps if you want to know more
This image explains how the simplest Asian Handicap works.
Asian handicap adjusted with a final score could result in a draw. This situation is not a draw, but a push and You receive a refund of your stake.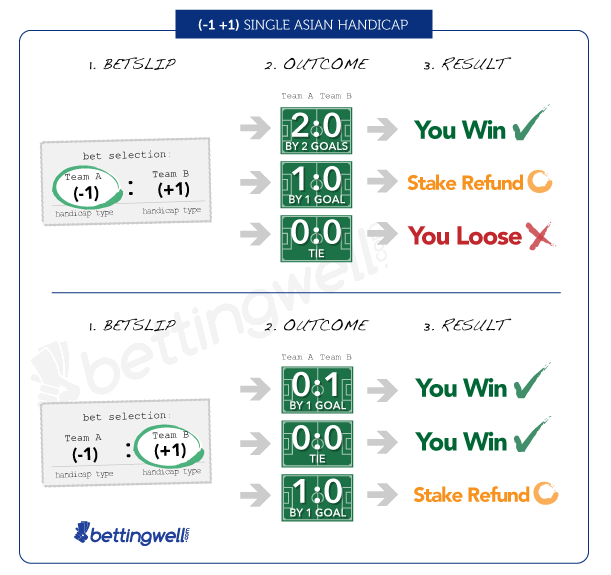 Below we have image demonstrating the -5 +5 Asian Handicap. In this situation there is no 'PUSH' option that is backing your stake but only 'Win' and 'Loose' options.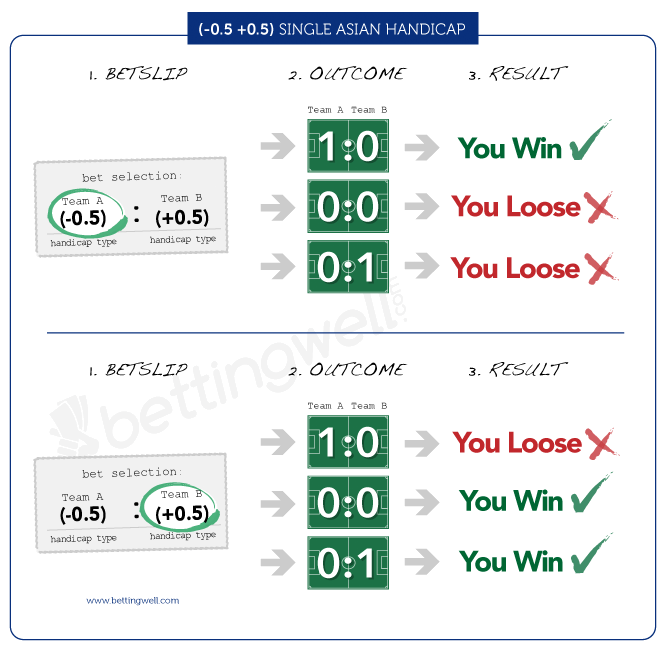 Below we can see a structure of the bet result of the 1.25 (-1, -1.5,  +1, +1.5) Asian Handicap explained in a graphical illustration, we hope this will make this difficult Asian bet much easier for you.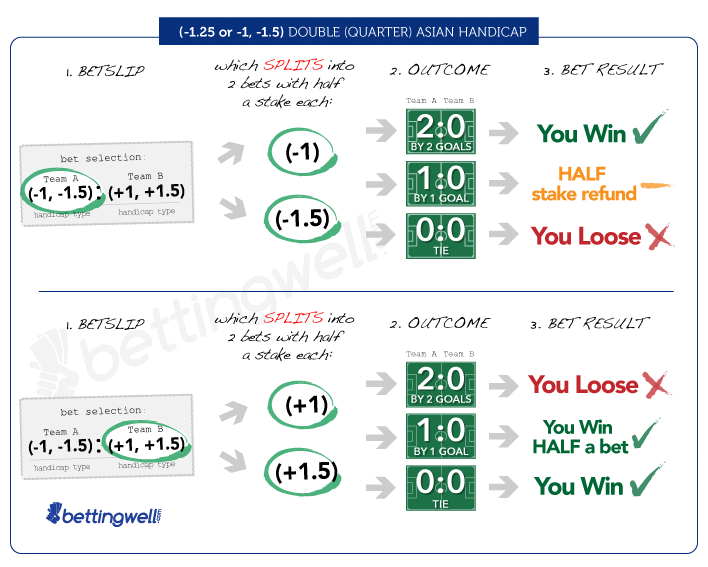 Advantages of the Asian handicap: