Sports Betting Guide
ABC of the sports betting - advice for the players
The proper knowledge of sports betting rules and picks provided by the websites such as ours are crucial for people who have just started their betting adventure. That is why, we have decided that we will present you the most basic principles of correct betting on sports. Please remember that you need to be 18 years old to be able to legally place a bet. Also, online bookmakers are restricted or banned in some countries.
First thing you must do is choose the bookmaker. You want to pick the one that suits you the most. Check out the website, types of bets, disciplines of sport and bonuses that are offered by the bookmaker. The best way to pick the right bookmaker is to look through the opinions from experts. Our website is known for our unbiased, comprehensive reviews of the bookmakers.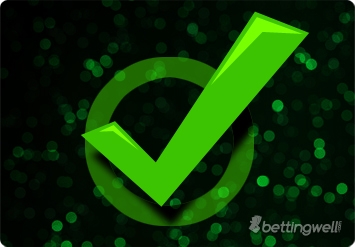 Part-time job or a hobby
Before you place your first bet you should ask yourself a very important question: Do you want to play only for fun or you want to win money? If you just want to have fun and treat betting on sports only as a hobby, you should not bet very often and only with small amounts of money. Otherwise, you should spend some time on reading such guides and increase your knowledge on sports betting and bookmakers. Remember that sports betting or any type of gambling can be very stressful, if you do not handle the pressure well, you should re-think if you want to be a punter.
Manage your bankroll and bet responsibly
Whether you want to be a professional punter or just bet from time to time, it is very important to know your limits and properly manage your bankroll (betting budget). It is advisable to spend 2%-3% of your entire bankroll on a single bet (5% at most). If you are not careful, it could turn out to be really disastrous for you and heavily influence your financial situation. You should also remember not to bet with your savings or family budget. Your bankroll should be the extra money you could afford to spend and the money you have won with sports betting. There are extreme cases where sports gamblers lost their cars, homes or even families because of their bad decisions.
Do not let emotions get in the way
As it was already mentioned, it is essential to remember that you can win but also lose a lot of money. A very bad tendency of new punters is to bet on their favourite teams and players or even bet against those they do not like. It is good to be a fan and have interest in sports as it is very helpful in betting but unless it is statistically proven and your team or player really can win you a bet, do not put your money on them. They may be your favourites, but in reality they could be very bad and cost you a lot of money. Try to look at the statistics, read opinions of experts, follow the odds offered by the bookmakers and most of all, watch as many sports events you want to bet on as you can. Knowledge is power.
Be watchful
If you are observant, you can gain a significant advantage against the bookmakers. Remember that the analysts and oddsmakers are just people who can sometimes make mistakes. If you are watchful you can spot good odds for an event that is quite certain and place your bet before the bookmaker change them. The odds often change very quickly because they depend on number of factors. Players occasionally get injured, there are sudden changes of tactics right before the game or even possibilities of a fix match. You should use such informations against the bookmakers. Although it must be said here, that even for the most experienced punters it is very hard to react quicker to such news than the bookmakers.
Create a strategy
Both in real life and sports betting you should have a plan. It is crucial to create a betting strategy and do not act randomly or place bets in the heat of the moment. Mindless betting could sooner or later lead you to poor results and even bankruptcy. You should treat your sports betting as it was your own personal company. Invest your time and money in it, and you can gain considerable profits.
Choose the right events
As it was already mentioned, your favourite teams or players may not win you money. What is more, even the best, most popular players and clubs can not give you any profit either. Even if you correctly predict outcomes and results of sport events, you may still not make much money on them. Why is that? It is all about the odds in sports betting. The better chances a player or a team has for winning, the lower the odds are for them. The bookmakers base their odds on the trends and the number of bets placed on each side. That is why, it is sometimes good to place a bet on a team playing in an relatively unpopular or unknown competition such as lower European divisions or exotic domestic leagues from Asia or Africa. The least data bookmakers have on particular teams and events, the more unbalanced odds they will offer for them. It is your chance. With good research, you can successfully bet on a team from obscure league and win a lot of money on it. You may not believe it, but sometimes, bigger money, for example, in football betting, is being made on bets placed on teams from the Peruvian second division than it is on El Clásico.
Patience is the right path
Do not think about making easy money. Of course you can hit the bull's eye, but the chance for it are very low. For a long-term success, you need to be regular, cool-headed and smart in your betting. Do not put all your money on a single bet, even if you think it is 100% certain. There are no such things as sure bets, they can be very possible but never absolute. Remember to not make too many bets and be careful when it comes to combo (Accumulator) bets as they are more risky. Slowly build your capital and set yourself achievable goals.
Attitude
The key to a success in every aspect of life is the attitude. Positive thinking can be crucial to win money on sports betting. You have to be confident and sure that you made right decision and your bet will be victorious. From the other hand, accept lost bets with dignity and do not try to 'get even' for them. It will only make it worse. What is more, do not get upset after a bad start. Series of losses happen to even the most successful punters. In fact, every professional, prosperous punter at least once in his career had such a bad run. It is not about the skills or experience, sometimes such things just happen. Remember that luck has a considerable role not only in betting, but also in every aspect of life.