NordicBet
NordicBet is a Scandinavian bookmaker that has been present at the sports betting market for quite some time. The betting operators was established in 2002 and after some time, when the increased taxes and regulations were introduced in Europe, similarly to other European bookmakers, NordicBet found the perfect solution on Malta, where it was granted its bookmaker betting license. The bookmaker is fairly popular, especially in Scandinavia and some Eastern-European countries. It is considered to have decent reputation and being trustworthy bookmaker with nice sports betting offer, good Livebetting section, nice mobile betting application as well as odds on a good level.
Advantages and disadvantages of the bookmaker
User-friendly and useful mobile betting application
Good sports betting offer
Livestreaming of the sports events
Not available in many countries
Complete lack of Asian Handicaps and Asian Goal Lines
Immediate limits for regularly winning professional punters
About NordicBet
NordicBet bookmaker was established in 2002. Since then, it became one of the fastest-developing scandinavian bookmakers in the world. In 2012, it begun cooperating with Betsson Group, which only cemented their good position and reputation among the sports punters, especially from Europe. For various reasons, the betting operator has focused its marketing campaign and its offer on the customers from Scandinavia. It is also worth saying that the bookmaker also offers casino, Esports and Poker.
We could definitely recommend this bookmaker to some punters, especially to those from Norway, Sweden and Denmark who have best chances of getting better bonuses, increased odds and higher number of events to bet. Overall, it is good bookmaker for beginning and semi-advanced punters. Professional gamblers and punters may not choose this bookmaker because it does not offer any Asian handicaps or goal lines and it sports betting offer is decent at most, same goes for its odds.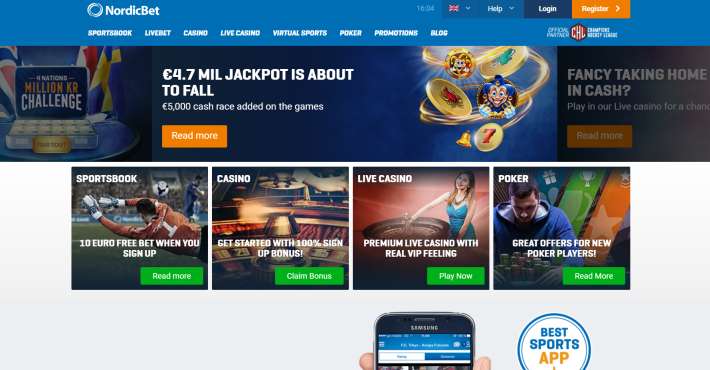 Sports betting offer
Sports betting offer of NordicBet bookmaker looks quite solid for us and it seems that every punter should find something interesting for him. Obviously, like in the case of the majority of bookmakers, especially those from Europe, the most popular sport is football. The number of competitions and leagues, both domestic and continental as well as number of events and betting markets and options is all very good. 
It does not mean, that the fans of betting on different sports will be disappointed. All the punters that like to bet on the NBA, the NHL or other top competitions from the most popular team sports would not complain about the sports betting offer of NordicBet bookmaker. Furthermore, You can find events for betting on sports such as motor sports, snooker or golf.
What is interesting is that the situation gets completely reversed in the winter season months because NordicBet bookmaker, as the name suggest it, focuses on Scandinavia, and therefore, loves winter sports. That is why, in the winter season, we can find a huge amount of bets and events concerned with winter sports, both Olympic and non-Olympic as the Scandinavians simply cherish these kind of sports the most.
A very interesting feature is the bet search pane which proves to be very helpful. Using it, we can very quickly find an event that is interesting for us and place our bet. When it comes to the margins and the odds for various events, they are very different depending on the discipline of sport and the type of betting market. The more popular the discipline of sports and the event, the better the margin and in result, the odds for the event.
Furthermore, it must be said that the overall odds and margin of NordicBet bookmaker is quite good and the amateur, beginning punters as well as semi-advanced ones would definitely not spot the difference and will be fully satisfied with the bookmaker's sports betting offer. The situation is completely different when it comes to the professional punters as the limits for regularly winning players are placed quite fast. The bookmaker swiftly finds such punters and limits their minimum bet stake so that they cannot win more money from him. Furthermore, the margins and the odds for less popular events that are so to say, very often the specialty of professional punters, are quite bad. The last, and probably the biggest disadvantage that will probably discourage the professional winning punters from this bookmaker is the complete lack of Asian Handicaps and Asian Goal Lines in its sports betting offer. Overall, when it comes to the sports betting offer of NordicBet, it is decent, but there is definitely place for improvement.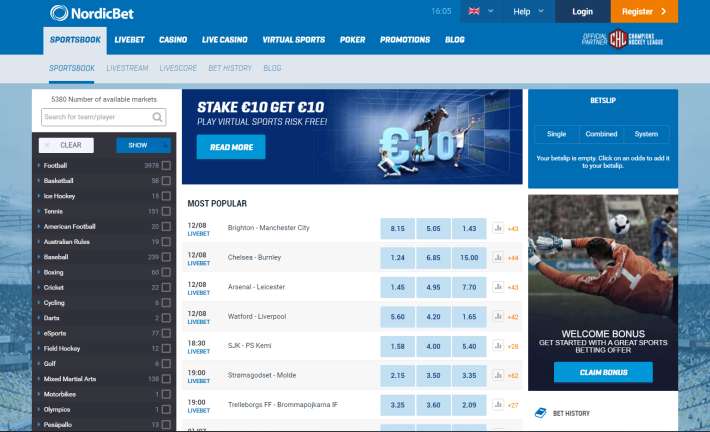 Livebetting
NordicBet may not be the leading bookmaker when it comes to Livebetting, but it is decent enough to not be embarrassed when compared to its rival bookmaker companies. Both the number of disciplines of sport as well as betting markets and types of bets is quite good and should satisfy most punters. There is also quite good number of betting options and interesting features, the best being probably the Live streams from the Live events that we can place a bet on. The number of Live streams is good and their quality is fairly decent. What is more, they are very helpful when placing Live bets.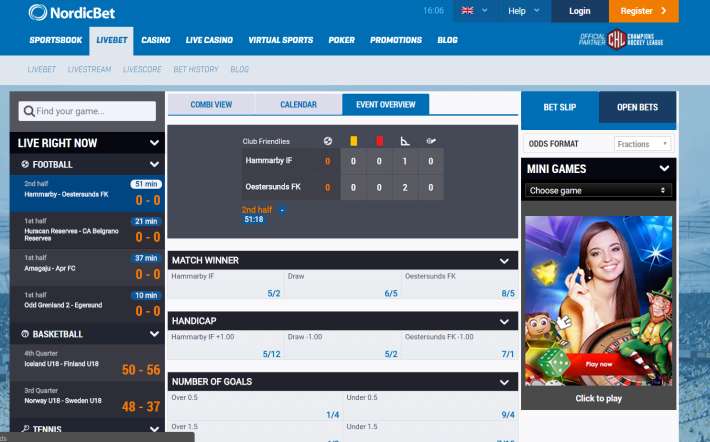 Bonuses and betting promotions
When it comes to the bonuses and betting promotions section at NordicBet bookmaker, it is not the worst in the business, but it definitely could be far better than it is at the moment. Even though the bookmaker has few bonuses and betting promotions, only a handful of them are available for sports punters. The majority of bonuses and promotions is directed to the fans of online gambling that are granted a free spin or additional funds to play casino games or poker.
When it comes to sports bonuses and betting promotions only, there are only few of them and neither their frequency, nor the amount of additional betting funds they grant us, is impressive. At the moment (June 2017), there is a quite good Welcome Bonus waiting for all sports betting fans as well as a huge prize in the lottery, with the overall potential winnings of 10 000€, every week!
Mobile version
NordicBet bookmaker has a very good, responsive mobile version if its website that has almost the same number of sporting events, betting markets and options as its the regular, classic website. Furthermore, NordicBet has its very own mobile betting application that enables its users to easily find an interesting event and place a bet as well as make a deposit, check their betting account and withdraw their winnings and funds from their account. The app works very well on the majority of mobile devices such as smartphones and tablets as well as on the majority of mobile operating systems. Overall, both the betting application as well as the mobile version of the regular NordicBet online sports betting website are very good and it is a real pleasure using them, especially if you are an mobile punter who likes to place a quick bet at work or on the bus.
Customer support
We have personally tested the customer support service at NordicBet bookmaker and we think it is really good. We consider the customer support department at NordicBet to be a top-notch service that is on par with customer support services of the best bookmakers in the business. There are many ways of contacting the professional and helpful customer support department of the NordicBet bookmaker. We can do that by phone, via email or by writing about our problem on the special, responsive Live chat. It is worth to mention that the time of response at NordicBet bookmaker is one of the best in the business and compared to other, even best bookmakers, is very impressive. This section of NordicBet bookmaker is definitely one of its biggest advantages. 
Payment methods
The list of the payment methods accepted at the NordicBet betting operator is quite impressive and the number of offered currencies is also quite sufficient. Therefore, every punter should find a good option for himself and will be pleased. What is more, there should be absolutely no problems with making deposits and withdrawals as well as checking our betting account. Furthermore, our betting funds will be very safe at the our NordicBet betting account.
NordicBet's bonuses and promotions
Quick

NordicBet

info
Minimal deposit
Minimal withdrawal
Payment options

Bank Transfer

MasterCard

Neteller

Skrill

VISA

Minimal stake
Odds type
Betting options
Live betting