You could win over 9000 pounds if You placed a hundred pound bet on AS Roma!!!
author: Pirlo submitted:
11 April 2018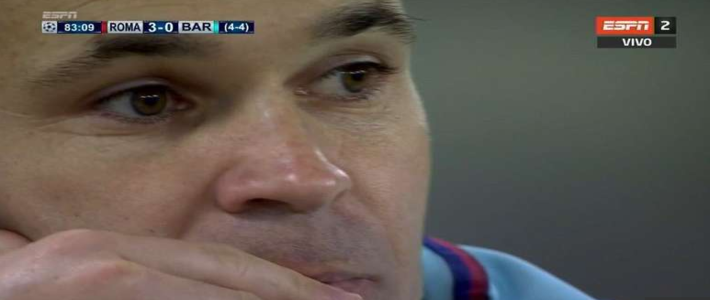 One of the most shocking results in the last few years happened yesterday. AS Roma managed to win 3:0 with FC Barcelona and progressed to the semi-finals of the UEFA Champions League. Punters that somehow predicted such score and placed their bets on Roma probably made quite a fortune at the online bookmaker.
AS Roma makes one of the greatest comeback in Champions League history by defeating Barcelona
There was probably only a handful of people who thought that AS Roma could progress into the UEFA Champions League semi-finals after the italian team lost 1:4 in the first match at Camp Nou. Most of those people were the loyal Roma fans who believed in eliminating Barcelona at Stadio Olimpico. And who would have thought, the miracles do happen! After an fantastic match, the Romans managed to overcome all odds and destroy FC Barcelona 3:0 and secure their progression into the best four of this year's Champions League!
Few people made fortune by betting on AS Roma win
As always in the case of such shocking results, by predicting this unbelievable scenario, a punter could have won quite a large amount of money at online bookmakers. After the first match and because of the Barcelona reputation, the odds for Roma for the second game were very high and therefore, by putting some money on this bet, one could win gigantic money at the bookmakers. So what kind of money we are talking about? Let's find out.
As it turns out, by only selecting AS Roma as the winner in the game they placed at their home stadium, You could win quite a lot. Betfred bookmaker paid 4/1 (5.00) for such bet. You could make twice as much by placing a bet for the win of italian team with two or more goals with Asian Handicap (-1,5) being offered at about 10/1 (11.00) odds. Another great option was placing a bet at AS Roma leading the score at halftime and their overall win in this game for 15/2 (8.50) odds at Ladbrokes online bookmaker.
But if You want to know where You could have won the real money, and where the real lucky or maybe even crazy people made their fortunes on Barcelona's flop was the overall progression into the next round, in this case Semi-Finals, of the AS Roma team. If someone played all in and put their whole betting budget he could be buying himself a new car right now as the odds offered for such betting market were a shocking 50/1 (51.00)! Furthermore, if someone, by any chance managed to predict the exact score that was needed to be achieved by the italian team to progress into the next round...and as it turn out, the exact score that happened, he could be even more rich as the odds offered for such bet at BetVictor online bookmaker were 90/1 (91.00). Therefore, by placing a ten pound bet for this to happen You can get over 900 pounds and with 100 pound stake You can get 9 thousand, and with 1000 pounds it could have been even nicer car!